Breena VelvetCreme, yes! VelvetCream, not Velvetines, read it right ya because I've been struggling to say them right as well…haha
Breena Beauty, a solely Malaysian Beauty Brand, very recently launched their liquid lipsticks in the market. The packaging gives me a hint of Dose Of Colors liquid lipsticks somehow but with their sleek gold accent design and all, it's a cool one. After all, no amount of liquid lipstick is enough and these are very much of a budget friendly option. Where you might think of Colour Pop Ultra Mattes with a similar price but if you're a fan of less drying ones then Breena VelvetCremes wins that term.
Breena VelvetCreme Ingredient List:
Isododecanei, Dimethicone, Microctystalline Wax, Trimethylsiloxysilicate, Polymethylsilsesquioxane, Methyl Methacrylate,Crosspolymer, Phenoxyethanol, Titanium Dioxide, Red 28 Lake (CI 45410), Yellow 5 Lake.

– Approve by the Health Ministry
– Vegan & Cruelty Free
Breena VelvetCreme Liquid Lipstick Shades: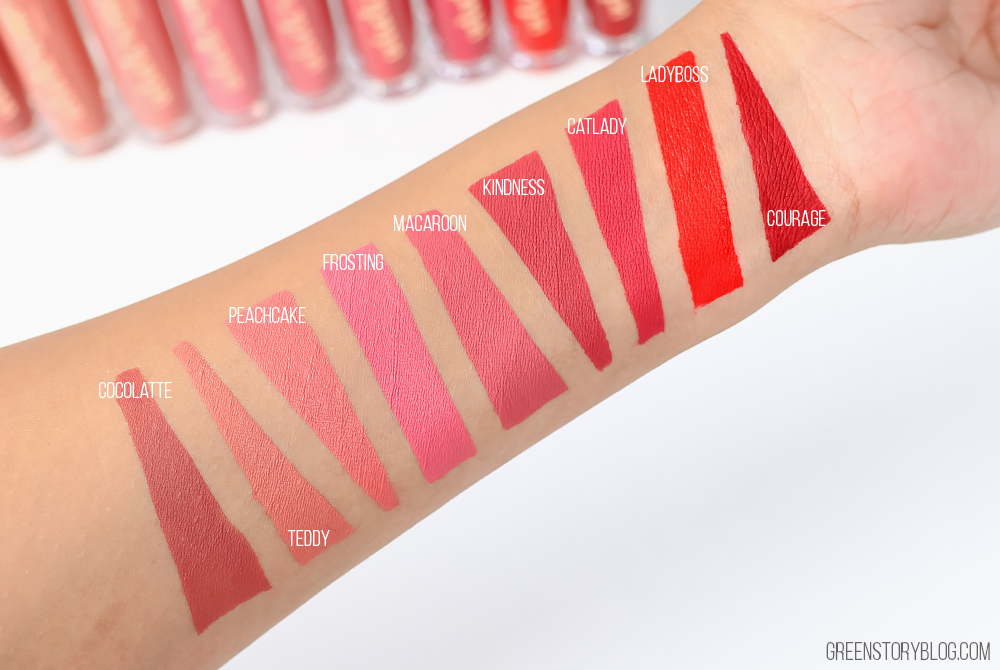 There are 9 shades in the Breena VelverCream range now.
Ccoclatte – Described as a warm brown, Swatches the same but turns a bill cooler on my lips.
Teddy – Described as a beige-peach. Such a pretty color and my favorite of all.
Peachcake – Describes as a nude peach. It looks more pinky nude on my lip.
Frosting – Describes as a pink mauve. However, it totally looks like a pastel pink on my lip.
Macaroon – Described as a beige pink.
Kindness – Brown berry, appears on my lip just the same. Love this shade.
Catlady – Described as a mid-tone berry. This is a very interesting shade. with bright light, it gives a hot-pink vibe.
Lady Boss – A bright red with a warm undertone. The shade almost feels neon.
Courage – Describes as a deep Maroon. I'll say, it's a blood-red shade.
Swatch of the shades on my lips:
I swatched them all with same makeup and well cleaned my lips before each swatch. For a note, my original lip color is nothing pinky or so, it's quite on the dark side. Lip-swatch here you see not when the lipstick was dry but just after application.
[wp_ad_camp_5][/wp_ad_camp_5]
My thoughts on Breena VelvetCreme: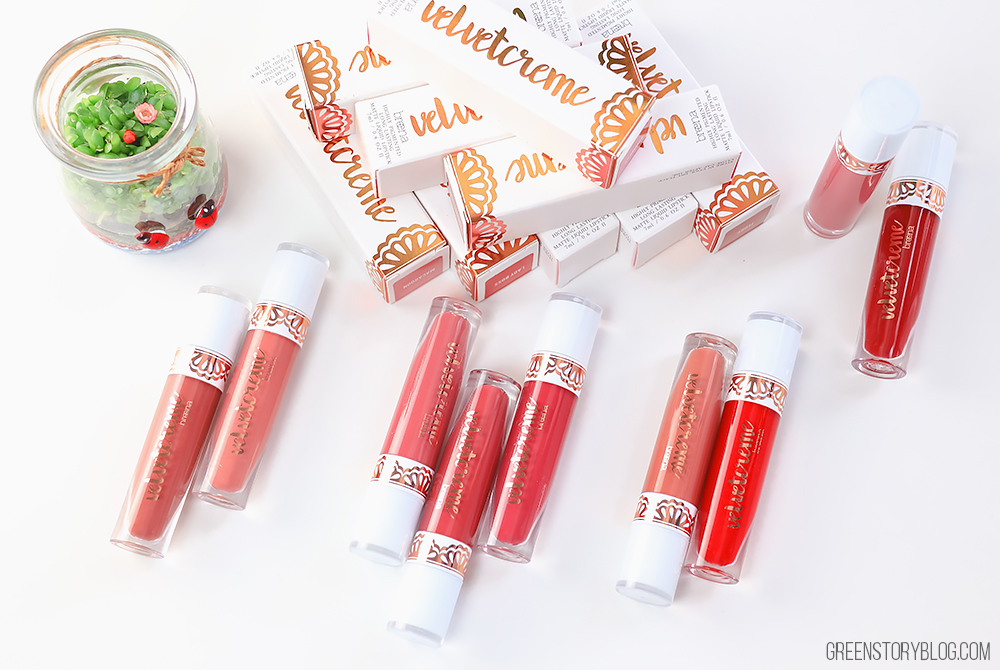 I simply love the outer packaging of Breena VelvetCreme. Each lipstick tube contains a 7ml of product. They smell slightly vanilla-ish when I open the tube but while I apply them the scent goes away and I can only sense something chemical. Reminds me of LA Splash Lip Couture fragrance-wise slightly but fortunately, these aren't that strong.
Breena VelvetCreme claims to be highly pigmented, they are yet all of the nine shades aren't consistent, texturewise. Frosting and Lady Boss gives me hard time to get an even surface of color (I applied 3/4 coats here in the swatch). Where the shade Peachcake acts same as well but a tad better than those two. However, rest of the shades are excellent, they apply smooth and evenly. Once coat gives a light color opacity and a second coat is enough for the full opacity.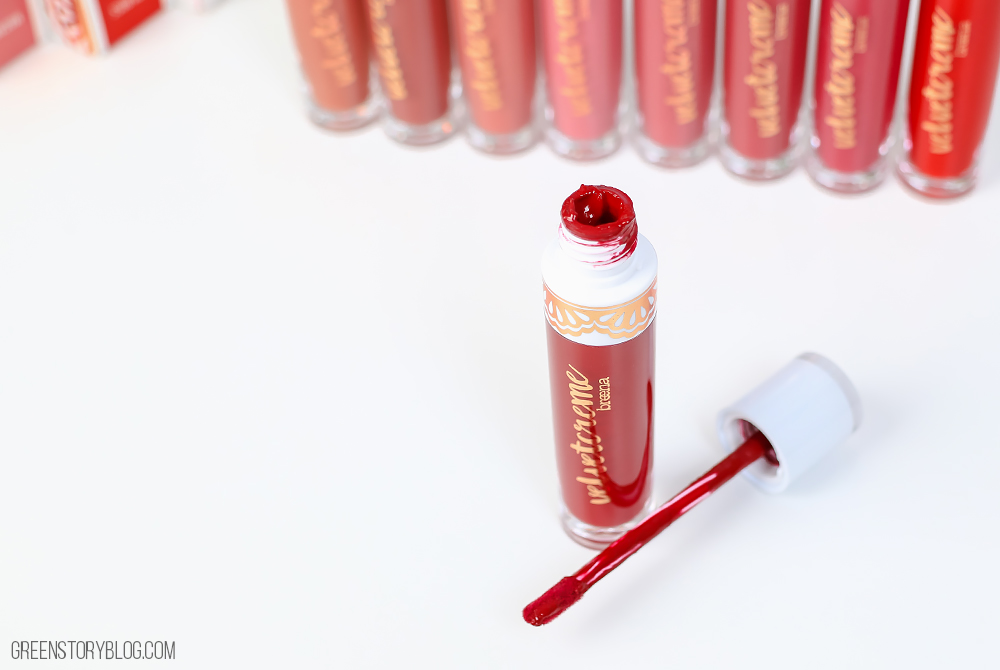 Breena VelvetCreams dries completely matte and takes a minute or so to dry completely. Good thing is, they aren't much drying on the lip and they don't flake, these are the fact I love the most about them. Their lasting powder depends, though. If you eat any oily food while wearing them, they wear off from the middle of your lips creating an empty circle. That's not really a matter to me if I look at the price. Only a couple of my high-end lipstick brand can fight and win with oily food, for e.g. KatVonD Liquid lipsticks.
Another fact that I love that these doesn't give me hard time taking them off either. My cleansing wipes do the work, sometimes I just need a bit of cleansing oil or balm, that it!
Overall, I'm quite happy with Breena VelvetCreme liquid Lipsticks. My favorite shades are Teddy, Cocolatte, kindness and Catlady. Macaroon and Courage is my 2nd favorite. I highly recommend them if you're looking for a budget friendly good matte lipstick. Rest are in my non-fav list because of their consistency, I hate to struggle when applying lipstick.
[color-box]
Shopping Info:
You can get Breena VelvetCreme Liquid Lipstick directly from their website. They also ship internationally as I checked.
They're 39RM each but with the recent PROMO, you can get 3 for 100RM.
[/color-box]
*** These lipsticks were sent to me complimentary from Breena Beauty for reviewing purpose. However, all thoughts and opinions are my own, based on my own experience.
[signoff][/signoff]