Last month in the Eid holiday I and husband decided to spend some quality time that is surrounded by greenery and calmness. Without any doubt, in Malaysia, there is no best option that is close to KL other than Cameron Highland. There was another plus point while deciding, whether of Cameron Highland is cold (slightly hot in the mid-day) thus, the best place for a quick refreshing trip. We set our wheels for the next 3 days.
Cameron is just approx 375km away from KL. The first 100km you can pass within an hour but once you get into the Cameron region (literally hills all around) you can't drive more than 30/40km speed because you'll face curve in every 30 seconds. There the road gonna kill your time, it took us around 4hours to reach the city.
In holidays, I believe the state gets more visitor so it gets way too crowdy. The main city, Tanah Rata, comes before the tourist spot. We did a big mistake booking our hotel, not in Tanah Rata but close to tourist spots, Brinchang.
We booked our stay at Copthorne Cameron Highland Resort (375RM/night) seeing the high rating of the resort and that sadly turned out a total disappointment. First of all, after the city, there is only one road goes to all destination and so it was ridiculously jammed with traffic. 15 minutes of road took us 2 hours to cross and reach the hotel. Secondly, the environment of the resort (nothing like the way you see in the website picture, surroundings are simply ugly and disturbing) and our room wasn't good enough either, old and kinda dirty looking bed furnishing pissed me off right away.
I changed the room twice but then realized it's the same everywhere. Anyways, don't want to mess up with my mind now thinking about that hotel (If you're planning to visit Cameron I highly recommend you to avoid Copthorne) but want to get to the good parts…
So, mindblowing chilled weather there in Cameron that will refresh you within a moment even after the long drive and what else you can enjoy? My five best suggestions are…
1. Boh Tea Plantation

Main attractions of Cameron Highland are the Boh Tea Plantation. Apart from Sabah tea (which is more loved among the tea lover) Cameron tea's are well known for their aroma and quality. There are quite a few popular tea plantations in Cameron, such as Bharat Tea (Cameron Valley Tea House and Farm) however, we decided to visit BOH Tea Plantation. This one is not as big as Bharat Tea but comparatively nice and less crowded. The view there was simply mesmerizing as well as the drive to the plantation.
Within the Boh Tea Plantation, there is also a museum where you can see how they process the tea or the old machinery. A cafe and product display store on the top of the hill was pleasant as well. We sat there for an hour or two, enjoying the serene view while tasting out some fresh tea.
I realized, to enjoy the tea plantation to its fullest you must take your time. I mean you should at least keep half of the day(I would suggest the morning part) for this site only.
2. Strawberry Farm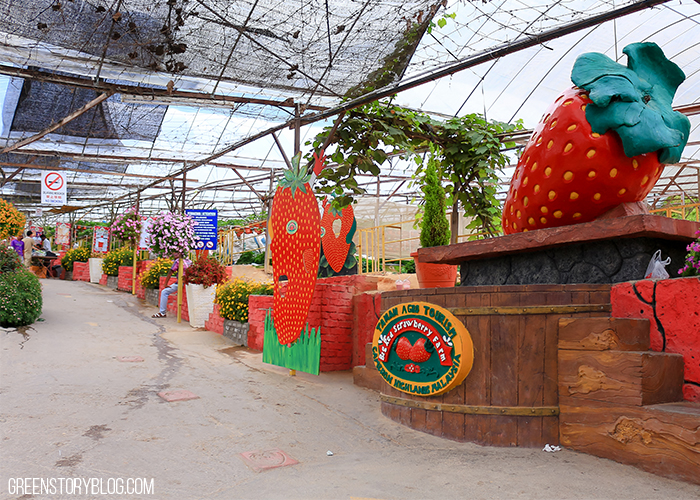 Strawberry farms are everywhere in Cameron Highland and you'll literally get tired of eating fresh strawberries and other foods made of strawberries. They're quite cheap on the farm compared to how strawberries are priced at KL. Within the strawberry farm, you'll also find other veggies like latus, tomatoes, grapes, mints, cabbages and all growing together. And obviously, everywhere you can pick things from the tree on your own.
3. Cactus Farm in Cameron Highland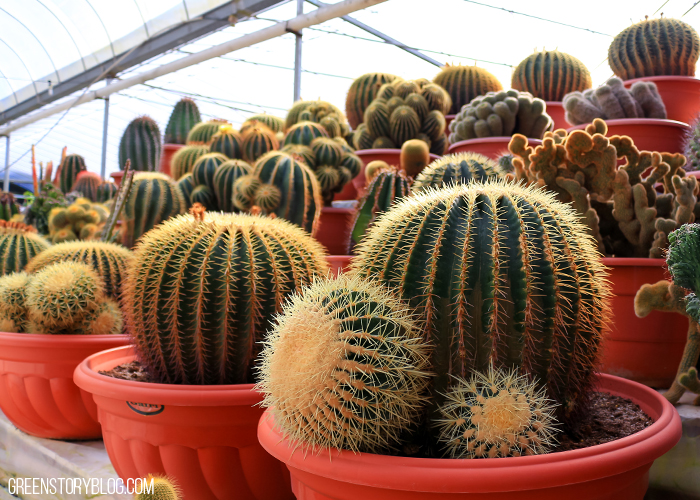 I love the look of the cactus farm. I've never seen so many varieties of cactus before. Some of the giant ones did stun me for a while. This is definitely a place for the cactus lover. When I was giggling seeing all those colorful thorny creatures my husband got poked by a few and he wanted to leave the place as soon as possible. Best part you can buy your favorite cactus from the farm at a very cheap price. I got a few small ones!
4. Lavender/Flower Farm
Lavender and flower farms are very popular in Cameron highland. Unfortunately, these aren't the actual farms but just a display spot for tourist. You'll get to see various j=kind of lavender and other flowers. You can also pick flowers from the garden to buy, on your own. There are also a bunch of cafes and other small food shops to calm down instant hunger. I honestly didn't enjoy the flower farms much, moreover, these places were way too crowdy.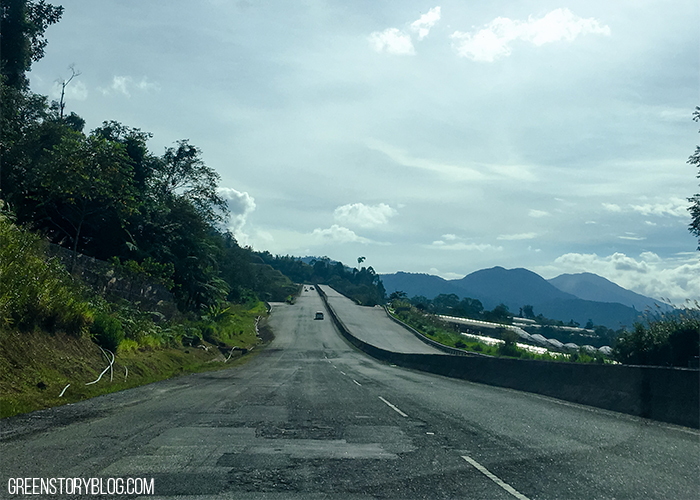 If you really like driving then leaving the Lavender farm behind drive (to the left) another 10-15 km more toward the Jalan Gua Musang. On the way, you'll get to see some real farm, warehouses, and hilly agricultural scenario. Quiet roads, the cold breeze will surely take your mind away. On the way, you'll also find a BH petrol station, in case you need to fuel up. I really wish we had some more time to explore these farms.
5. Mount Gunung Brinchang – Cameron Highland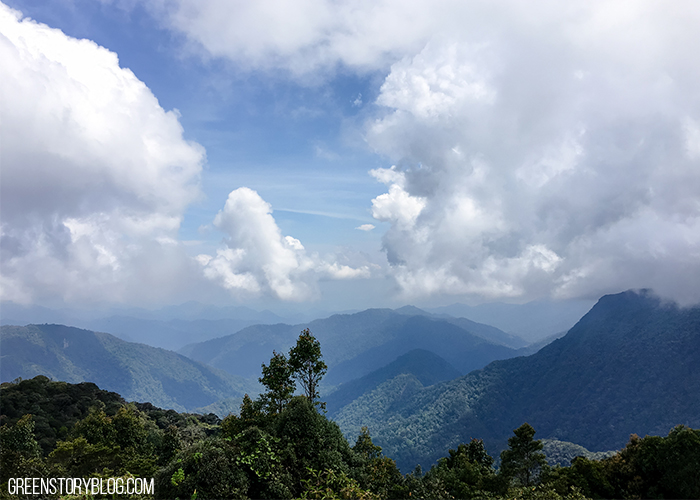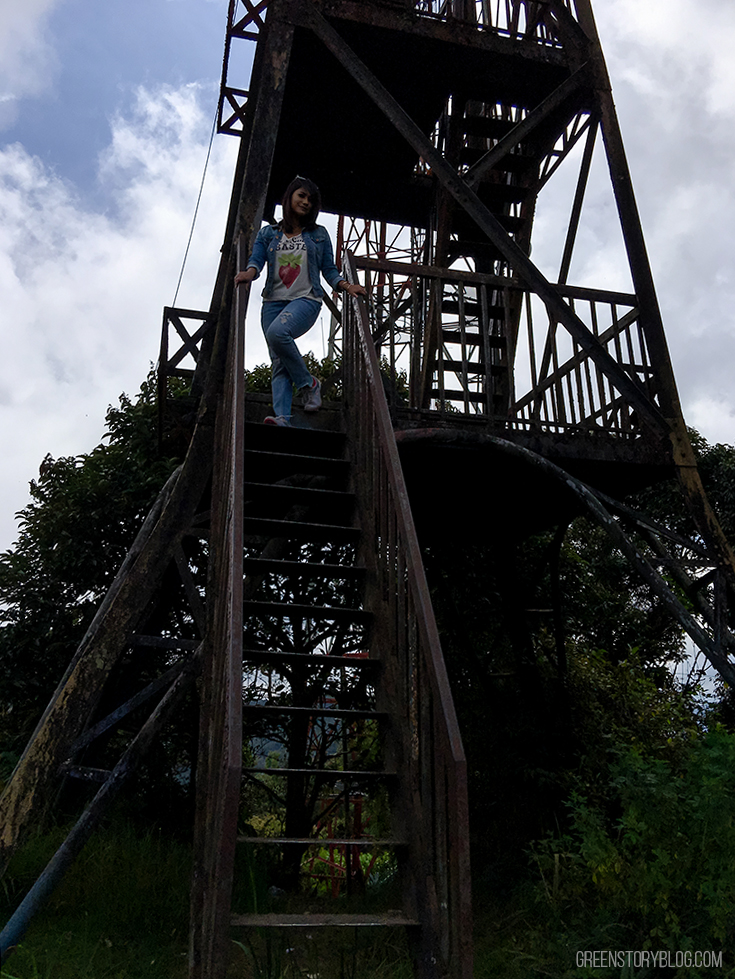 This is one of the must-visit attraction in Cameron Highland. The highest (2030m)mountain, Gunung Brinchang. Some who are adventurous type they like to hike to the top but you can also drive (as we did) to the top watch tower. There is a very narrow and curvy road to the top, you must be a good and careful driver to drive there. You can't exactly reach the end of the top because the TM tower station is there but just before that there is a small watchtower for visitors. I and husband enjoyed the view a lot and this was totally worth out one and half hours of risky drive.
Miscellaneous Activities in Cameron Highland
All tourist site stays open up to 6pm only so in the evening there was nothing much to do in Cameron Highland. A few local markets stay open for a bit long so in the evening you may want to browse them for fresh veggies or plant. Boiled/roasted sweet potatoes are the most interesting street food I found there. They were uber sweet than usual potatoes I tested before. Steamboat buffet dinner seemed to be very popular there with very cheap pricing (the one we tried costs only 35RM/person). At the last day of our stay, I bought quite a few plants to bring home with me. And of course, as a souvenir, you can buy dry flowers like lavender, tea, and flower essential oil.
Other than these there are also a lot more attractive in Cameron like bee farm, butterfly farms etc. You might enjoy those as well if you are an insects lover.
Cameron Highland Travel Tips:
If you planning to visit Cameron Highland make sure you're a good and safe driver or your driving partner is. You can go there by bus (which is quite cost effective) then hire motorbike there as well. Every hotel/resort there also offers package day trip, however, I don't think a day is enough to enjoy the natural beauty there. Plan your journey ahead so you can manage time better, and to avoid driving around at the night. Trust me the curves are scary :p
Have you been to Cameron Highland? What are your favorite places in Cameron? Share in the comments.
PS: Till I pen down my next travel post, you can read up the article about MUST-HAVE holiday beauty essentials post.