This year at the end of June, Laneige launched their newly formulated, in a futuristic way, 3rd Generation BB Cushion. The way the Laneige BB Cushion compact look, sleek and holographic, you'll instantly fell in love with. Laneige introduced two types of cushion compact so everyone can find a perfect match according to their needs.
Honestly, I've never been a fan of cushion compact before. Mainly because of the limited shade range but this time there was a change, they had my shade (happy dance)! I've been trying them out ever since I got them in hand and now I'm here to share my experience with you guys.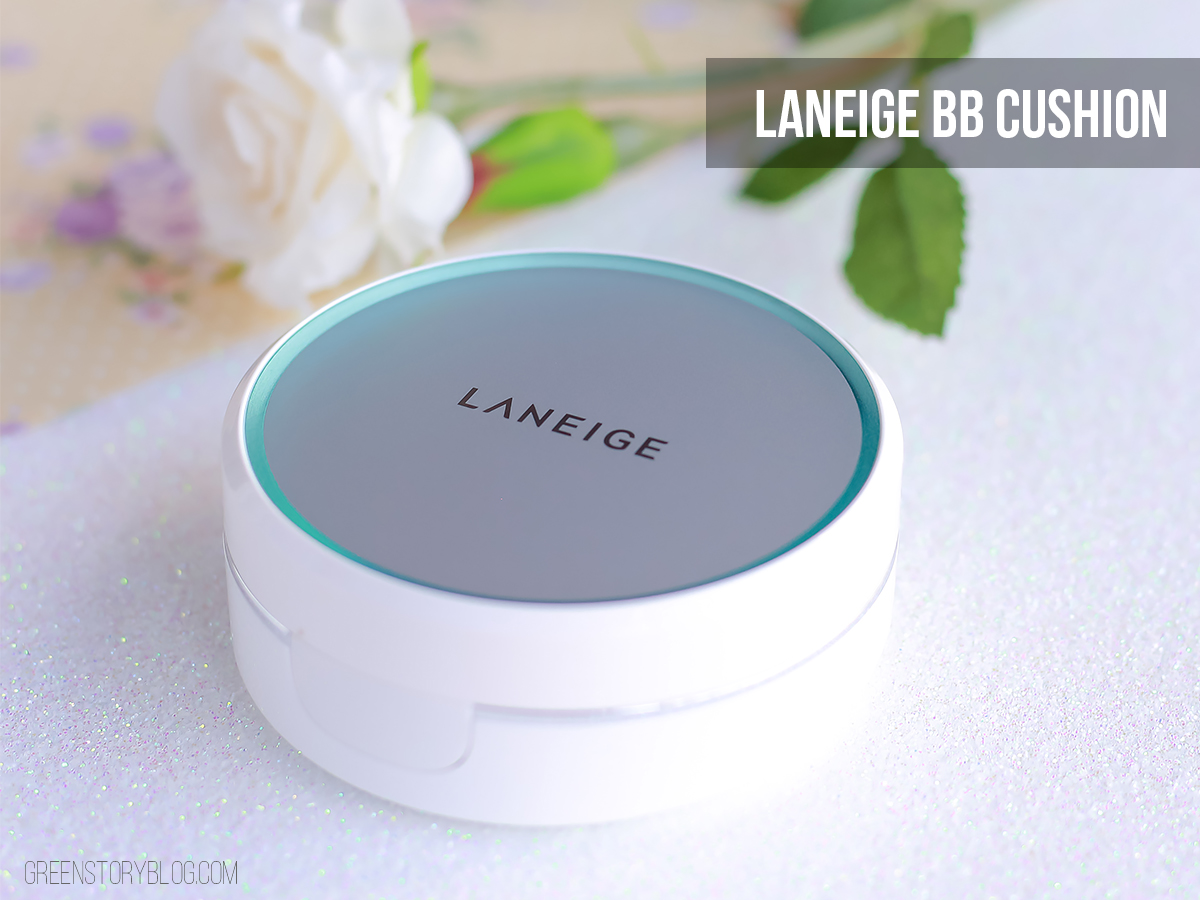 The new Laneige BB Cushion features 3 key factors:
3D Skin Fit Cushion
The newly improved cushion is strong and with just enough elasticity which allows you to pick up the desired amount of product easily and evenly with the puff. The BB liquid adheres lightly and thinly onto the skin providing a transparent makeup look.
Super Flex Lasting
This new feature intensifies the long-lasting effect of smooth and even skin texture by the anti-darkening film layer. The anti-darkening film layer works automatically when applied, concealing facial wrinkles and protects makeup all day keeping up the brightness.
Hydro Ion Mineral Water
The new BB cushion is now upgraded with Laneige's signature Hydro Ion Mineral Water that contains 6 minerals (Manganese, Magnesium, Zinc, Calcium, Potassium, and Sodium) and 3 essential vitamins (A, C, and E) which assures hydrated skin all day and more lasting power.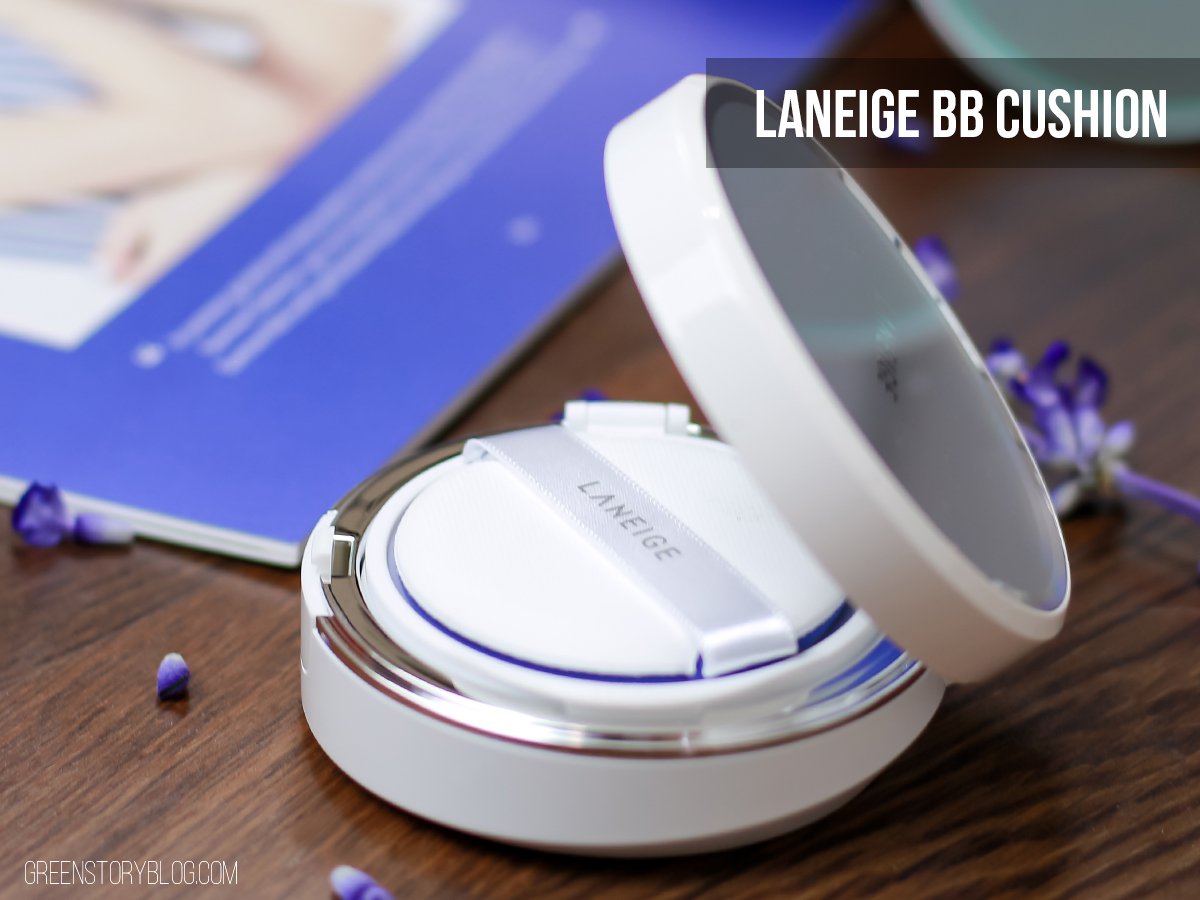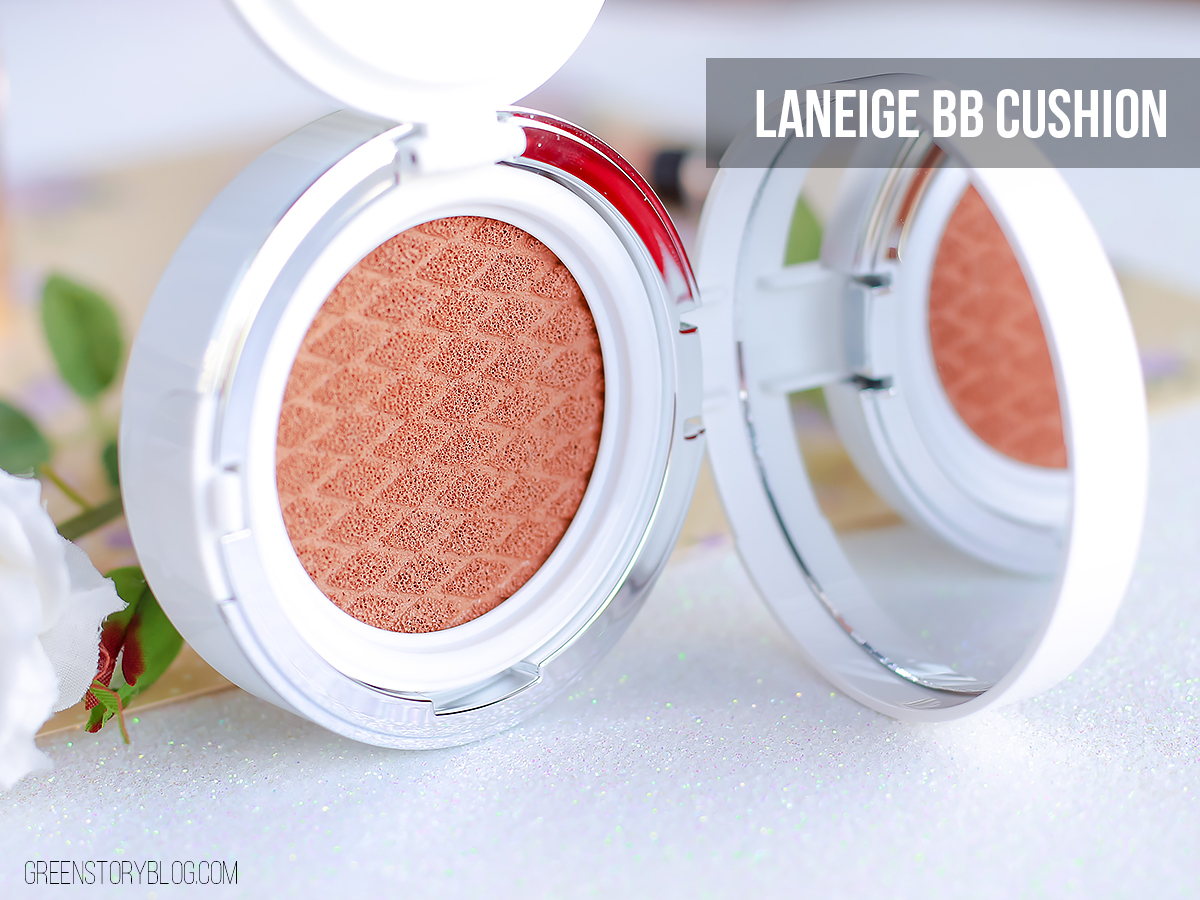 What are these new technologies of Laneige BB Cushion?
To talk about this new Laneige BB cushion I've to tell you about their two new types. These two different types of Laneige BB cushion explains the new technology in their formula.
BB Cushion – Whitening
– incorporates the patented Sparkling Coat Technology with the application of Magic Pigment System. The pigment system uses micro-sized pearls with two different color schemes (white or silver). White pigment offers bright glowy look while silver offers a moisturizing radiant look, also deflects light by 360 degrees.
Water coating technology of this one provides a moist and smooth complexion for a natural dewy look. It also claims to brighten the skin from inside for its Melacrusher technology.
BB Cushion – Pore control
– offers two-step oil control while minimizing pores and blurs out the uneven skin texture. Its dual powder formula controls sebum and gives a semi-matte, a soft and glowy look that lasts all day long.
Apart from those major differences both type of the BB Cushion has broad-spectrum sun protection(SPF50+ PA+++) and claims to be water resistant.
How about the BB cushion shade range?
For the first time in my knowledge, Laneige BB Cushion is offering a vast range of shade with undertone variety. They are available in total 8 shade, 6 shade (13, 21, 23, 31, 33, 35) in neutral/warm undertone and 2 shade (13C, 21C) in cool tone. I've matched my skin with the shade 35(Coffee) and got both types; Whitening and Pore control to try them out.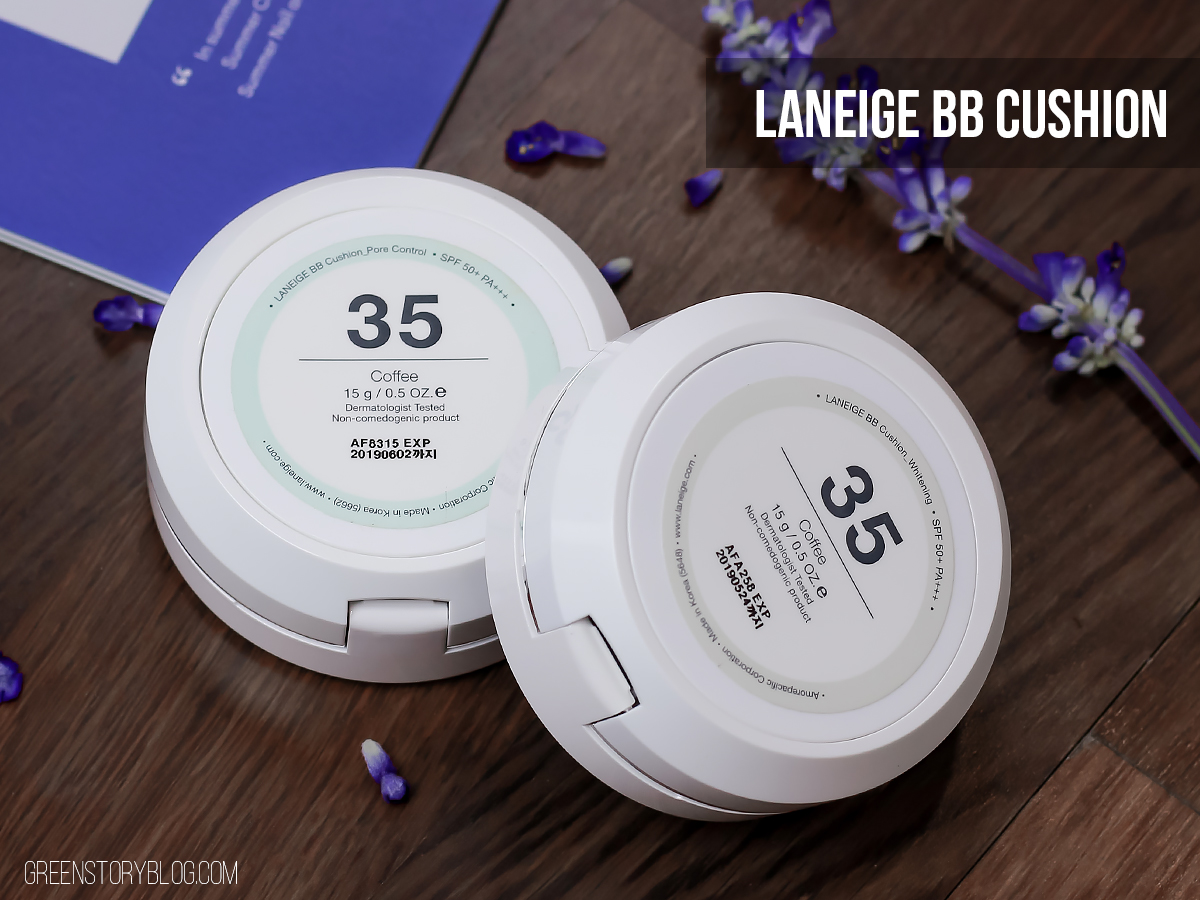 My Experience with Laneige BB Cushion:
First of all, when I found out Laneige BB cushion is offering deeper shades, that pleased me right away. Until now I was unable to find any BB cushion that doesn't look white in my tawny skin. While I was trying them out in the launch event I was impressed by the finish of the Pore Control one right away thus I started using that one first. After a week or so I tried out the Whitening one.
Pore control one works just the way it claims. Once applied it does visibly smooth out skin and uneven skin tone, gives a semi-matte finish, feel super lightweight and last throughout the day. The whitening one also works the same way as it claims. Gives dewy finish, hydrating on the skin and long-lasting. None of them gives any white cast either.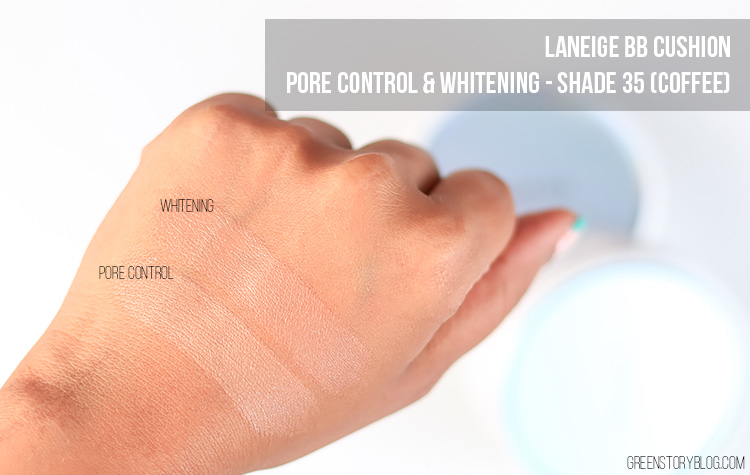 These BB cushions are meant to give natural/transparent coverage. However, I find the Pore-control one gives a bit of better coverage than the Whitening one. I tried to wear the BB liquid in a layer for a fuller coverage; again Pore control one builds better while the Whitening one remains almost in the same translucent coverage. For the dark blemishes/spots I've, I was spot correcting them with a concealer.
The BB cushion doesn't really need to set with powder after application but for my habit, I do set them with my Ben Nye Neutral Set Powder and surprisingly they don't lose their luminous characteristic (especially the Whitening one) even after setting the base with powder.
Although these BB cushions are long lasting, after 5/6 hours I do get some oiliness in my T-zone and sometimes my smile lines get slightly obvious(those happy days when I laugh too much). But with Laneige BB cushion retouching has never been so easier! Trust me, you can just touch up with the cushion directly and it looks refreshed right away without giving any cakiness.
Another user fact I must mention about this new Laneige BB cushion,
I usually don't like to use the puff that comes with it (only use it when I'm retouching) probably because I like the old school foundation application method. Also, it feels unhygienic to use the puff over and over this is I use my beauty blender. Although beauty blender soaks up a lot of product that the puff it comes with yet I find the beauty blender is easier to clean after every use.
To conclude

both of the Laneige BB Cushion,

I believe, those who have flawless to almost flawless and young skin they'll love the Laneige BB Cushion – Whitening. For my not-so-young and flawless skin, I love Laneige BB Cushion Pore Control more. I've used quite a lot of high-end to drugstore BB/CC creams so far. For everyday makeup, with a high SPF50+, this is the best product I've used so far. My current one is almost finished and I'm surely going to repurchase it.
---
Shopping Info:
Laneige BB Cushion Whitening | RM159 (15g X 2)
Laneige BB Cushion Pore Control | RM159 (15g X 2)

Available nationwide at Sephora, Aeon, Isetan, Parkson, or any Laneige Boutique.
---
If you're interested in knowing more about BB Cushions, then do read my experience with Laneige anti-aging BB cushion. I've compared the anti-aging BB cushion formula with Laneige pore control and whitening cushion formulas.
If you've tried all the BB cushions by Laneige then let me know by commenting the name of your favorite one.