Are you an eyeshadow junkie? I've become a serious one, don't know when or how! All my shadow palette lies in peace in the darkness of my Alex Drawer. I like to state at my drawer sometimes, I do rotate them in my use as well. When I started buying single pans of Makeup Geek eyeshadow then I first felt the need of an empty palette to house those single pans. I opted for an eBay $6 magnetic palette first. That palette wasn't anything good and my eyeshadows were growing in numbers. So I opted for my first MUFE empty palette. From then, till today I've got quite a few empty palette in my collection. So today thought to do a comparison post on them.
Make Up For Ever Metal Empty Palette | XL and L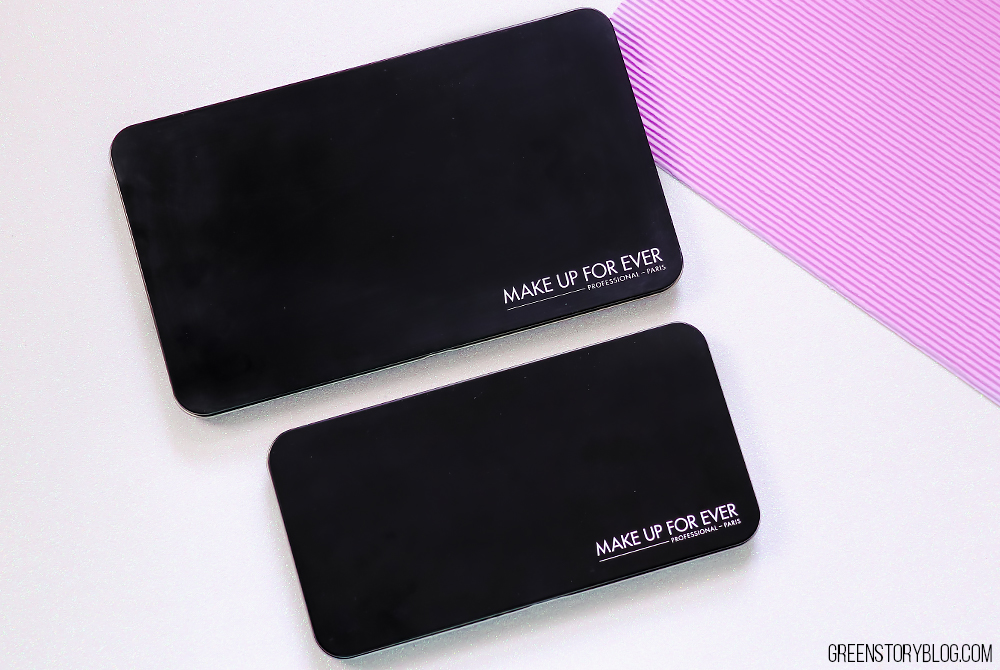 My first empty palette was the Make Up For Ever XL empty palette. The have quite a few variety of sizes but I opt for the biggest one first, I needed something to house all my Makeup Geek Shadows. This MUFE XL size was reasonably cheap than other ones available on the market. Needless to mention, I fell in love with the quality as well.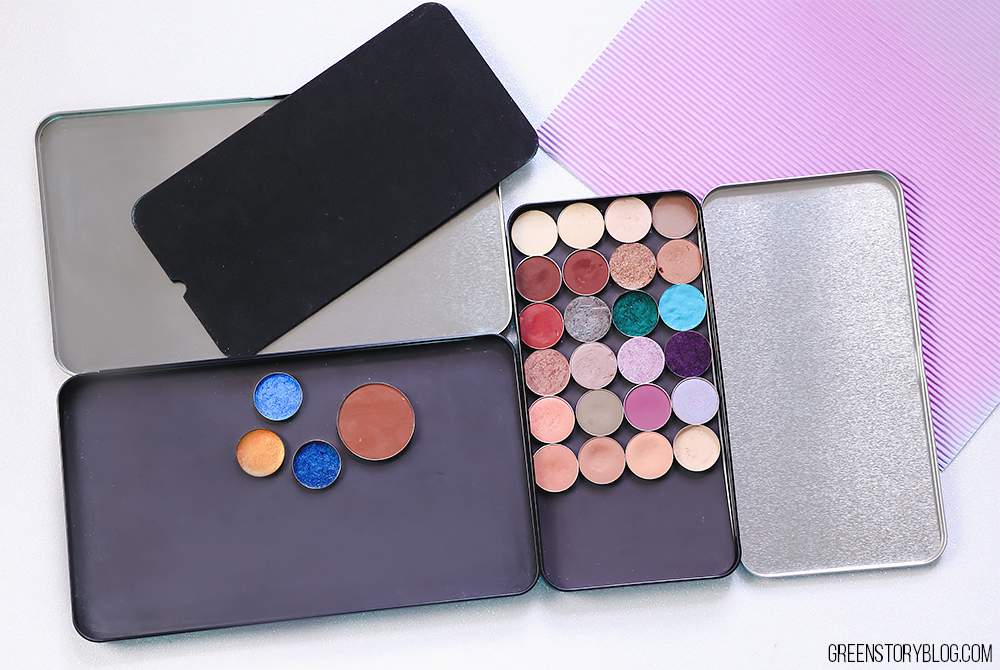 Later I bought the L size one because the XL one is quite big and heavy.
MUFE empty palette has a solid base of magnetic thing inside which is the main reason for its heavyweight. It also comes with a foamy sheet to put it over your shadows so when you're traveling the palette will protect your shadows from any unfortunate situation. The closer of these palettes is old style pencil box closer like, So they're quite secure. There was also a plastic sheet over the magnet sheet (i guess to catch the dust) I always trash that, anyway!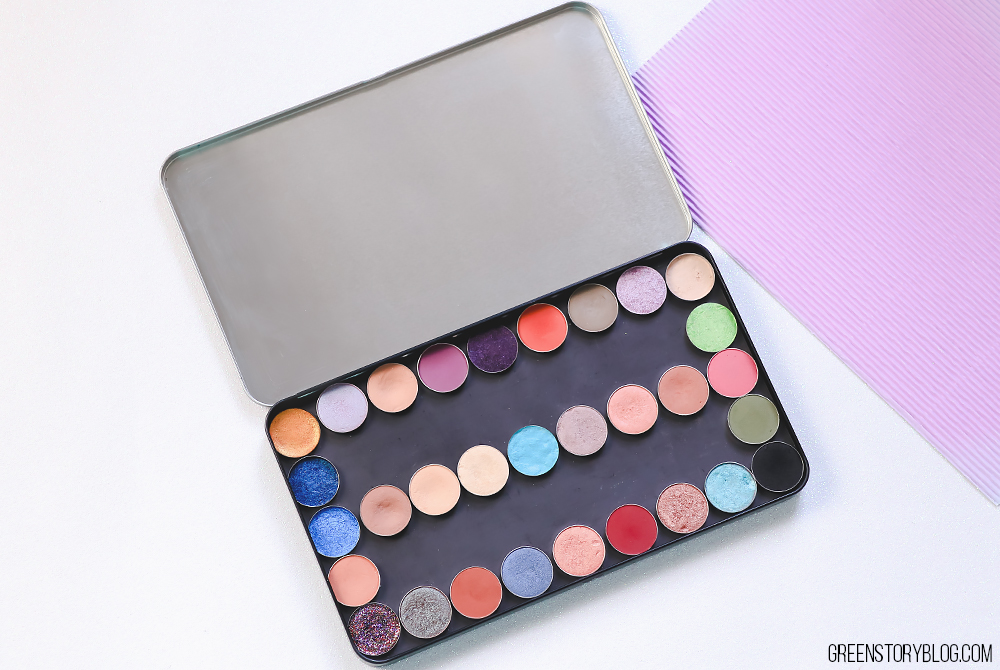 Make Up For Ever Xl palette can house 45 standard (e.g. Makeup Geek, MAC) shadow pans and the size L can house 32 shadow pans. The smaller one is definitely lightweight than the XL one, I use L size one for my daily shadows and keep the big one inside the drawer with stock shadows.
I use to travel with the L size palette as well but again, it felt a bit heavy and less convenient, always.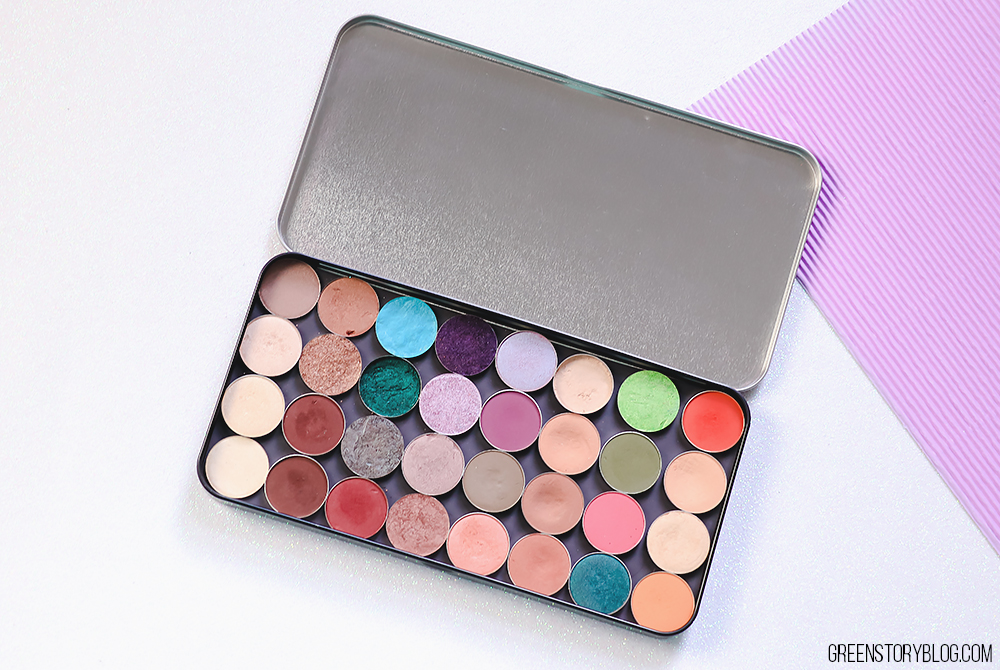 Z Palette – Large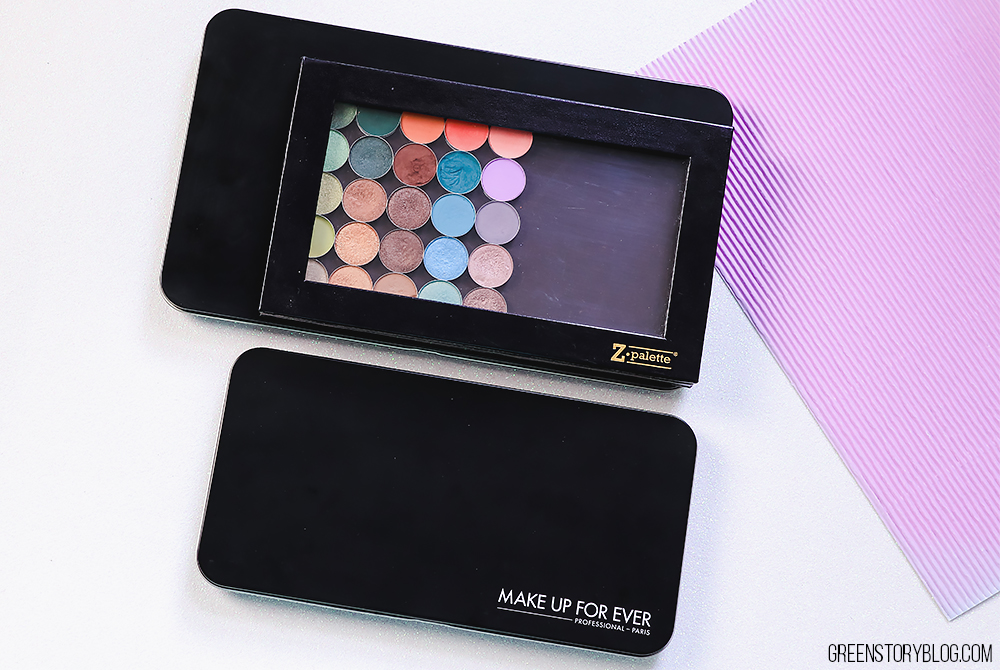 The size of it is pretty much similar to the MUFE L size palette (picture above) but it can hold only 28 shadow pans. Because the proportion is somehow not even to house more shadow. I got the Large Z-Palette to ease traveling issue. Z-palette is made out of plain cardboard box, the window is plain transparent plastic and closer is magnetic as well. I found the magnetic base of the Z Palette quite flimsy and not so reliable.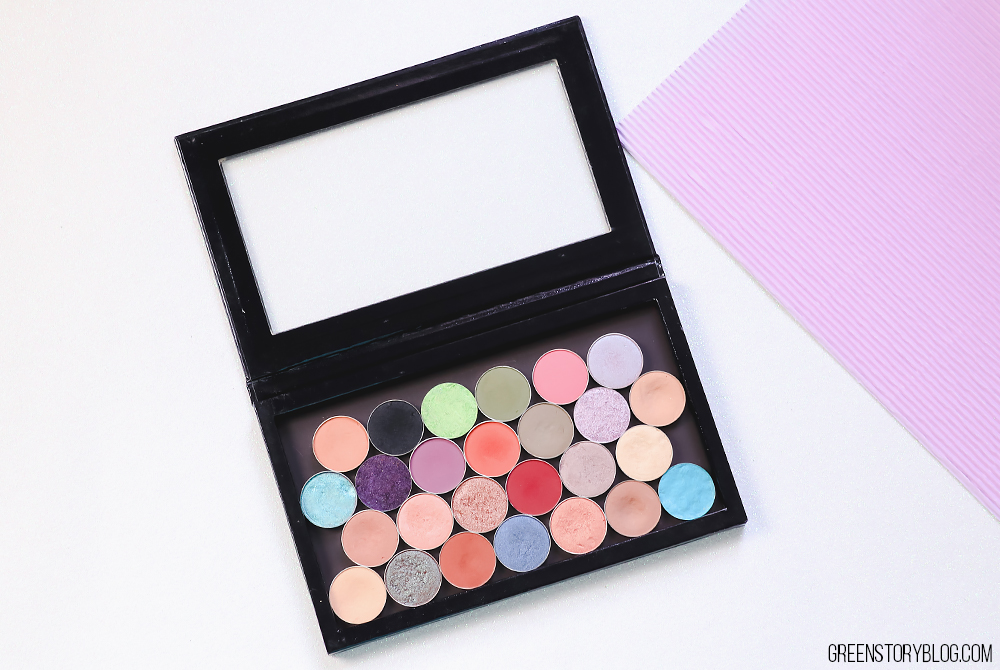 I've never been courageous enough to travel with this palette. I always feel something in my luggage will poke the plastic window and that will ruin everything. I'm currently in the middle of depot-ing all my Sleek Eye Shadow palettes and keeping this Z-Palette only for them. Sleek eyeshadow pans are half of the size of a usual shadow pan so I guess I can house 4/5 of my sleek palette easily in this large Z-Palette.
I like the fact that Z palette is super lightweight but wish it was a bit strong.
Tarte Magnetic Empty Palette
This Tarte empty palette is a new addition to my empty palette collection.
I've been using my Makeup Geek MannyMUA palette for traveling purpose. If you have that palette then you know you can poke out the shadow pans from there and put on something else you like. That palette is made of paperboard so after a year of use, it went so nasty looking. I needed to replace that. Just at this very moment, I noticed this Tarte palette on Sephora website.I
I haven't had much expectation from it, bought it because I needed one. But when I got this on hand it impressed me. The palette is so freaking well made. Yes, it is a cardboard palette as well but it is thick and strong.
Tarte empty palette is square in shape and can house 30 shadow pans. It has a big mirror on the opener flap and the magnetic base is as strong as the MUFE palettes are. Moreover, it is comparatively lightweight than the MUFE large palette. Without any doubt, this is palette I was looking for to travel with. I can, in fact, house my contour/blush pans along with shadows when traveling.
Overall, I guess you can say which I love the most. For the price and the quality surely MUFE wins it all. However, if you want a travel-friendly palette, get the Tarte one.
[color-box]
Shopping Info:
Make Up For Ever Metal Empty Palette – XL | RM100
Make Up For Ever Metal Empty Palette – L | RM75
Z Palette – Large | $20 [approx RM89 without shipping]
Tarte Magnetic Empty Palette | RM67
MUFE empty palettes are available exclusively at MUFE boutiques here in Malaysia. Z-palettes aren't available, But you can get them from Makeup Geek Website if you want. Bought the Tarte palette from Sephora Malaysia online. Sadly they went out of stock within a few days. I really hope they'll stock up soon. [I want to get another piece of this]
[/color-box]