Hopefully, you've already read my previous post about Cure Water Treatment Skin Cream when they launched here in Malaysia. If you haven't, give that a read because I've already given all initial info this Japanese product and a bit about the brand. It's been quite a while now and time to share my own experience with Cure Water Treatment Skin Cream.
I won't do much blabbering but will straight get to my thought on how the cream worked for me.
Ingredients:
Ingredients: Water, Cyclopentasiloxane, glycerin, Butylene, Glycol, Dimethicone, Dimethicone/PEG-10/15 Crosspolymer, Sodium Chloride, Methylparabem, Sodium Citrate, Glycosyl Trehalose, Hydrogenated Starch Hydrolysate.
My Experience with Cure Water Treatment Skin Cream: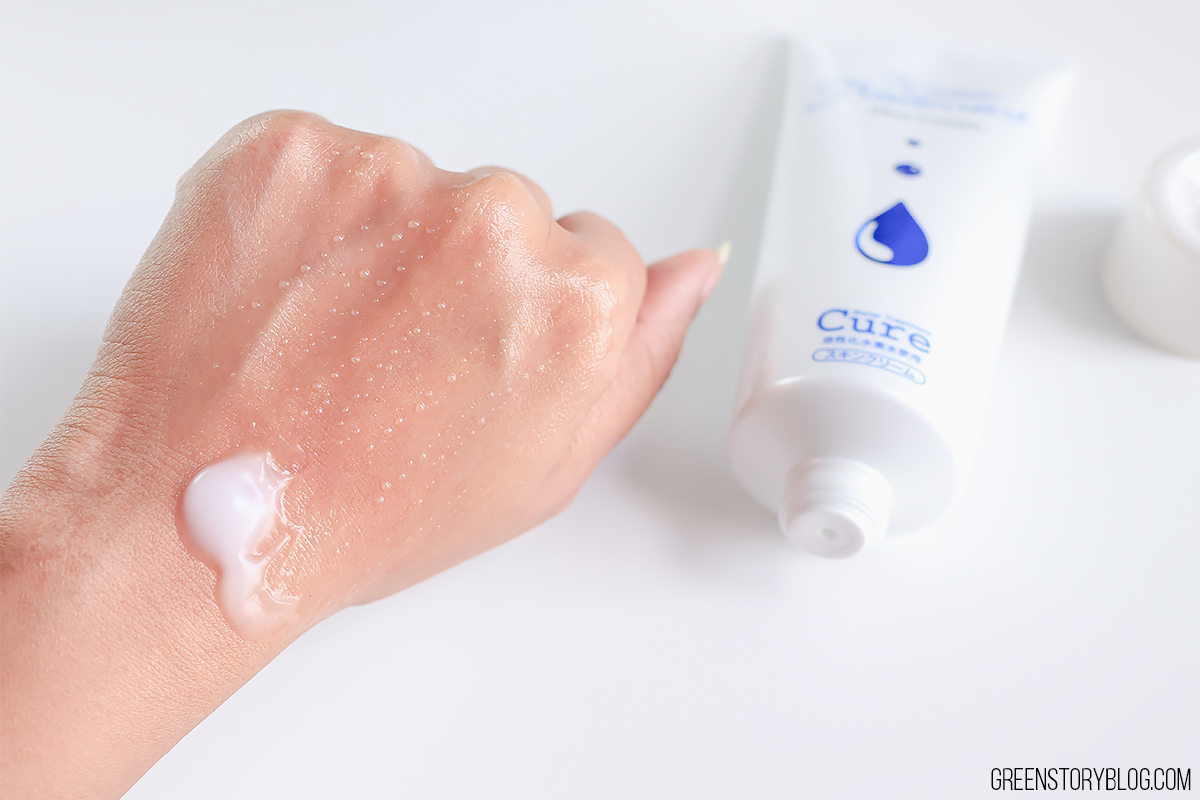 Cure Water treatment skin cream claims to be a combination of toning water (moisturizer) and lotion (oil effect) in one to deliver a splash of water. And it is true to its claim, once I spread it on the skin, it forms water (activated hydrogen water) droplets. Which instantly gives the most refreshing feeling ever. After a few moments of massage on the skin, the product completely absorbs into the skin.
I love the fast absorption rate and my skin feels super smooth, hydrated but 100% non-greasy afterword.
The cream claims to be specially formulated to battle against the dry skin. However, my skin (combination) gets thirsty after 2/3 hours and I need to reuse it. Another hand, if I use it as an emulsion before my regular moisturizer, it works better. However, contained silicon (cosmetic grade) and its layer to lock the moisture on the skin make me confused if this one lets my regular moisturizer work into my skin.
After using it for a couple of weeks I didn't find any negative side of this cream, neither any extra benefit. So I started using it directly for my hands & body. This seems to works fantastic for the body parts than my face.
A little goes a long way but the lightweight formula and refreshing feeling it gives, make me use it pretty often. Thus 100g tube doesn't seem to last me long. I appreciate the no color, no fragrance, non-greasy, lightweight formula and simple packaging.
Overall, In my opinion, I will say it's just a nice moisturizer that feels really nice on the skin. I think it's a perfect product for sensitive and young skin. But for my skin, It's not any All-In-One moisturizer. If you want to splurge on a Japanese moisturizer you can give this one a try.
[color-box]
Shopping Info:
Cure Water Treatment Skin Cream | RM159 for 100g
***Available at selected SASA stores in Malaysia.
[/color-box]