My 'Number One' Korean skincare, hair & Makeup shopping destination Althea never misses to please me and this time, it was a Halloween surprise 👻  A couple of weeks ago received a big gray paper wrapped package (inside it was the charming Pink-box, as always) from Althea. Be aware you guys, I got some super potent ghouls, I mean products with me!
Althea is preparing for Halloween so now they have a lot of creepy (finely cute in my eyes) products to shop from skincare, hair to makeup. When it comes to Korean skincare, to be precise,I truly feel they always wins the 'Fun Fact'. What do you think?
Without further 'bloodcurdling' let's talk about my new Korean skincare, hair & Makeup haul and quick thoughts on them…
[wp_ad_camp_4][/wp_ad_camp_4]
Mamonde Rose | Moisturizing Sheet Mask | RM 6.00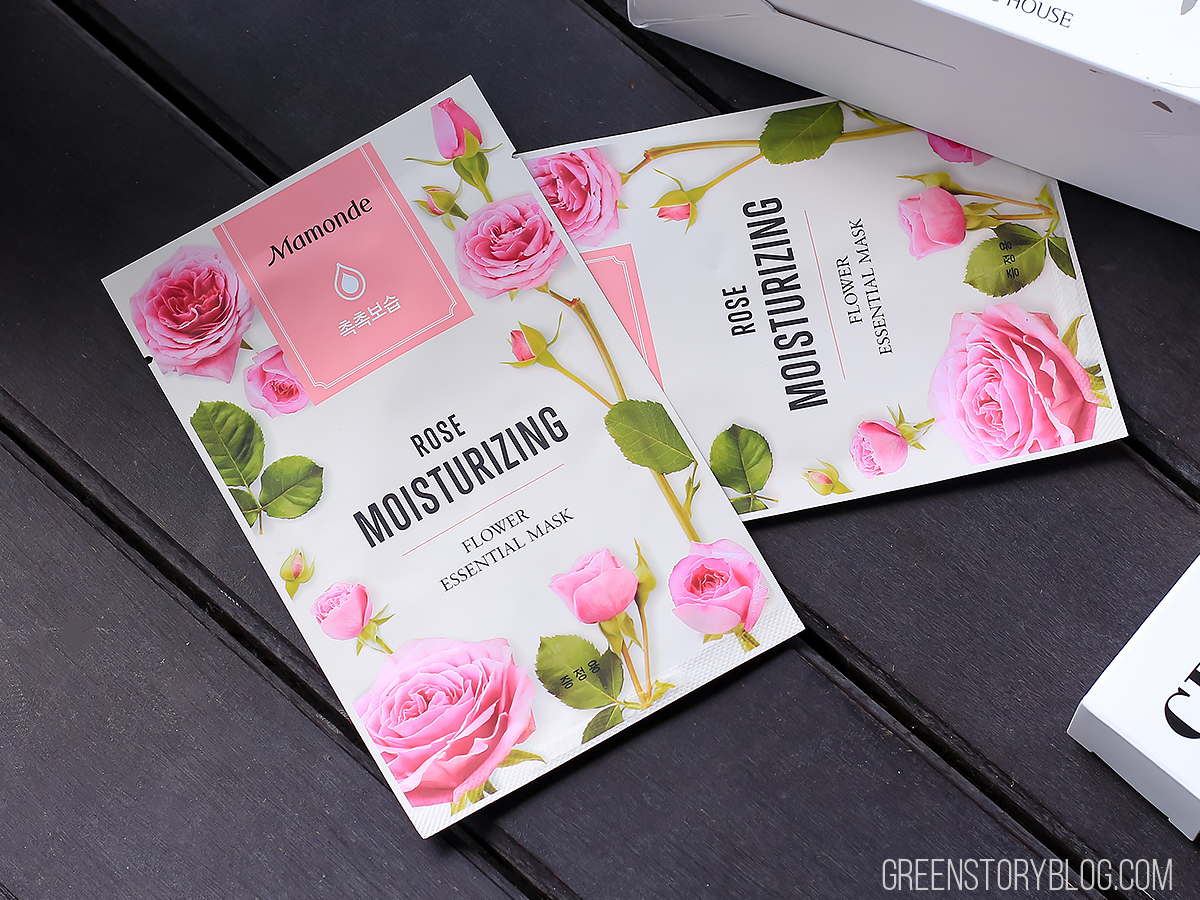 Remember my previous article when this year in May Mamonde launched here in Malaysia. Absolutely love this floral inspired brand and their sheet masks are amazing for the price. Yes yes, Mamonde products are also available in Althea.
This particular rose mask is a punch of rosy refreshment. If your skin is dehydrated or you passed a rough day indulge your evening with this rose mask. You'll feel recharged within jus 15 minutes.
Elizavecca Hell-Pore Clean Up Mask | RM 42.00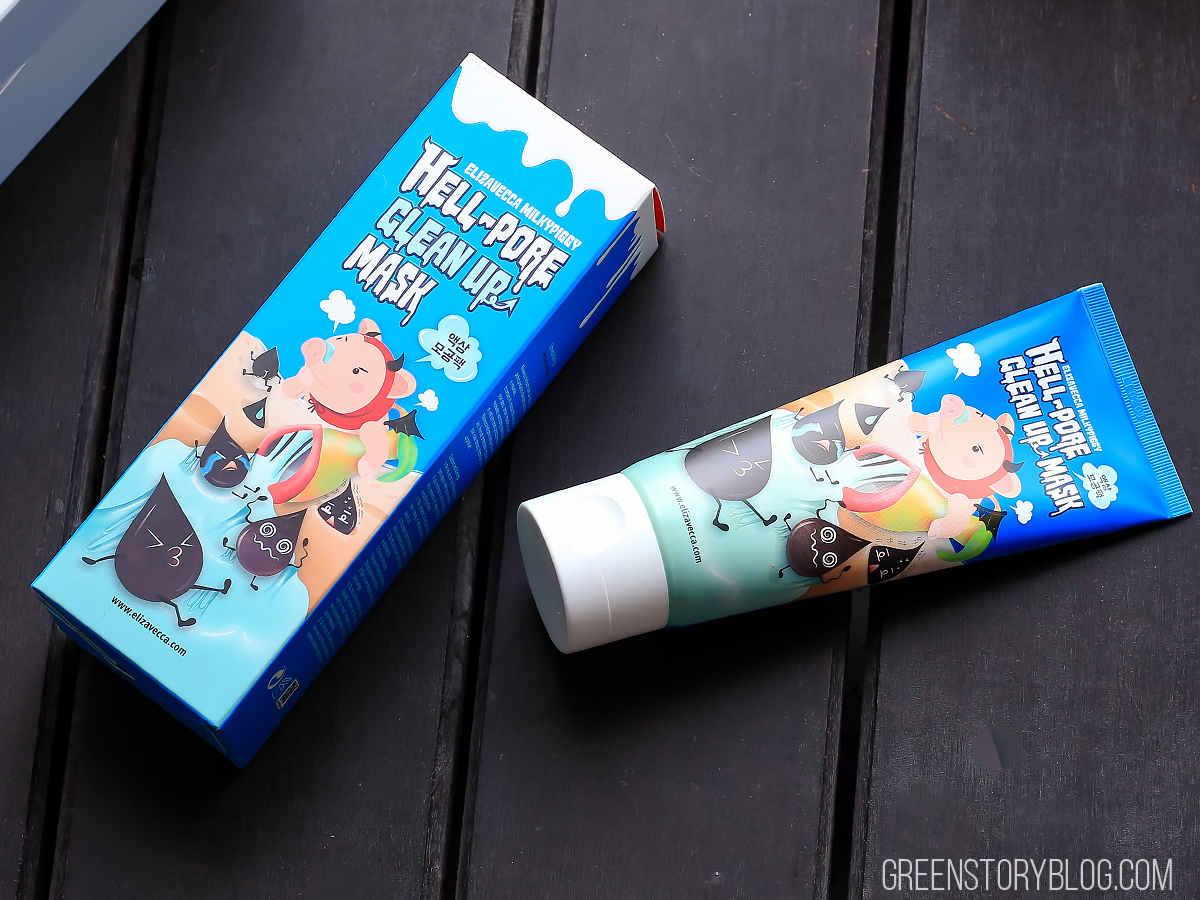 This is a peel-off mask with 4% of activated charcoal. Apart from the cute piggy packaging, Elizavecca Milky Piggy Hell-Pore Clean Up Mask also works well on extracting pores. don't have blackheads but I'm sure if you're suffering from a strawberry nose this can help you out.
The mask is gray in color and has very good adherence in it. It stings my eyes just after application (not sure why) but that goes away after 30second or so. Dries on the skin within 6/7 minutes and once peeled comes off easily without tearing apart. So I can say its a mess free one. Although this product claims to works the best as a nose pack but I kinda liking it for my whole face.
Piolang Monster Pack | Face Lifting Mask | RM 53.00
Monster Pack… how Halloweeny it sounds! This is the most attractive ghoul of this haul. The packet instantly made me curious when I fist saw this but I was completely unaware of its monster power untill I tried it out.
In the package, you get a pot of powder, liquid activator in a bottle to mix the powder, a cute spoon, a silicone-ish pot to mix the ingredients and a mixing/applicator brush. Now, I couldn't read the amount of product it comes with because all are written in Korean.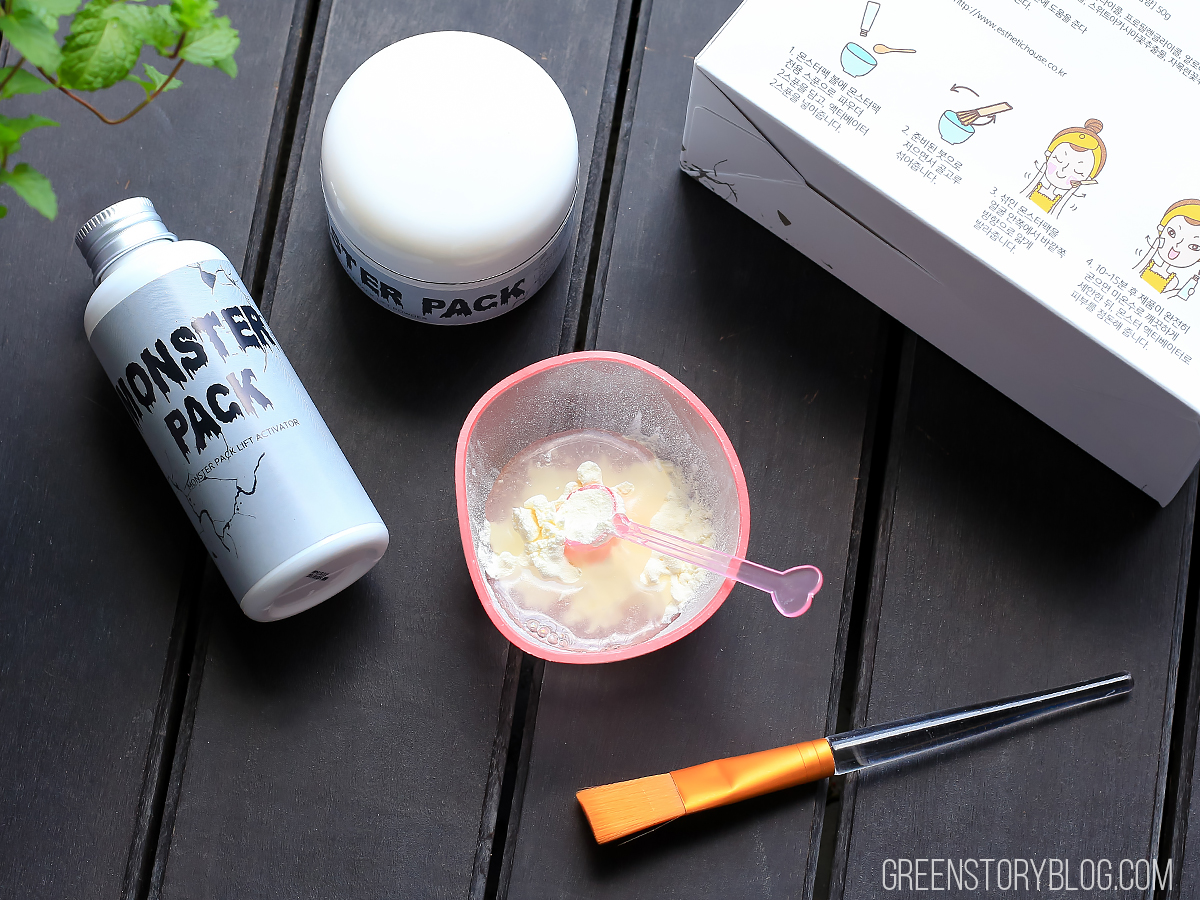 The pack is instructed to mix in a 1:1 ratio. I prepare the pack as instructed for my face and neck. Apply using the applicator brush. The liquid smells very nice on its own but when both mixed together it's not really that pleasant. Fortunately, they don't smell that strong either.
In my first use,  after the application of 2 minutes felt nothing but in the 3rd minute, I started feeling why it's call 'Monster Pack'. I've never experienced such tightening effect with a mask before, in a good way! I let the mask dry (not fully) for 7/8 then wash them off. Taking off the mask is slightly messy, you better use them before shower :p
The liquid/activator is a post-mask toner as well. Skin feels nice and relaxed when applied after the pack.
As you can see in the pack(picture above) that it is a face lifting mask so a tightening effect was expected. But I'm pleased to see that the pack cleanse every bit of dead cell from my face and also give an instant brightness. I'm looking forward to using Monster Pack once every week now. Not only for the face but I added this mask to my hand and feet care routine. After all, who doesn't like a crease free hand and feet 😀
PS: Do not apply this near your eyes. I won't suggest this mask to anyone who is under the age of 25. The tightening effect it gives can be too aggressive to young skin.
[wp_ad_camp_3][/wp_ad_camp_3]
Piolang CP-1 Ceramide Treatment Protein Repair System | RM27.00 for 25ml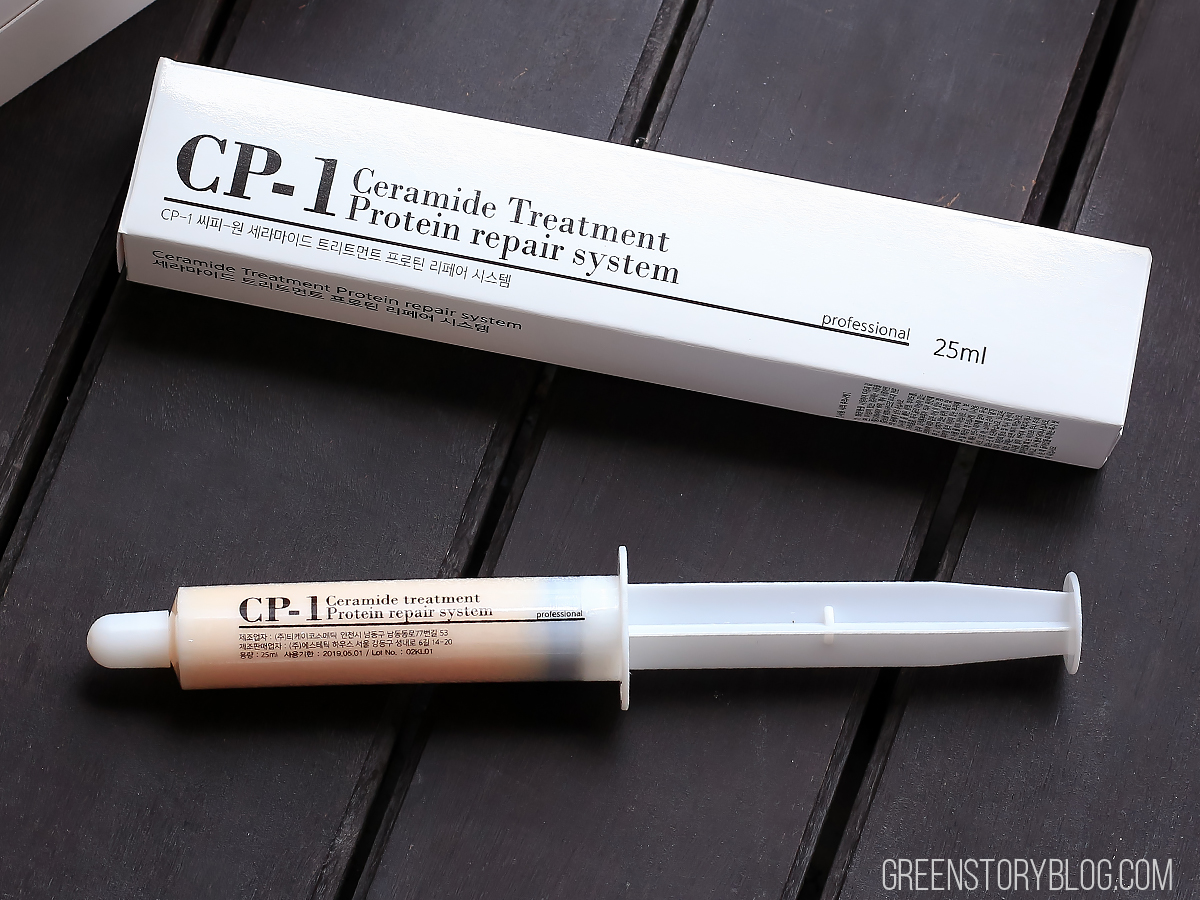 How interesting is this syringe packaging of CP-1 Ceramide Treatment Protein Repair System? A perfect adornment for your shower for this coming Halloween, hehe. It's a hair mask that you use in the shower. The mask contains hydrolyzed keratin, collagen, a mix of 17 amino acid and 5 kinds of vegetable oil.
You don't need much of this treatment pack. I've used it before in a smaller (syringe) size that lasted me approx 3 use. After shampooing take a generous amount out of the syringe (according to your hair length) so you can lightly cover the hair up. Concentrate more at the damaged end. Leave your roots alone if your scalp is oily. Wait for 3 to 5 minutes then rinse off.
The mask repair and nourish my damaged hair (if you read my previous article then you know how damaged my hair is!) so well. The effect of this protein pack last in my hair for two days so I'm using it 1 to twice a week nowadays.
Velieve Bellamonster Crayon Color Blender Set | RM 85.00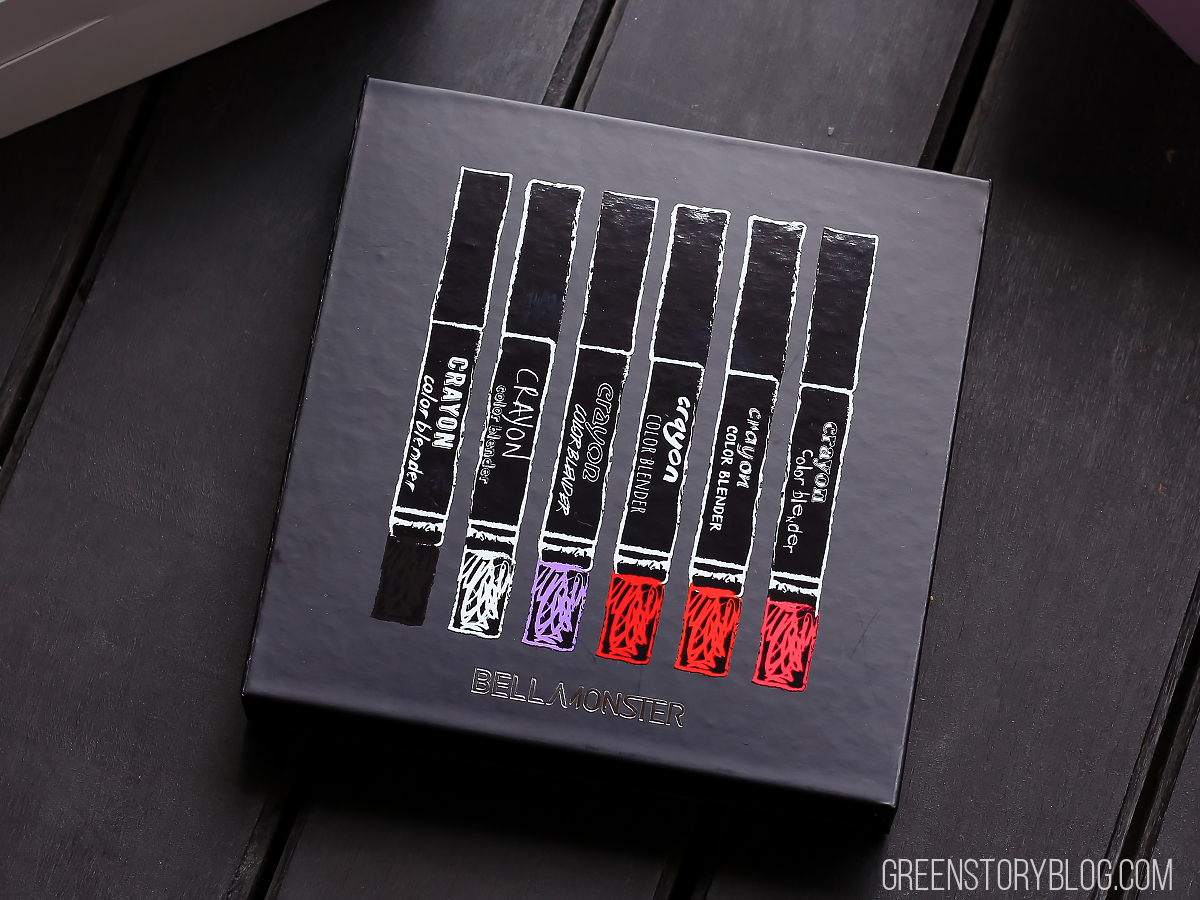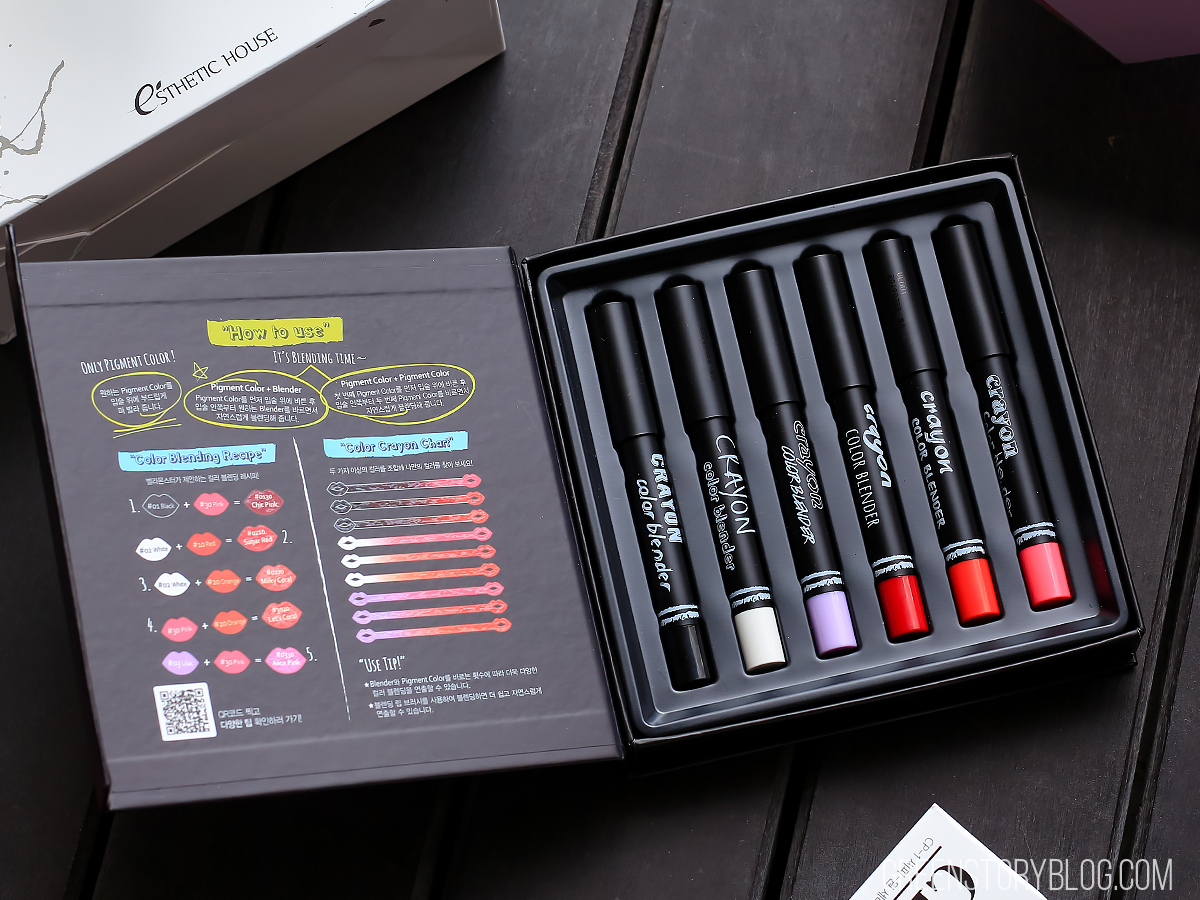 This is a super fun lipstick set that comes with 6 pen-stick in a beautiful black cardboard box. The set includes 3 pigment- stick (red, orange & pink) and 3 blending (black, lilac & white) shade. You can use three pigment stick on their own and mix those blending shade to create you desired shade. It's amazing that this set actually offers an uncountable shade range. How? …just by controlling intensity. Suppose, you can create a baby pink by mixing pink and (approx 80%) of the white shade and a natural pink by mixing the white and pink in a 50/50 ratio. If the pink and white mixed with a bit of black then you'll get a nice mauve lipstick. Sounds fun enough? I'm yet to experiment with this fully. Planning to post a full customized lip swatch in a separate post. Otherwise, this haul post will be too long, no?
Stay connected, ok?
[color-box]
Shopping Info:
Get your Korean skincare, hair & Makeup supply from Althea➡️ Visit Here
You can also receive an additional discount of 5RM[using my code ' GreenStory'] + 30RM[new signup credit]
Want to save some more?
Shop Via ShopBack (read all about my ShopBack experience) to get up to 10% cashback.
[/color-box]
[signoff][/signoff]