Kose is one of the most renowned Japanise skincare company, since 1946, and Sekkisei is one of the most loved brand name under their hood. If you are familiar with Asian skincare then, I assume, you probably know them already. It's not been long I myself got into Asian skincare and at this point, I'm very happy to try out such good stuff like Kose Sekkisei skincare. There is always something different and interesting about Asian skincare range that never fails to impress me. As you can already tell I'm going to share with you guys about my experience on a few of Kose Sekkisei skincare product.
I have been using this special edition of Sekkisei trial kit for about three weeks now. As a trial kit, this isn't really that small but most of them are in deluxe size so I was able to accumulate my complete thoughts on them. So without blabbering much, let's talk about the product…
[wp_ad_camp_3][/wp_ad_camp_3]
Sekkisei Emulsion: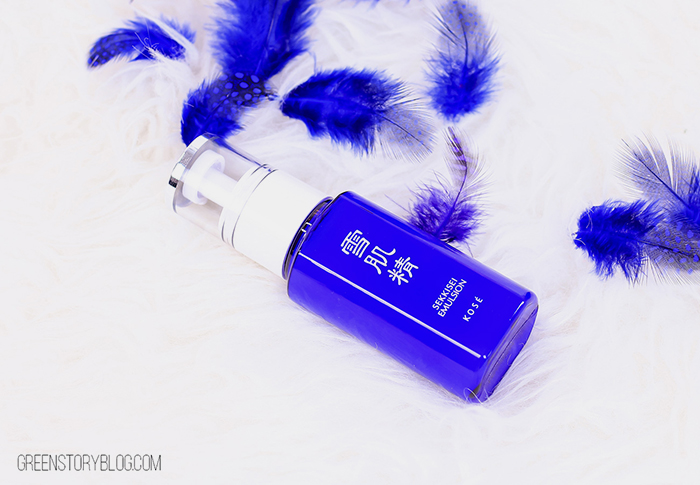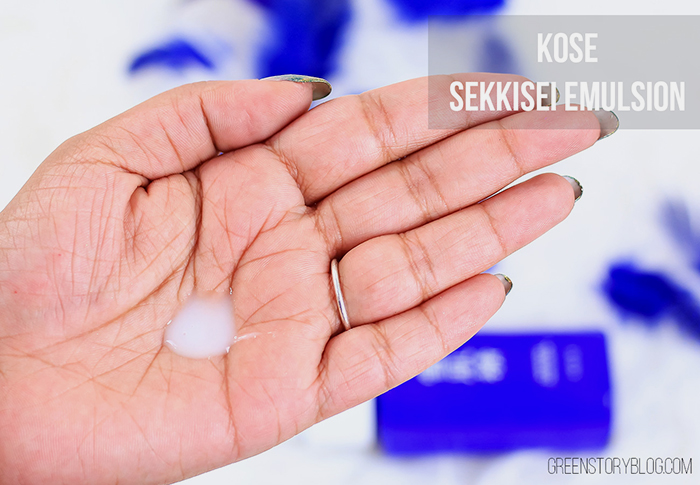 I have a 100ml of product here, the packaging is just the same like the full-size (140ml) one. The emulsion is very thin and liquidy in texture yet very rich in moisture. Absorb quickly deep into the skin and feels very refreshing. As we know emulsion is supposed to use before moisturizer but for this one, I didn't feel that I need to use a moisturizer over it because this emulsion itself is quite intense.
It claims to prevent freckles, dark spot and dryness. Yes, it does works on recovering dryness however I'm not sure yet if it's works on preventing dark spot.
Focus ingredients: Inula Britannica Flower, Chinese Pearl Barley, Paeonia Albiflora Root, Melothria Heterophylla and Angelica
Sekkisei White Liquid Wash: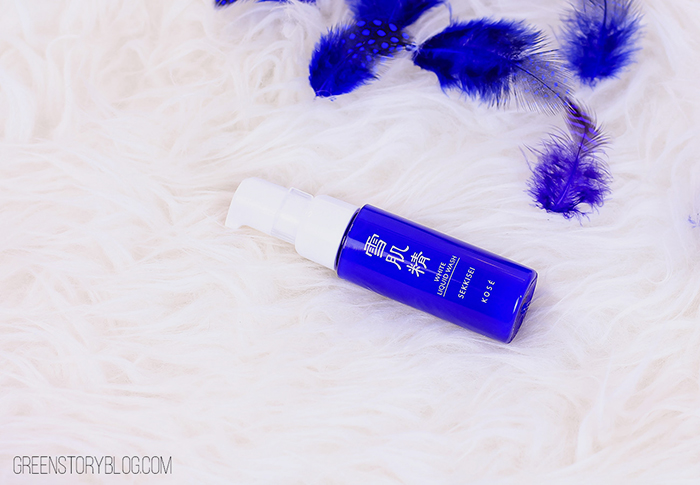 The texture of this face wash is exactly like the emulsion, thin but very creamy, almost feels milky on the skin. I love the after feeling as well, it cleanse without drying out the skin and leaves skin hydrated. It claims to be enriched with Rubus Suavissmus Extract that enhances skin dullness and soothes UV damage. With every use skin is restored to its optimal condition, ready for the next skincare step.
Sekkisei Clear Whitening Mask: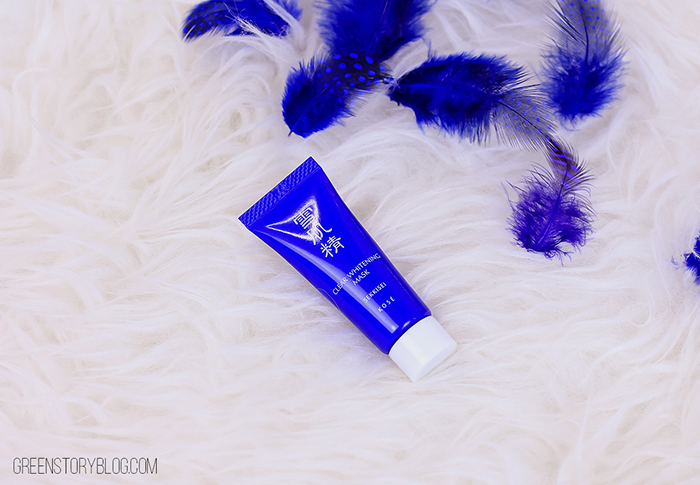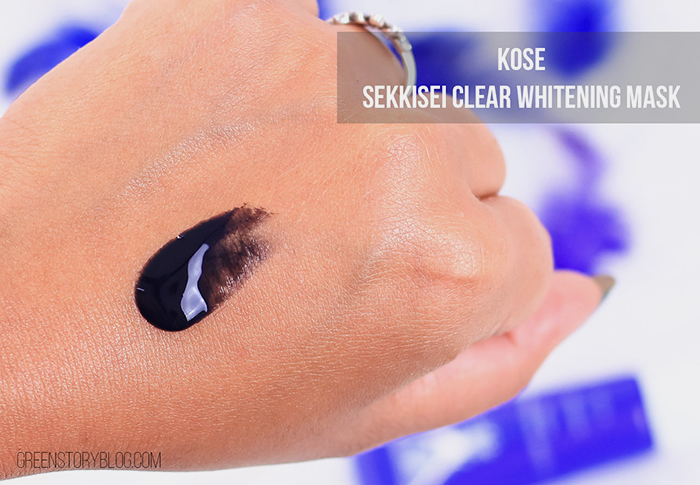 This is probably the one peel off mask that I like so far. Generally, I don't like peel-off masks, I find them very critical to remove. Sekkisei Clear Whitening Mask is very gentle to skin, spreads evenly, dries out to perfection and proper elasticity so it is very easy to remove. Top of that it cleanse pores nicely and doesn't get that hard so you'll feel uncomfortable. It claims to brighten and hydrate at the same time! Infused with Chinese Quince extract that inhibits sebum production on, while a blend of oriental plant extracts delivers supreme whitening benefits. Nano-sized black powder allows the mask to spread easily.
The trial pack of this mask gave me four use and I'm kinda considering it to continue.
Sekkisei Lotion: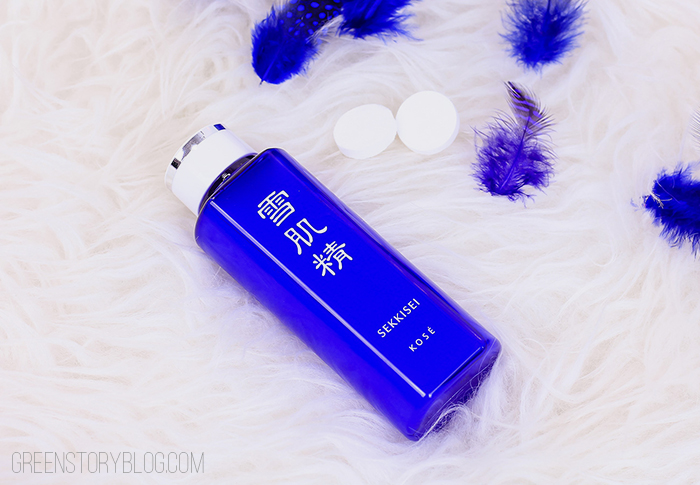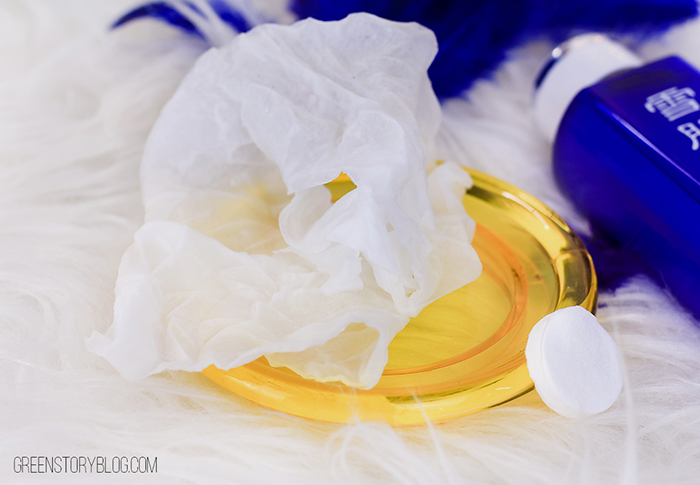 This SEKKISEI lotion is their best seller product. I don't know why they call it lotion when it totally looks and acts like a toner. But it can be used as a toner and as a mask. The trial pack came with a few dry sheet mask tablet. It was ment to be used with the lotion. You need to soak up the mask tablet with the lotion and then put it on the face like all other sheet masks. I loved how soft and thin the mask fiber itself was (I already used up all).
The lotion looks exactly like water(or I should say like all other toners), clear and runny. I use it now as a toner, soak up a cotton pad with it, then apply it after cleansing my face and before the emulsion. It doesn't feel creamy or oily in the skin, leaves skin hydrated and the fresh floral scent never fails to refresh my mind.
Sekkisei lotion contains Coix Seed, Angelica, Melothria and more ingredients which are carefully selected out from 100 types of oriental plants, that plays a vital role in balancing the skin's moisture level and brighten it up from within. This one has been my ultimate favorite among all these Sekkisei products.
Overall, it has been a nice experience so far with all Kose Sekkisei skincare product. Nothing occurred any skin issue but I'm so much in love with the lotion and emulsion. Definitely, will continue using them once I finish my current bottle. If you're somehow struggling with your skin you might give Kose Sekkisei skincare a try as because they are mild, effective and kind to skin.
[wp_ad_camp_4][/wp_ad_camp_4]


If you aren't familiar with Sekkisei then you must be wondering about the brand. The motto of Sekkisei is 'Glow From Within'. Setsuko (pic of the girl) – an icon with a fun-loving, bubbly personality, well-loved by Japanese SEKKISEI fans. Setsuko's name means 'little snow' in Japanese; a perfect match with the brand's commitment to bringing snow-white skin to women all around the world… Interesting, isn't it?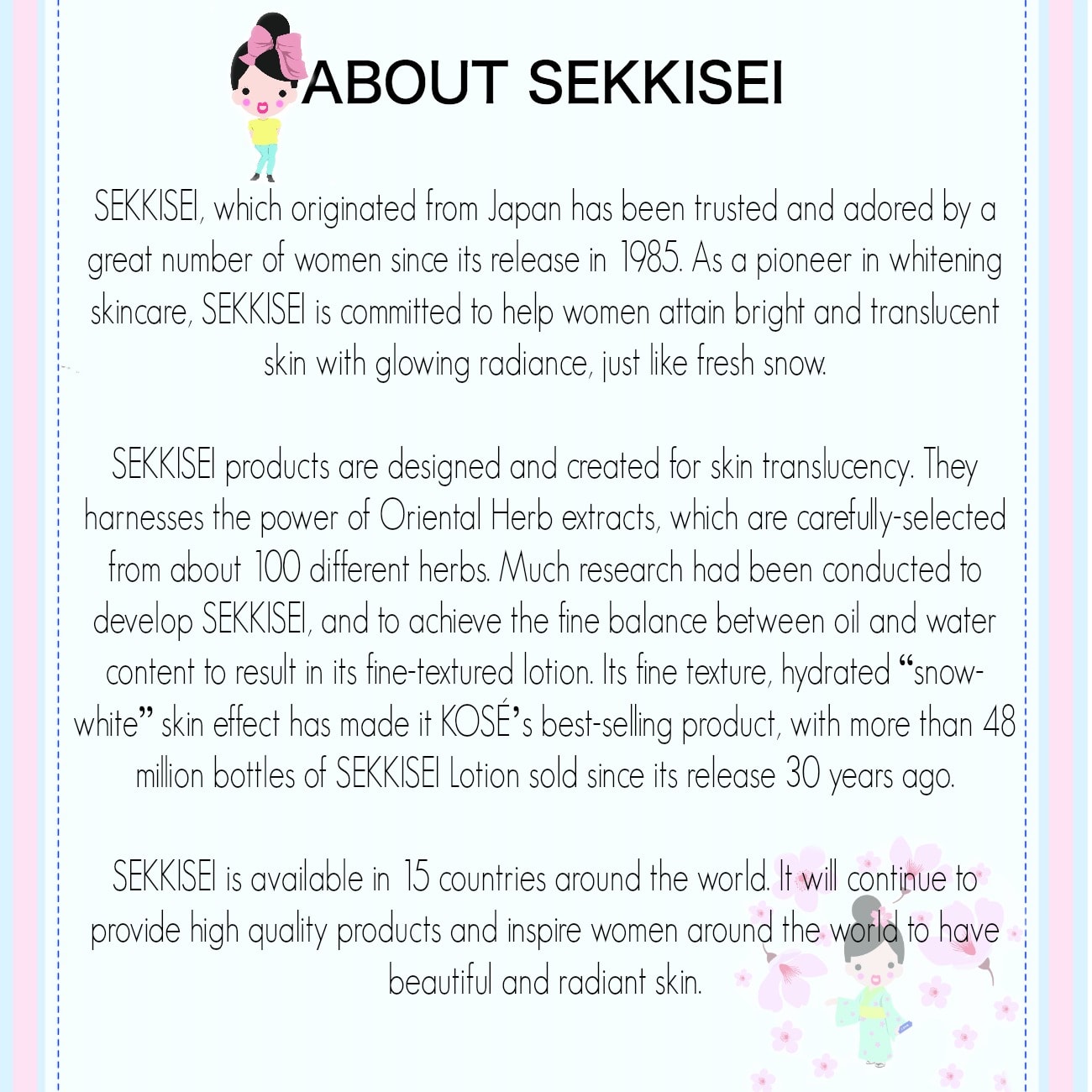 And lastly, I have to appreciate the brand's effort(I couldn't resist sharing) on how they sent me the goodie pack! It was such a surprise seeing the huge box filled with love! I guess it represents the characteristic of Setsuko, haha🎈
[color-box]
Shopping Info:
Sekkisei Lotion | RM180 for 200ml
Sekkisei Emulsion | RM192 for 140ml
Sekkisei White Liquid Wash | RM132 for 140ml
Sekkisei Clear Whitening Mask | RM95 for 80g
Kose Sekkisei Skincare products are available in Sephora, Aeon, Parkson, Isetan; nationwide.
You can also Visit Kose Website for more info.
[/color-box]

***PR Sample
[signoff][/signoff]