Lancome recently released the expansion to its Cushion Compact family with the launch of the Blanc Expert Cushion HIGH Coverage with SPF 50+/PA+++. The highlights of this cushion compact are, it is long wearing with high coverage, comes with a new Polar™ technology (patent pending) designed to adapt to a higher coverage texture and gives a lively rosy complexion.
There is also some major upgrade; the reinvented sponge cushion covered with a unique mesh.
The sponge cushion: it is made up of interwoven fibres that offer more space for the formula thanks to larger cavities. The stiffness of these fibres also allows optimal retention of the formula at the heart of the sponge.
The mesh: covering the sponge and activated on first use, it filters the formula to ensure fine, even application, while helping to maintain its freshness.
Lancome also says this is an innovative skin care and makeup trio to combat the seven environmental factors of the "Exposome", including blue light, and restore the complexion's rosy glow. A three-step routine characterised by freshness, and combining – depending on its products – pigmentation-correcting actions and surface-covering actions:
Blanc Expert Beautiful Skin Tone Brightening Cream, skin care designed to correct and even out the complexion.
UV Expert XL-ShieldTM CCCover SPF50 PA +++ tinted protection to combat blue light and pollution.
Last but not least, Lancôme has once again demonstrated its ability to innovate by creating the first high coverage cushion, a real technological challenge. Blanc Expert Cushion Compact High Coverage SPF 50 /PA+++ is the meeting between Lancôme's complexion expertise, its mastery of the best filters to protect the complexion, and travel- friendly technology that prioritises freshness and lightness. Three supposedly incompatible benefits that have now been combined.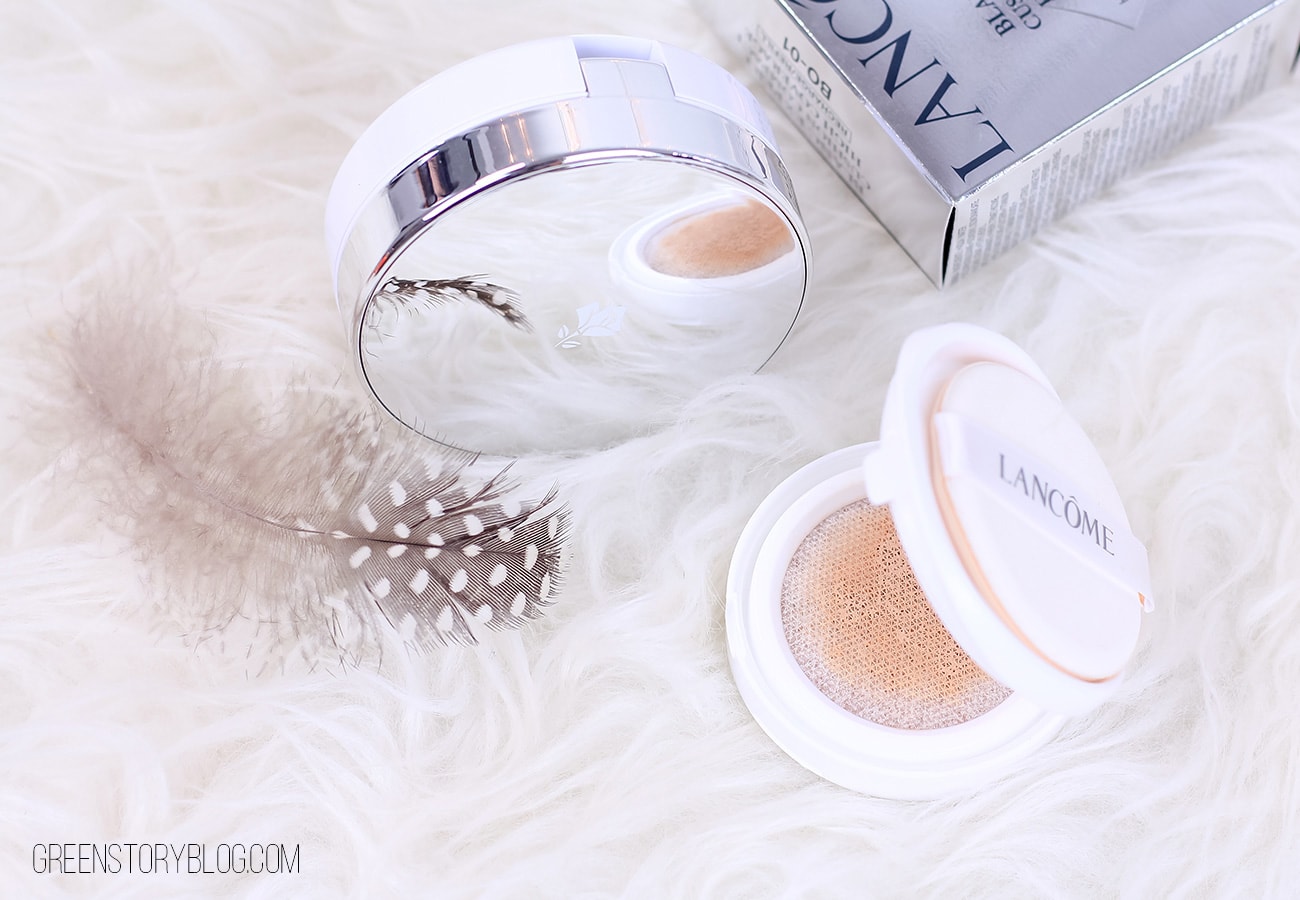 My experience with Lancome Blanc Expert Cushion Compact:
I absolutely love the packaging and new development this year. The mesh and the cushion look more luxe and well made in this new one. No doubt, it feels good to see a firm mesh rather than that old scrappy sponge cushion. Other than the cushion and mesh, the packaging is same as always.
The new Lancome Blanc Expert High Coverage Cushion Compact comes in a 7 different shade specially formulated for Asian Skin tone. As far as I can remember Lancome first launched their first cushion compact back in early 2015. I was quite intrigued by it then but sadly they didn't have my shade (they had only four shade last year) in the range. I was really hoping I'll find my shade this time but alas! Though they have 7 shades in the range but none is there to fit my medium-tan skin. Whereas Lancome USA/UK has vast shade variation for women of colours.
The Shade I got (PR Sample) is BO-01 (picture below) is the lightest shade among all, it's a beige tone in it.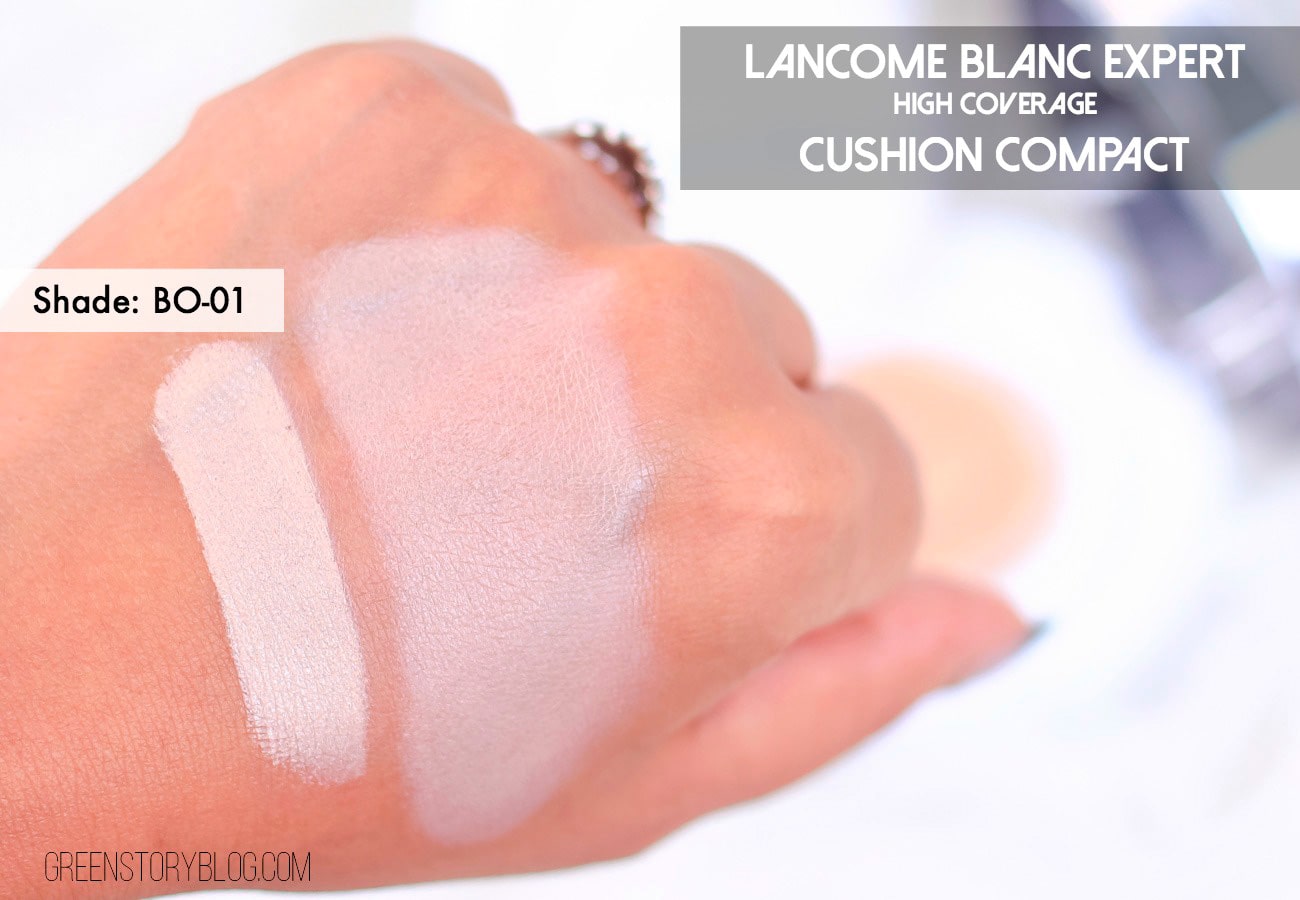 There is more pinkish and yellowish shade that can perfectly go with Asian/fair to a fair-medium skin.
Though the shade didn't match my skin but I did try the product to see how it works. I used it on my undereye area and high points of my face (those usual highlight areas) instead of concealer for a week. The coverage of this foundation is genuinely impressive. I didn't have to wear any extra concealer (I don't have major dark circle issue) afterwards when I used this. As because I have fine lines under my eye, I did set the foundation with powder to prolong its lasting power. This cushion compact is long lasting, stayed on me 6/7 hours, however, I don't think it will last flawlessly more than that. The cushion compact gives a demi-matte finish wich I loved and I think it will go perfectly with normal to combination skin type.
I find it high coverage only compared to a cushion foundation  but not high coverage if compared with a normal foundation (liquid or stick). If I judge it among all foundation types, it gives medium to slightly buildable coverage.
Lastly, I really wish they had my shade/shade range like UK/USA. If Lancome had my skin shade, this new high coverage cushion compact would definitely become my go to. I love how it applies and looks on the skin and it has enough sun protection for daily use.
[wp_ad_camp_3][/wp_ad_camp_3]
Lancome also launched their first cushion blush along with the cushion compact foundation. The blush offers in 7 shade variety, loved them! Might gonna get some soon, if I do I'll surely share my thoughts on those with you guys 🙂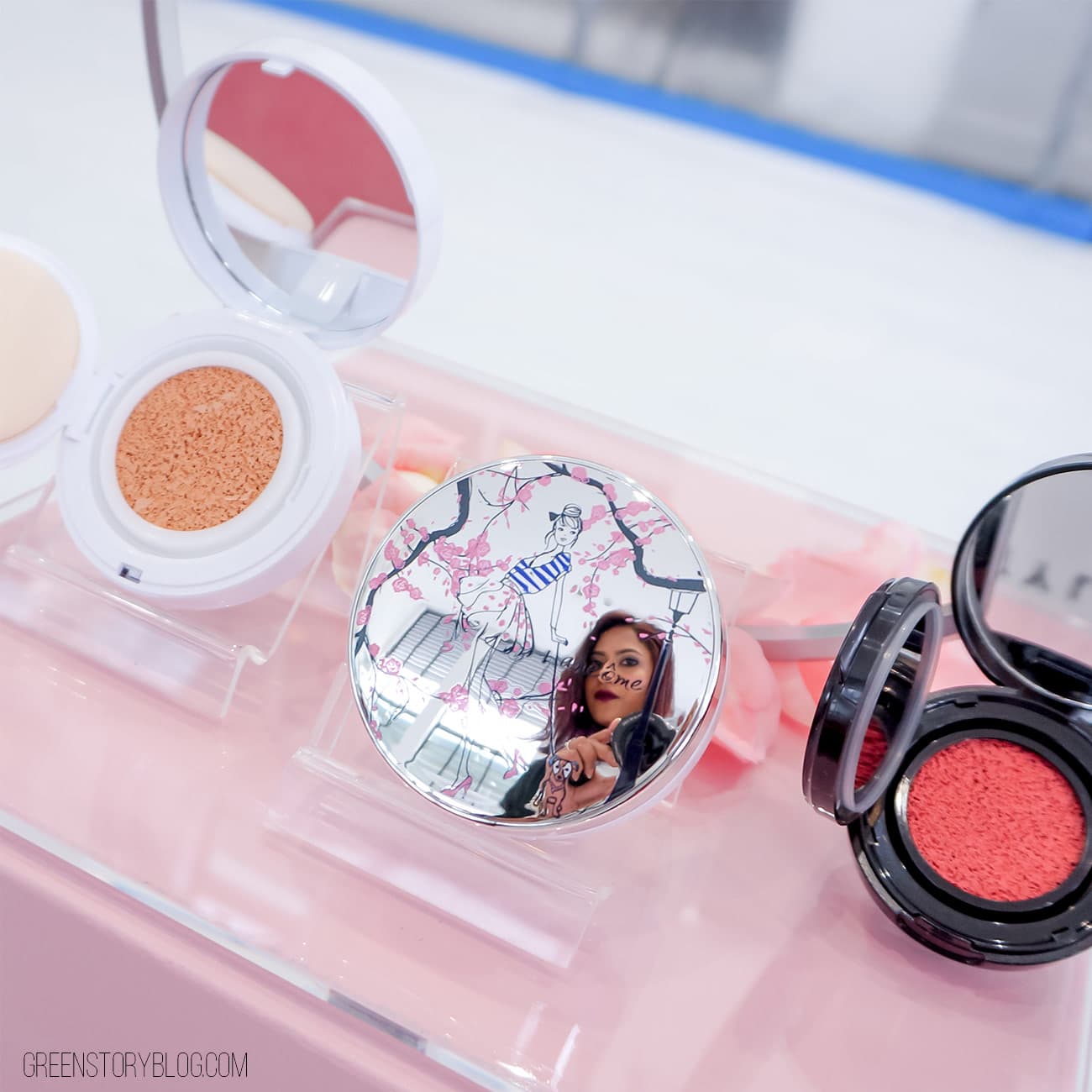 And yes, couldn't resist sharing a few snaps from the launch event of Lancome Blanc Expert Cushion Compact. It was amazingly beautiful all around…!
[color-box]
Shopping Info:
Lancome Blanc Expert Cushion Compact Refill | RM 171
Lancome Blanc Expert Cushion Compact Case | RM 62
Lancome Cushion Blush | RM 171
Available nationwide in all Lancome Counter and in Sephora (online and in-store).
[/color-box]
[signoff][/signoff]