Is the winter over already? Is it spring yet? I don't know, it is always summer here in Malaysia! I get the news of changing season when a brand launch their new seasonal collection, might sound weird but true for me! Last week Lancôme Malaysia announced the news of upcoming spring by launching their new makeup collection 'My Parisian Pastels' for spring 2016. This collection is inspired by the softness and playfulness of spring and its pastel hues.
I was honored to be a guest of the launch party, we had so much fun, we literally got to do makeup on others using the new collection. There was also a makeup demo by the national makeup artist of Lancome. He showed us how can we make the most out of this spring collection.
What was new in the Lancome Spring Collection?
My Parisian Pastels Allover Illuminating Cubes

(Approx 200RM/$59 for 9×3gm of product) (Shop Here)
9 shimmery cube with 9 different shade. They all are in a pastel shade.

My Parisian Blush

(Approx 150RM/$39 for 3gm of product) (Shop Here)
2 shade, Corail De Ville ( a flushed coral) and Rose Haussmann( A bright Pink)
*** I have noticed, in the UK/USA,  there is some more product comes in this collection like nail polish and lipstick (not sure though) but here in Malaysia these were the only launch.
[wp_ad_camp_5][/wp_ad_camp_5]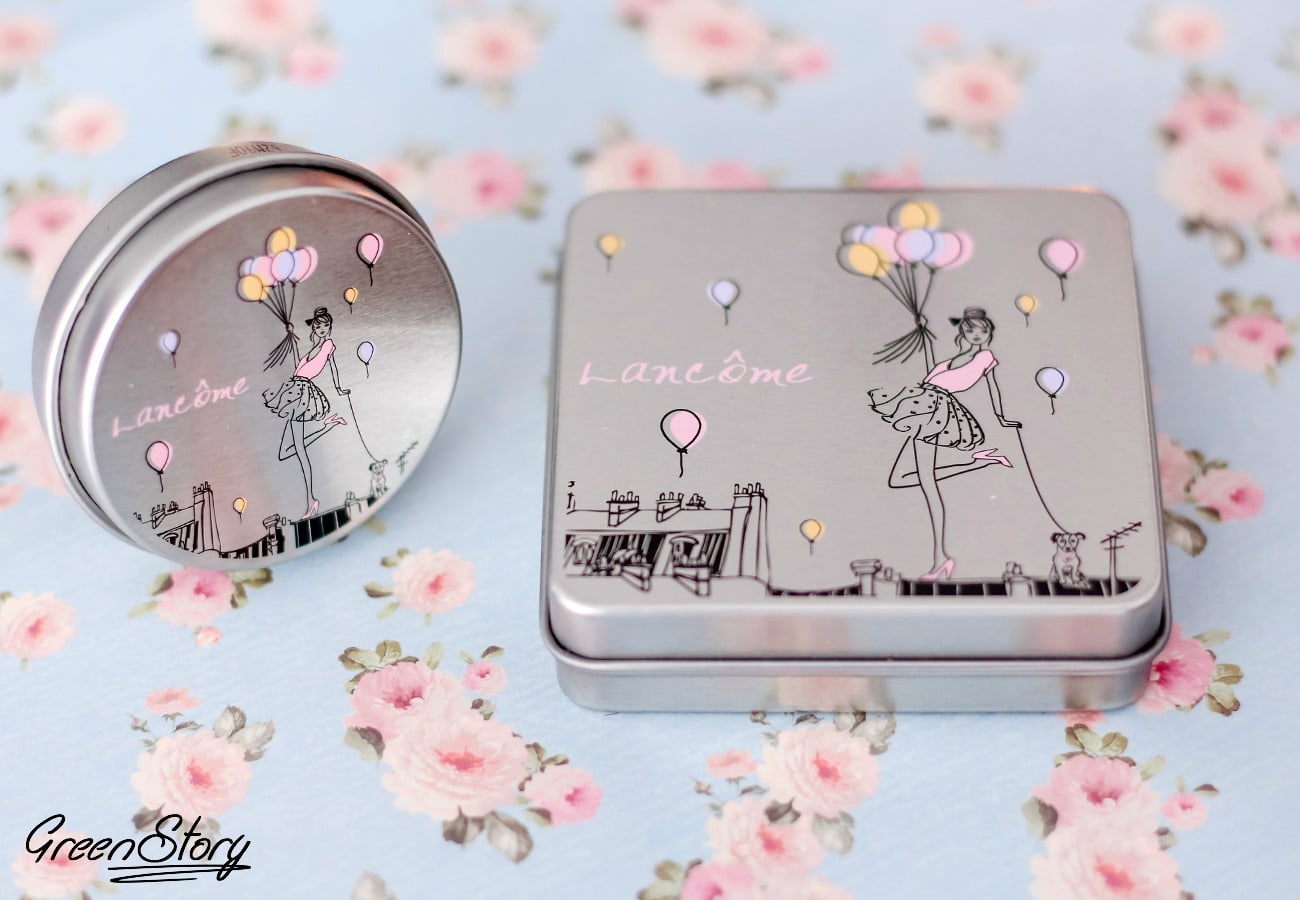 I have with me (courtesy of Lancome Malaysia) 2 of the new product from My Parisian Pastels collection. I have been trying them ever since I got them, obviously to share my thoughts with you guys. I absolutely love the packaging of this collection. They all comes in a tin box packaging (tin box totally gives me that childhood feeling) with fun springy print on top. Even when you'll be finished with the product you can always keep these boxes because they are irresistibly cute! Lets talk about how these product performs…
My Parisian Pastels All-Over Illuminating Cubes: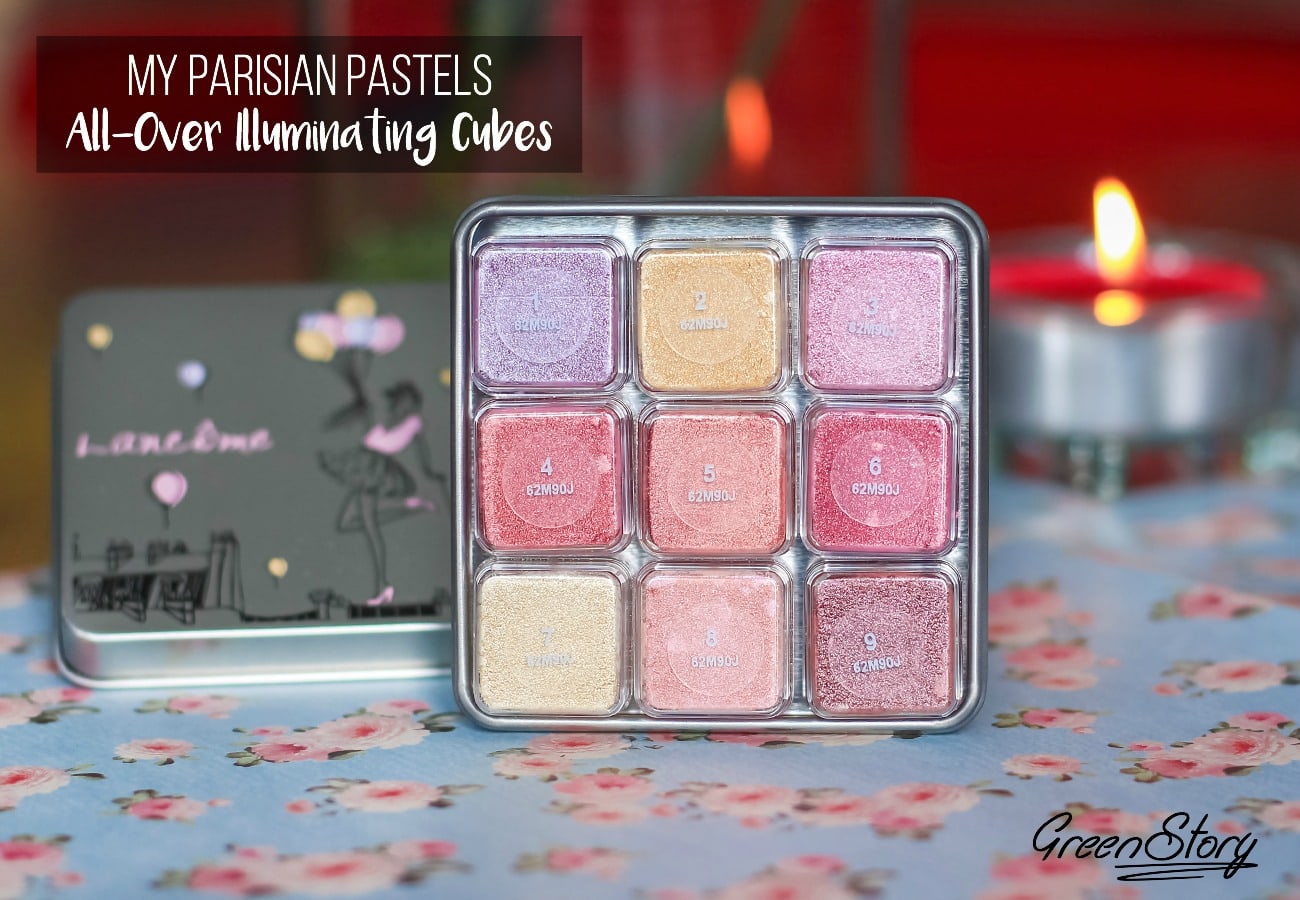 There are 9 cubes in the tin comes in a separate plastic case and in a different shade. As you can see from the picture, all them shades are with a number to maintain the arrangement(I guess). Lancome showed us in the demo that the top row can be used as color correcting shade for the skin, second row as blush, the third row for highlight and contour, you can use all of them as an eyeshadow and last but not the least, if mixed all together they are great as an all-over illuminator for face and body.
Have a look at the swatches below…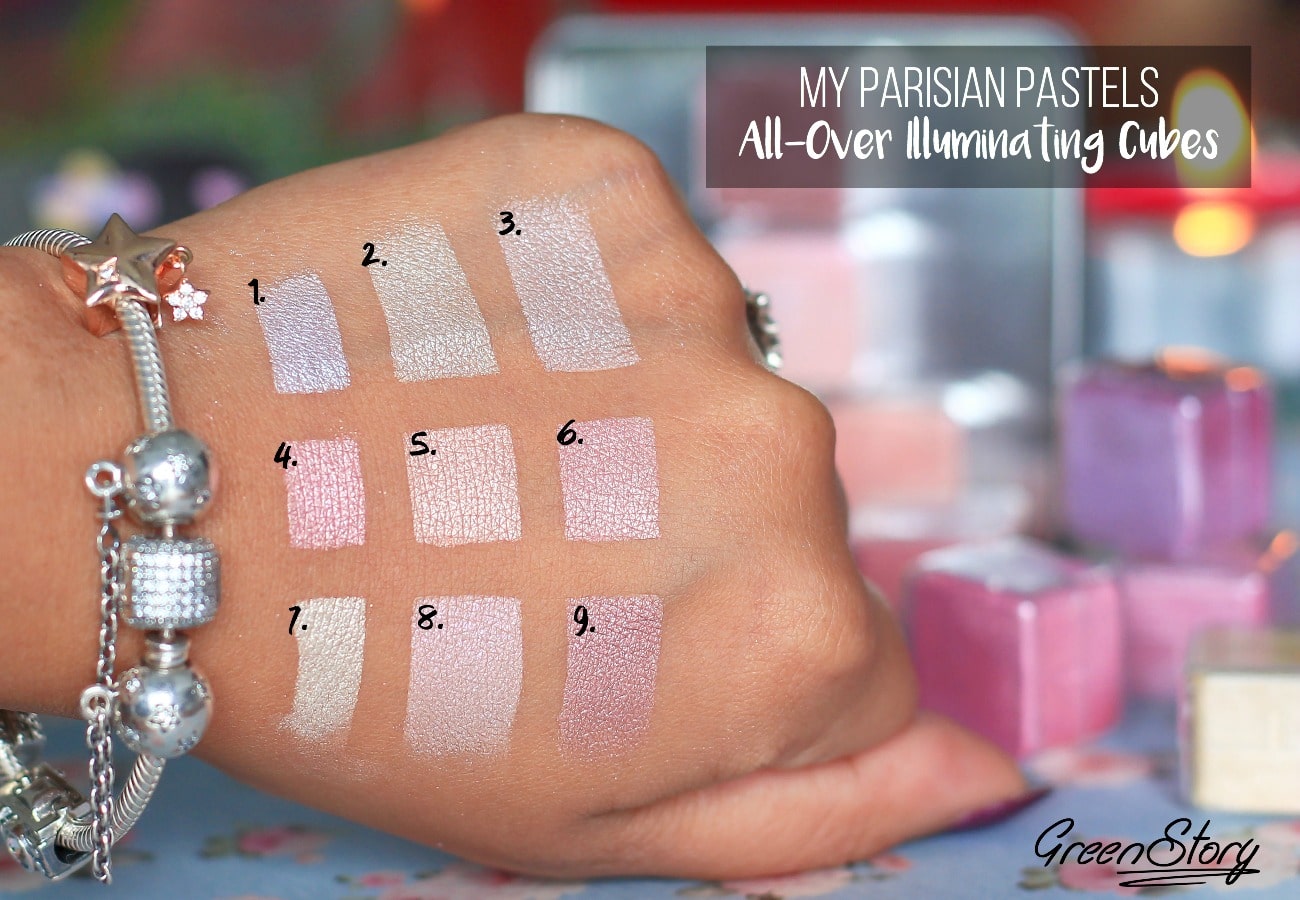 These shimmer cubes are shimmery and shiny but none of them aren't chunky, I love the finish they give. If applied on a fair skin the shade difference is very much visible but on my skin (medium tan), specially if I try to use the as an eyeshadow, shade difference is hardly detectable. In my experience, I find this set performs best as an all over illuminator, just as they way it named.
[wp_ad_camp_4][/wp_ad_camp_4]
My Parisian Blush: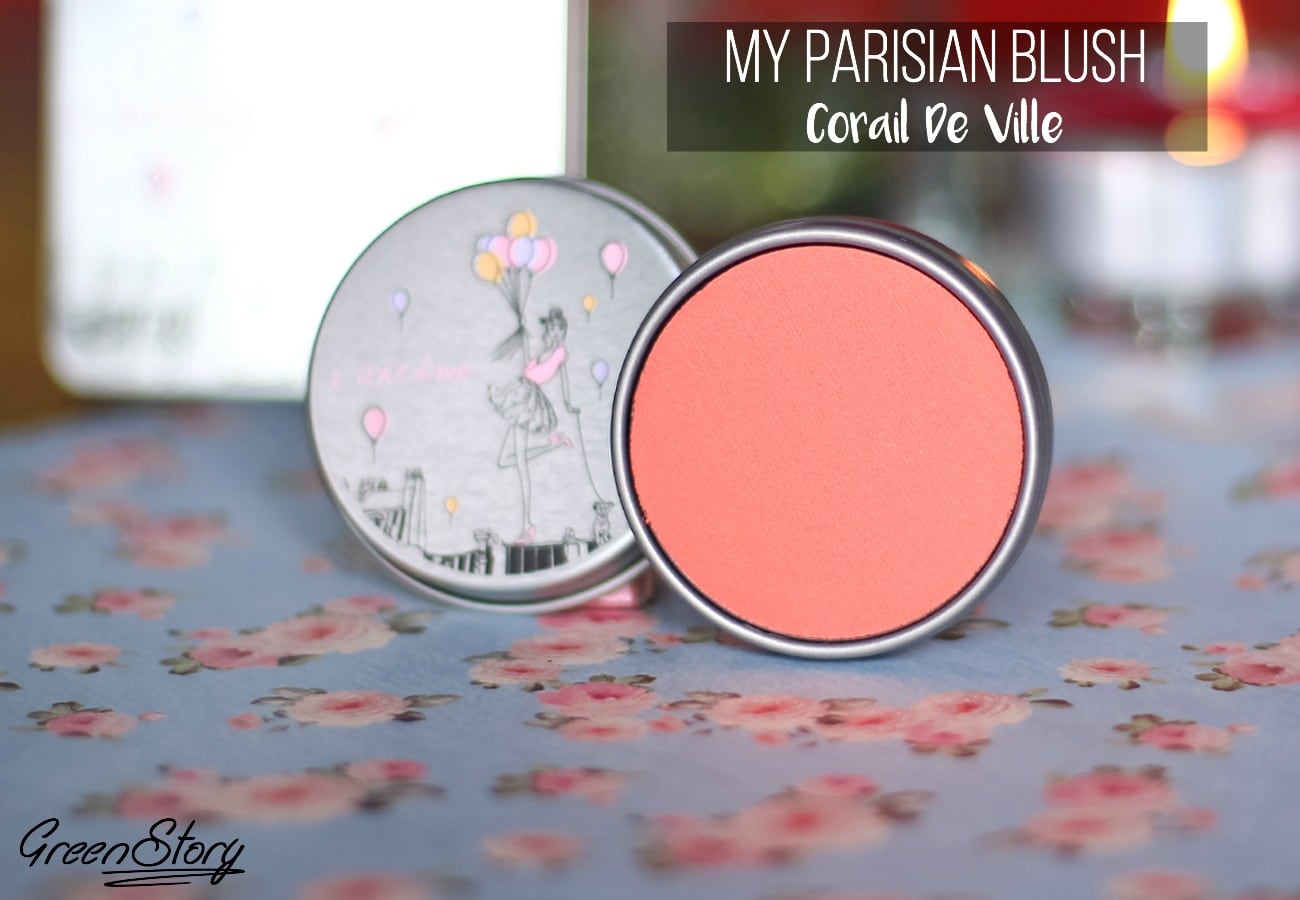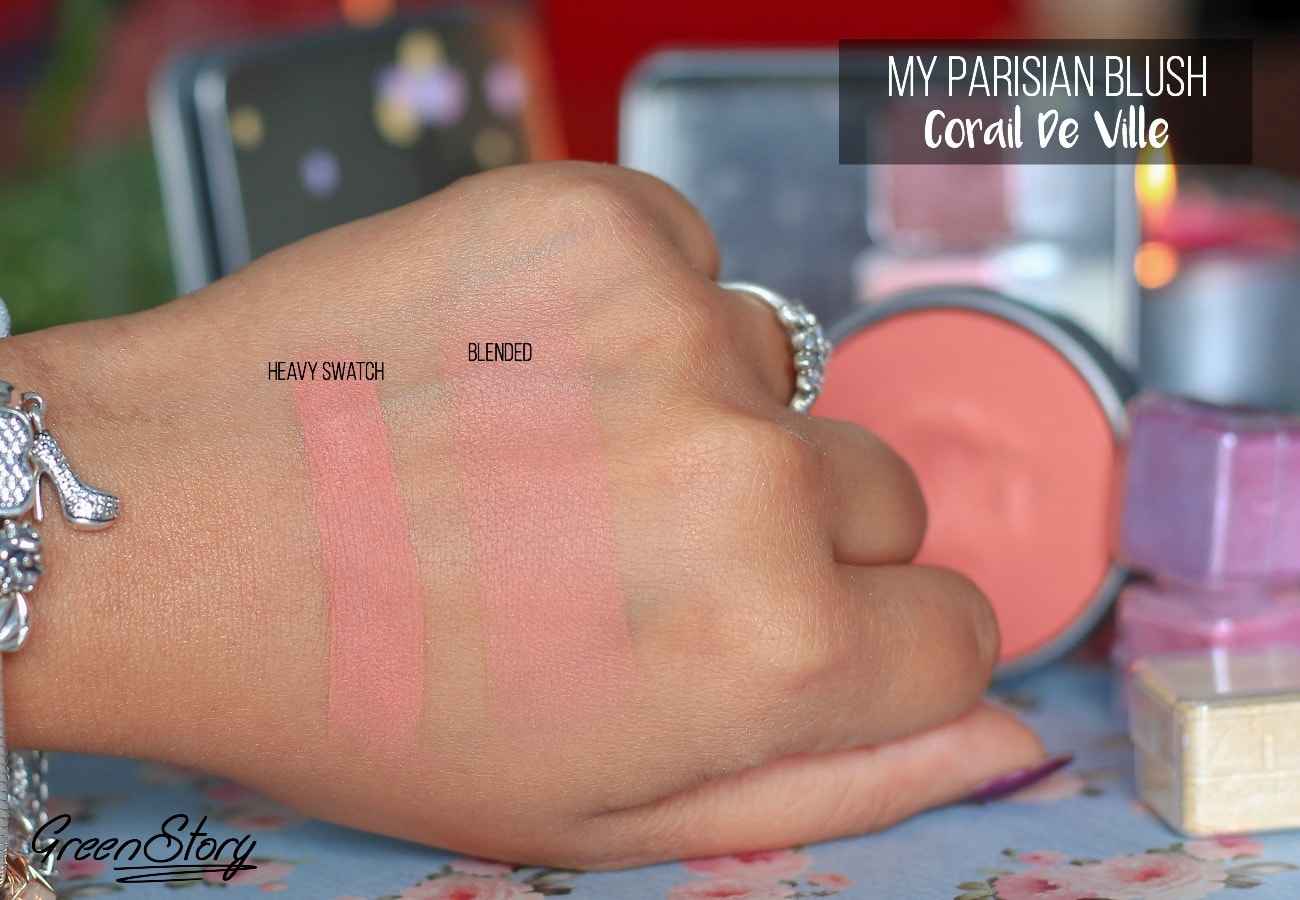 This blush, Corail De Ville, is my favorite in the entire collection, so happy to get it in my goody bag. It's a flushed coral shade, I feel there is a hint of rosiness aswell. The blush is creamy (kind of mousse) in texture and it turns into powder finish once applied and doesn't give any sort of patchiness. It gives very nice pigmentation, doesn't appear opaque but looks somewhat flashed. It feels extremely lightweight on the skin and last throughout the day. Among the two blush shade, I find This particular shade is the most suitable one for women of color. Recently I've been loving this blush as my go to one because of it's super blendable formula.
Lancome 'My Parisian Pastels' is a limited edition collection for spring'16. They are already available to purchase in every Lancome counter nationwide. Grab your one soon!
[wp_ad_camp_2][/wp_ad_camp_2][signoff][/signoff]