I started using Laneige Firming Sleeping Pack earlier last year (when I fell for Korean Skin Care product) and I never looked into anything else till now. I'm completely in love the way it feels on the skin and how it completes my skin hydration needs. Usually, the another sleeping mask by Laneige, Water Sleeping Mask, is more popular among all but I choose Firming Sleeping mask for myself because I'm in my late 20's and I think my skin surely need some firming treatment at this stage.
Laneige Firming Sleeping Pack comes in a 50ml jar, the jar is glass like high-quality plastic, a bit heavy but looks nice. The best part is it comes with and spatula (this what I look for in every skin care stuff especially those what comes in a jar packaging) so you can maintain hygiene and obviously it is easier to take out the product with a spatula.
The pack has the jelly-like texture, muted white in color and has some kind of floral-ish smell.
Ingredients:
Water, Butylene Glycol, Cyclopentasiloxane, Glycerin, Trehalose, Cyclohexasiloxane, PEG-240/HDI Copolymer Bis-Decyltetradeceth-20 Ether, Camellia Sinensis Leaf Extract, Polysorbate 20, Dimethiconol, Dimethicone, Dimethicone/Vinyl Dimethicone Crosspolymer, Glyceryl Caprylate, Propanediol, Stearyl Behenate, Caprylic/Capric Triglyceride, Ethylhexylglycerin, Behenyl Alcohol, Polyglyceryl-3 Methylglucose Distearate, Adenosine, Polyglyceryl-10 Pentastearate, Alcohol, Cetearyl Alcohol, Sodium Stearoyl Lactylate, HYDROXYPROPYL BISPALMITAMIDE MEA, Cetearyl Glucoside, Tapioca Starch, Inulin Lauryl Carbamate, Sodium Hyaluronate, Beta-Glucan, Aminobutyric Acid, Hydrogenated Lecithin, Polianthes Tuberosa Polysaccharide, Theobroma Cacao (Cocoa) Extract, Dextrin, Lactobacillus Ferment, Caprylyl Glycol, Hydrolyzed Collagen, Phenoxyethanol, Disodium EDTA, Fragrance.
Laneige says,
Feeling tired and lethargic? Forget everything and go to bed. Trust in be waterful!
The focusing technology of Laneige Firming Sleeping Pack is SleePOP and Sleepscent.
SleePOP helps to restore skin's to recover, alleviating the appearance of the fine lines and preventing further damage during the day, to say more easily, suppresses fine lines during the night and prevents them from progressing by shutting off UV ray. This technology containing evening primrose that blossoms in the night, GABA, and collagen peptide (mentioned in the ingredient list) that prevents skin from going dry by strengthening its barrier and improves skin's restorative function. Where Sleepscent is an aromatic scent that soothes stressed skin, helps to wake up fresh and rejuvenated in the next morning.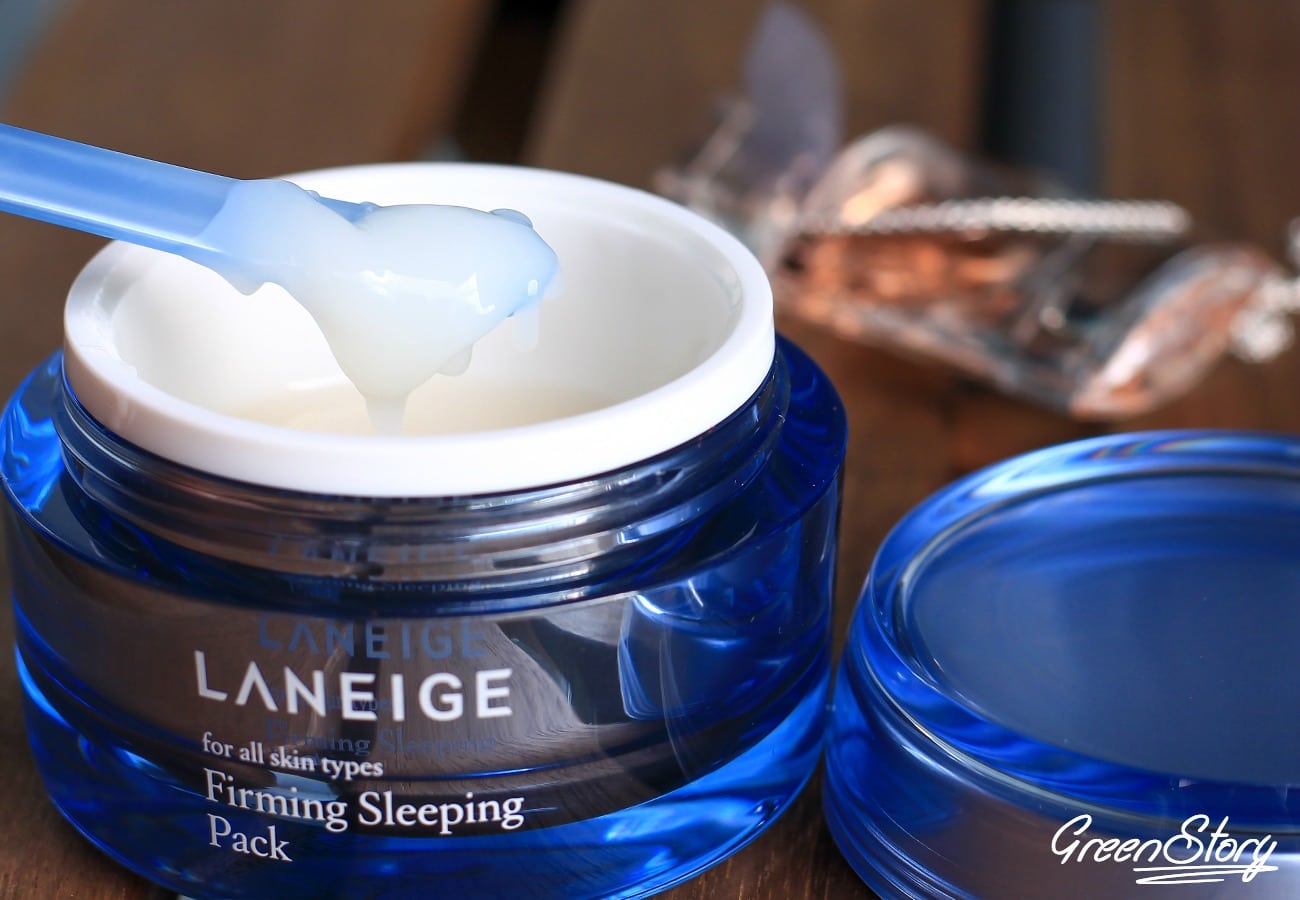 My experience with Laneige Firming Sleeping Pack:
Every night after cleansing, toning and my special care (e.g. serum, oil, or emulsion) I apply a generous amount of Laneige Firming Sleeping pack in my face and neck, wait around 10 min (so all the product doesn't get sucked up by the pillow but can be absorbed by the skin) then jump into bed. Washing off my face is the first thing I do in the next morning and I do get an oil free plumped up face every time.
Initial look and of Laneige Firming Sleeping Pack reminds me of Astalift Jelly Aquarysta (long ago I used that and felt that's a bit overhyped considering the price) because of it's texture. No matter how much you poke the product it will come back to an even shape. They call it 'Memory Gel' technology and claims it will resurface the skin in the same way. I can't strongly take the side of the claim but I love how it gets into shape all over again; thus, there is never a messy jar, it feels fresh and new every time I open it. I have used quite a few sleeping mask so far, all they felt sticky and all they took quite a bit of time to absorb into skin after application. So I had to apply those sleeping mask, at least, an hour before going to bed. With Laneige Firming Sleeping pack I never faced that issue. This mask is super light weight and almost (a teeny-tiny bit sticky!) non-sticky, gets into the skin within a minute. While applied doesn't fell jelly-ish but watery, the product literally melts into the skin when you spread it and a pea size amount of product is more than enough to cover the whole face. I also love how it smells( a very soothing and cooling smell, nothing too strong), I can't say if the smell helps me to sleep or not but I love it.
When I first started using this sleeping mask I had some dry patches on my nose and chin, those are completely gone now. I'm not sure how it works on firming skin only I can say my smile lines are in control. No doubt how hydrating this mask is, it fulfills my combination skin need in every bit. As I mentioned before, this jar is my fourth one using it so you can definitely tell this is that good so I'm hooked on it till now.
I'm continuing using this mask (won't lie, I bought the Water Sleeping mask recently, though to give that one a try as well) because now I can't think my night time skin care without it. If you're in you late 20's and haven't tried Laneige Firming Sleeping Pack yet then I highly recommend it. As because it is suitable for all skin type and from my experience I can say anyone with any skin type will love this sleeping mask.
[color-box]
Shopping Info:
Laneige Firming Sleeping Pack (50ml) | $30/100RM (approx)
Laneige Products are available in Laneige Boutiques or in any Laneige counter nationwide.
You can also get them from online stores like Sephora, Althea, or Target.
[/color-box]