Haven't you noticed the recent MAC SJYP collection?It just released there in Malaysia, almost right after the Fruity Juicy Collection. This fun and flirty collaboration of Korean design duo Steve J. and Yoni Pai caught my eyes too. The fun packaging combination of yellow, pink and graphic art, smoky-warm neutrals color palette, surely screams the vibe of Seoul street style. I couldn't resist picking a product at least! Lipstick always attracts me the most. When I saw that they had Candy Yum Yum in this collection I just had to grab that. Although the signature lipstick shade of MAC SJYP collection is Yoni Crush, a red doesn't really attract me much!
I thought to do a regular swatch & review post for Candy Yum Yum, what I always do for a lipstick. But then my makeup artist friend Kenny Yee's (he is in the picture above :p) creation using all MAC SJYP collection caught my eyes. Got so amazed by the look he created for this collection. I've been always a fan of Kenny's work ever since I met him, he is a Pro Makeup Artist here in Malaysia, of course, but this one was just fantastic, I must say! This is such a perfect creation of an Asian playful Asian look, don't you agree?
I couldn't resist sharing this look with you guys so you can have an overall idea about the MAC SJYP collection.
Thanks a bunch to Kenny for providing these snaps of this artwork and info about the product he used to create the look. Kudos to the Makeup Miracle Team for this beyond perfect job!
Product Used:
MAC Studio Face & Body Foundation – Shade N1
SJYP Eyeshadow Duo – Touch Me Baby
SJYP Lip & Cheek Palette – Yoni Attraction
MAC SJYP Lipstick – Yoni Crush
MAC Pro Longwear Fluidline – BlackTrack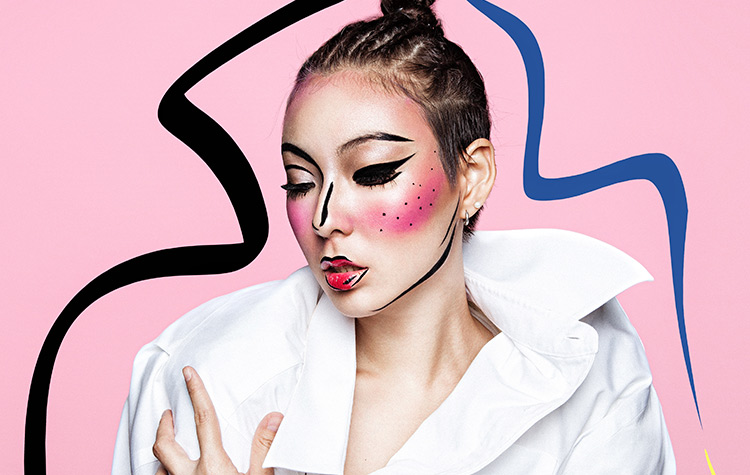 The Amazing Team
Makeup: Kenny Yee [Makeup Miracle]
Photo: Khu Studio
Model: Ene Shazrene
Hair: Cody Chua
[wp_ad_camp_4][/wp_ad_camp_4]
Now let me give you a bit of my thought on the Candy Yum Yum I got from this Limited Edition MAC SJYP Collection…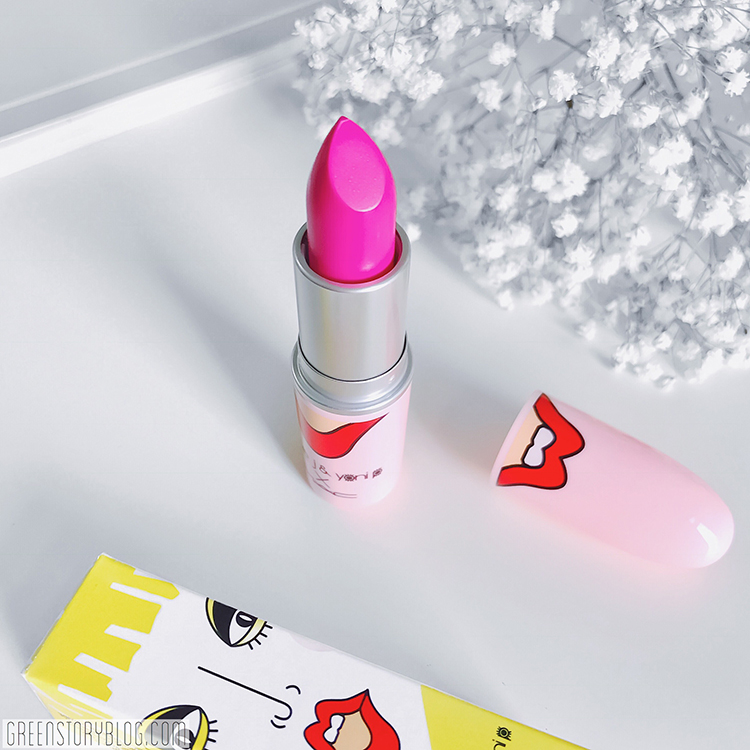 Who doesn't know the MAC lipstick name Candy Yum Yum, right? I've heard this name to every MAC fan. In fact, most MAC Cosmetics love I know owns a Candy Yum Yum. This is literally a super famous permanent shade of MAC. My collection was without it until now.
Candy Yum Yum is a matte and neon (or I should say fluorescent) pink shade. I was kinda scared of the shade. MAC matte lipstick textures aren't really consistent either. Some of them are nice and smooth to apply and some turn out waxy. Thus I wasn't sure of this particular shade earlier.
I did buy the shade entirely for its limited edition packaging and sorta took the chance with the shade.I'm liking the shade actually to an extent but the matte texture turned out to be a too waxy one which I'm not really happy about.
The picture below is me wearing MAC Candy Yum Yum on my lip…
Overall, If you love fun colors and especially pinks the this MAC SJYP collection is your thing to check out. If your thinking to get an ever-so-famous Candy Yum Yum then this is the best time because you'll get an uber pretty packaging as a bonus :p
[signoff][/signoff]