Velvet matte lip lacquers are hot current trend now. Everyone gone mad when MUA launched their budget friendly Luxe Velvet Lip Lacquer. No exception, I also got one of them, Reckless, for me 🙂
This product of MUA recently selling like hot cake now, you can get yours from MUA website or Superdrug.com stand if they are not sold out already. For Bangladeshi people, you'll need to depend on online seller.
MUA Luxe Velvet Lip Lacquer Reckless retails at £3 each.




About the product:
MUA Luxe Velvet lip lacquer comes in a very classic yet trendy packaging. Velvety touch is everywhere in the packaging. Anyone will fall in love with that gold black composition. The tube is mainly plastic but quality is surprisingly amazing and you surely can't ignore that frosty glass look.


[wp_ad_camp_4][/wp_ad_camp_4]
Have a look at the ingredient and declaimer by MUA…
 [wp_ad_camp_4][/wp_ad_camp_4]

About the color Reckless:
I'll define Reckless as a perfect Asian bridal red yet so wearable in anytime. It has slight blue or cool undertone in it though with light it does warm up a lot. I won't say it's a wine red because it's way vibrant than a wine shade.

My experience:
Like all other velvety lip product by other brands, this one is also matte and a bit drying yet not that much that it will squeeze your lip off. If you prep your lip well then dry matte finish wont be a problem. The formula and pigmentation is fantastic compared to the price, applies smoothly without leaving any streaks or uneven color patch, gives enough time to work with, last long and of course doesn't bleed or transfer if its not wet.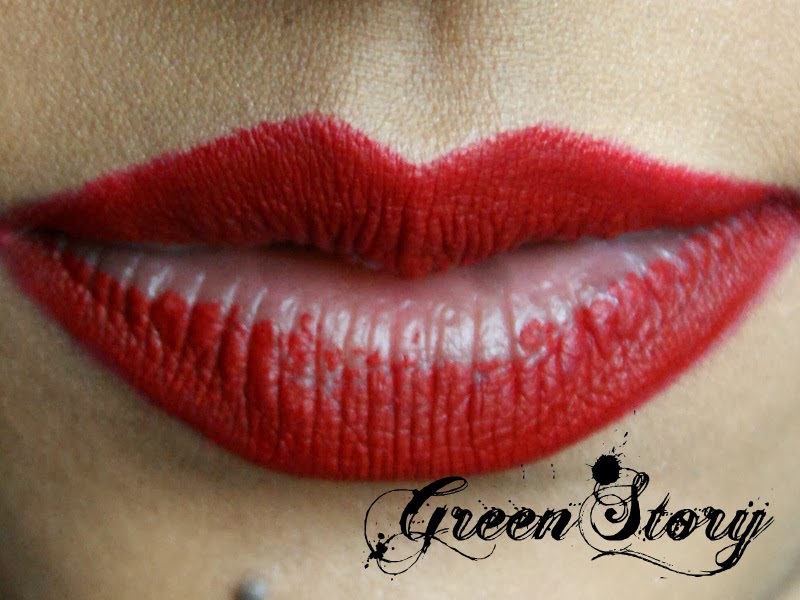 Now, what I found as draw back… If you touch both of your lip before its completely dry then it crumbles. With the time you will definitely touch both your lips for talking or whatever, you will feel some crumbled particle into your mouth… kind of ewe, huh! As well as, if you eat or drink you will find the lacquer crumbled a lot from the inside of lip as the picture shown.
The solution is simple, don't eat or you also can re apply after eating. Another thing I noticed, the more heavily you apply it more it tends to crumble. So I would suggest apply max two coats.
Removing the product is not hard job either, comes off easily with normal cleanser.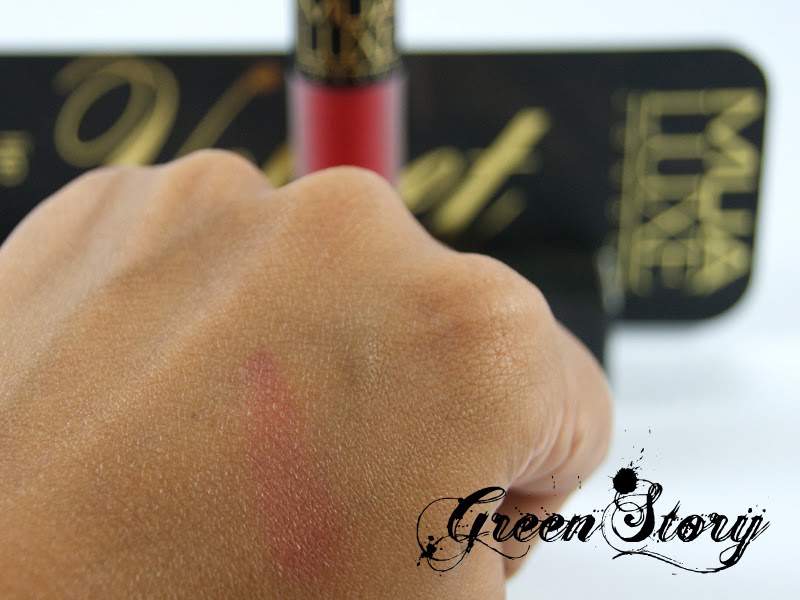 Overall, MUA Luxe Velvet Lip Lacquer Reckless was definitely loved at first sight with a very high expectation. Guess what, it did please me and I don't mind to ignore those drawbacks I mentioned. This product is definitely worth to try.
[wp_ad_camp_4][/wp_ad_camp_4]

Last word, I see everywhere people are raving that Mua Luxe Velvet Lip Lacquer's are a dupe of LimeCrime Velvetines that I don't agree. Yes, its a similar product yet has huge difference in formula, as well as texture.
This is it for today… Hope you'll find the post helpful. Do follow and share your opinion.





[wp_ad_camp_2][/wp_ad_camp_2][signoff][/signoff]