i bought these MUA stuff at the starting of MUA website launching. As i am in Bangladesh so it took me long to get the product in my hand. when i got my delivery i was sooo happy to see my MUA products and thought its worth waiting.
product's are__
* POPTASTIC eyeshadow palette
*HEAVEN AND EARTH eyeshadow palette
*Face Primer
*IMMACULATE collection eyeshadow palette
all these are from MUA's PROrange.
* POPTASTIC eyeshadow palette  
this palette worth £4.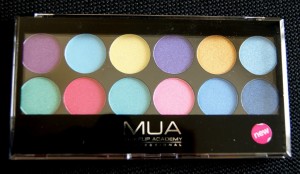 POPTASTIC eyeshadow palette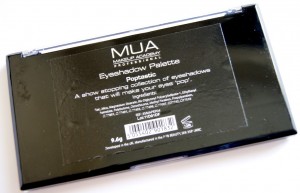 Back look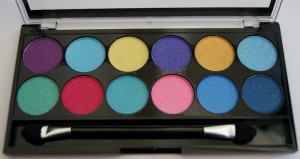 closer look of the shades
Reason behind picking this palette is its super vibrant color. as you can see, all shades are so attractive and Specially its yellow pot attract me the most. i've been searching long for this yellow shade.  all colors are perfect to create bright looks. though i think it would be a perfect palette with a darker green or bottle green shade. i'm missing that shade here.
*HEAVEN AND EARTH eyeshadow palette  
worth: £4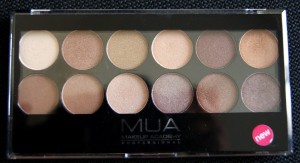 HEAVEN AND EARTH eyeshadow palette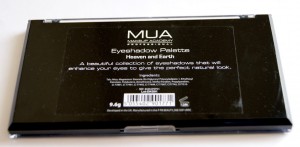 Back look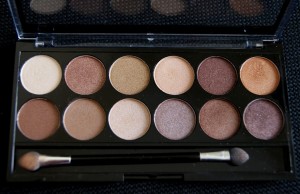 closer look of the shades
these shades are collection of neutral or you can say bronze shades. perfect for everyday wear and if you want to make nude looks. Or this palette can be useful with your any other color, because there you getting highlighter, crease color or outer blender to make your eye look perfect.
i would recommend this palette as a must have rather thank any high end nude palette..
*Face Primer 
worth: £4
haven't tried yet. it looks okay though i think i expected a bit bigger tube and good finished packaging.
*IMMACULATE collection eyeshadow palette 
worth: £8 (but i got it for free in a promotional offer)

this palette pleased me the most. it is so big than i expected. i was so so so happy to see this. 
all the shades consist here is awesome. they can give you any kinda look… lighter to darker not matter, this palette is enough. its just more than perfect for travel bag i think :)…. cant explain how much i loved loved loved it…
this is along worth my long term shopping at MUA.
shades number are given in the back side of the palette . these numbers gave me thought that shades of this palette might be collection of MUA single shades… not sure though.
***end thought:
someone might say about packaging. yeh, its kinda tacky but its okay with their cheap price. additionally, they are very lightweight which i like.
i bought all these from MUA website except poptastic(from superdrug)
delivery charge was around £3.
as my first impression so far it is so good. lets try… then 'll see how happiness last. But i have faith on MUA, i'v been their fan since i was in UK. that time they didn't have their Pro range. i must say, their single eye shadows were absolutely awesome and all other products as well .
i'll be posting swatches and reviews as soon as i get time…. keep connected peeps. do not forget to post your views about my blog and click the follow button.