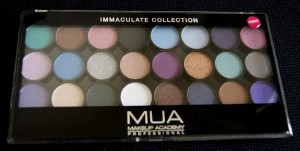 As i said in my previous blog, i absolutely like MUA immaculate collection palette. now after trying this palette um loving it. great thing is it didn't make me disappoint. i was a bit tensed before trying MUA Pro palettes. i thought it might not be good as MUA single eye shadows… my thinking was wrong… they are really good.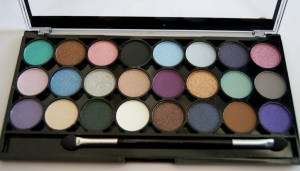 except the white one… all are good. easily bendable, very pigmented, doesn't fall out, doesn't crease easily, and stays long without any primer.
that white one is to powdery to use.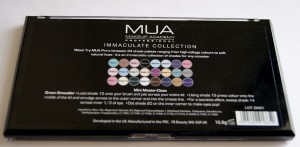 back of the palette shades number has been included and a eyelook instruction aswell. i created that look rather than swatch each n every color. though it would be more helpful to understand the quality of shades.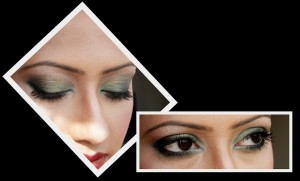 i haven't use any kind of eye primer here….
inner corner: shade15
outer corner: shade19
crease: shade14
brow bone: shade12
(i was suppose to use shade20/ white one, in the very inner corner. i tried but it didnt work out at all)
if you wondering about my mascara… its Rimel London day to night.
as you can see, without primer they are just supper pigmented. i wore this look a whole day, like around 6/7 hours,and it didn't fade away at all. this is definetly going to be my favorite one.