A couple of months ago from today, I started my NU SKIN ageLOC Boost skincare journey. 2 minutes every day that's how I aimed for. And so here I'm to share with you my experience with the AgeLOC Boost microcurrent device by NU SKIN.
Keep reading 🙂
Advanced Skincare and beauty devices always excite me. This microcurrent device by NU SKIN is even an Edison award winner [consumer goods, bronze: 2021]. I'm sure you can tell how excited I was about AgeLOC BOOST initially.
Microcurrent has been there for decades, especially in physical therapy. Nowadays it's hyped in beauty regimens specifically when it's about at-home treatments. I'm not new to microcurrent treatment, I own another awesome microcurrent device.
However, AgeLOC Boost is quite different than that. Alongside the anti-aging benefits, AgeLOC Boost focuses on enhancing the radiance and glow of the skin.
Wondering how does ageLOC Boost works?
The simple yet gorgeous-looking microcurrent device, AgeLOC Boost, features an exclusive microcurrent waveform with variable pulse technology and that's what promises to deliver visibly radiant, bouncy, and plump skin. It sends microcurrent pulses to the skin eight times per second. With the AgeLOC Boost Activating Serum the microcurrent of the device optimizes the skin to achieve a more glowing, firm, plumped, and even complexion.
Research says, Microcurrent boosts the production of ATP (Adenosine triphosphate) which leads to stimulation of elastin and collagen. Hence the treatment triggers tissue repair and natural skin enhancement chemicals at a cellular level. As a result, skin appears more youthful.
AgeLOC Boost also claims to reduce the sign of aging, dark spots, and hyperpigmentation while ensuring skin hydration and glowing complexion every day.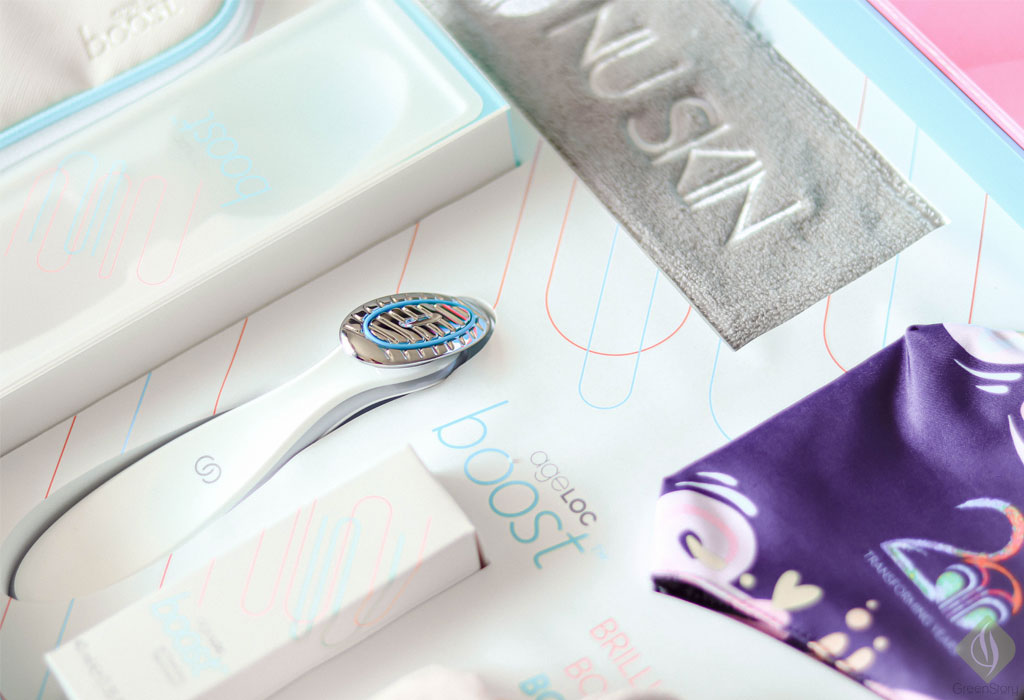 How to use NU SKIN AgeLOC Boost
It's easy and very user-friendly. Everything is controlled by touch, with no switch or anything.
To start the device you need to swipe up once. Dispense 3 pumps of AgeLOC Boost Activating serum on the plate of the device. Spread the product half of the face using the device. Then Swipe up on the power space once again and you're good to go. You'll be hearing a rhythmic pulse. Now gently sweep the device over the face in an upwards motion.
The device takes a pause atutomatically when the treatment is done for one side. Reapet applying the serum on the other half of the face and repeated the steps again to have your full face microcurrent treatment.
When you're done the device will turn off by it self.
To sum up, one full-face treatment needs 6 pumps of the AgeLOC Boost Activated serum. And if the plate isn't fully saturated with the serum it also stops automatically.
AgeLOC Boost activating Treatment
Every microcurrent device needs a conductive treatment/serum so the current can travel deep into our skin. Usually all brands has their own conductive serum. For the AgeLOC Boost NU SKIN's Activating Treatment plays a major game. It's not only a conductive serum but a power-packed serum that claims to brighten, plump, and provide anti-aging benefits.
My skin truly loves the serum. It's not anything jelly-like or leaves any residue and also a pure water-based formula that I can say from how it feels on the skin. There is some exfoliating matter as well that exfoliated the skin during the microcurrent treatment.
I would share the ingredient list with you but what happened is last month I shifted my apartment and when I felt to have a look at the ingredients of the serum (as I was really liking how it feels on the skin) found out I've lost the packaging of the serum during the move. But I tried to looked for the ingredient list on the NU SKIN website but there wasn't anything specific but the mention of key ingredients only.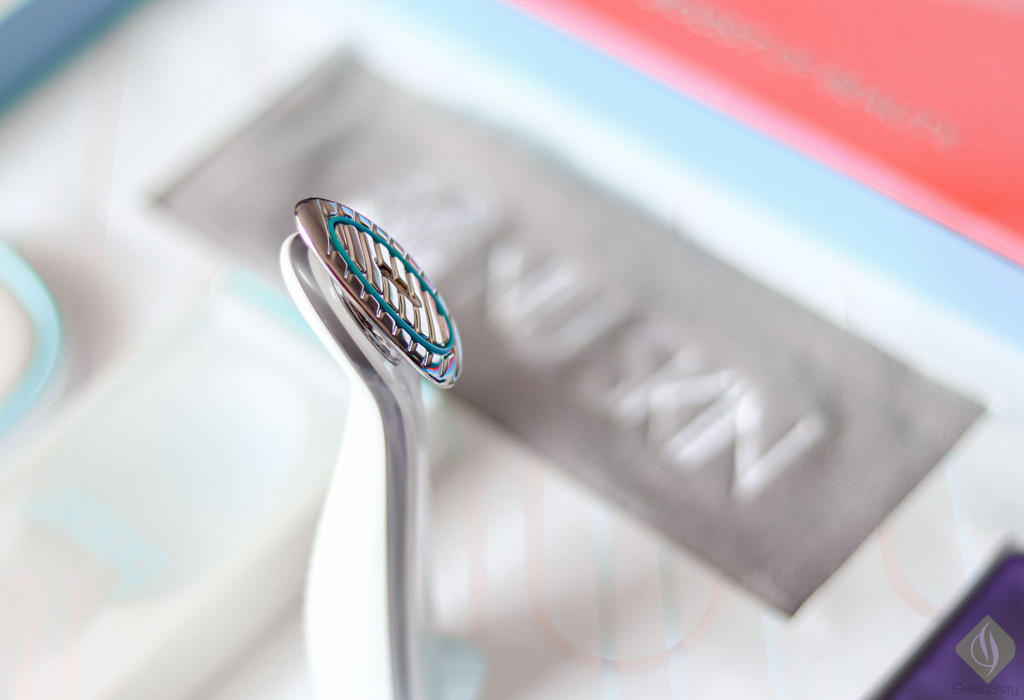 My Experience with NU SKIN AgeLOC Boost
Love the design of the device. It's sleek and smart. The plate makes it so easy to use around the nose, eyes, and especially on my forehead. AgeLOC Boost doesn't say anywhere that it's shockproof but I didn't get any shock with it so fact. It is very very comfortable on the skin. In a matter of fact, I feel a stronger microcurrent wave with my BEAR.
It does visibly brighten up the skin and skin feels firm yet plumed from within after every time I use it. I believe the activated serum majorly does the instant magic. However that bright and plumped skin stays just for the day. If I continue using it everyday my skin stays in its best shape. Then also If I use the device, per se, twice a week my skin also stay balanced in a better form compared to the week without using NU SKIN AgeLOC Boost.
Dont be allarmed. That's how a micro current device works. You must use it regularly to have a balanced and youthful skin.
I've some sun spots and blemishes on my skin. i didn't notice any difference on the so far.
Initially, I thought the serum would last me longer than other conductive serums as it comes in a 40ml amount. But It doesn't. Because it requires a minimum of 6 pumps for one treatment session, and then my skin drinks it up in a couple of seconds. Moreover, I love using it because it leaves no residue and I can simply follow up with my other skincare products after finishing the microcurrent treatment.
Wondering How often should you use NU SKIN AgeLOC Boost?
Every day, morning or evening anytime you prefer. Initially, I started using it at night and I would also go for multiple sessions at once; e.g. one whole treatment just one side of the face. However then I realized I was running out of my serum super fast hence slowed myself down. Now I use it in the morning, before my morning skincare routine, of course after cleaning my face.
To conclude about AgeLOC BOOST Microcurrent Device,
Its a 2 minute comfortable and visible face lifting session everyday!
With a microcurrent device, consistency is the key. It's not a cheap device so it's not meant to be lying somewhere unused. You pay a handful of money for a sleek micro-current device like AgeLOC Boost, you gotta use it properly and regularly and you'll see the result.
Also in case of taking breaks on the regularity I found out I definitely loose some of the achievement I've worked for and then agin staring from the backward.
So you do need a commitment here, pal. If you can commit then you may add NU SKIN AgeLOC Boost in your beauty device considerations.
Do you use any micro-current device?
Tell me how it's working for you…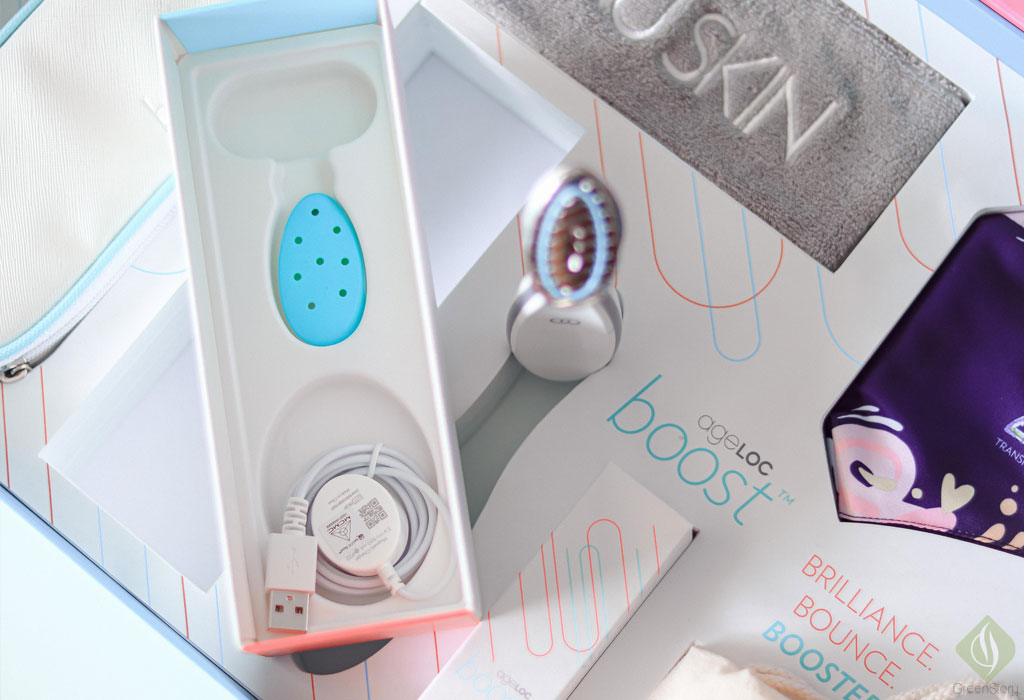 *** This content is a collaboration with NU SKIN Malaysia however I've shared what I experienced as I experienced it.