My liquid lipstick love started with Stila Liquid lipstick. Regardless of whatever came in my way Stila was always the best find to me until then when for the first time I've tried Ofra liquid lipstick. Two main reasons behind that; one: Ofra liquid lipsticks aren't drying on lip, two: they feel light weight on lip. Stila also has the similar quality but Ofra is better compared to that. I'm a liquid lipstick fan but I don't not like those lipsticks which cracks after drying or after a couple of hours ( for example I can name Lime Crime and LA Splash).
I bought my first Ofra Liquid Lipsticks in shade Miami Fever end of last year (If you're a regular reader then you know it was in my 2015 favorite list) then I fell in love and bought the other five shade. If you're following me on my facebook fan page or Instagram (if you don't, I think you totally should) then you must have seen me wearing these Liquid Lipsticks. However today I thought to share my complete thought on Ofra Liquid Lipsticks and swatches all together here in this article.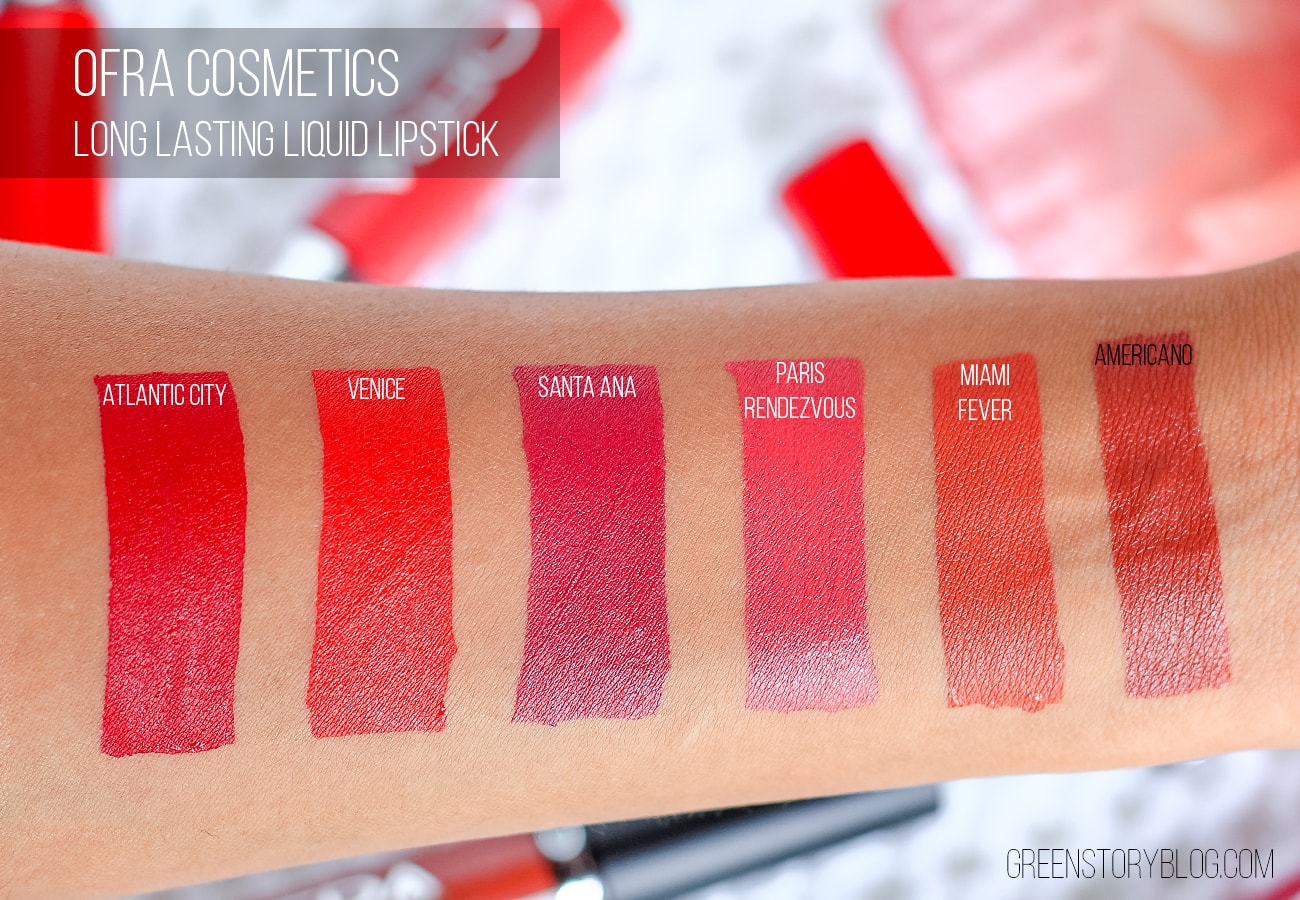 Atlantic City:


A bright true red with a blue undertone. It looks deeper in the tube but pops up when applied. Depending on skin tone might appear more vibrant. Suitable red shade for any skin tone.

Venice:


Venice is a red-orange shade with a strong yellow undertone. It's almost a furious shade so best for brave people hehe 😀

Santa Ana:


It's a very pretty mauvy-pink shade leaned to berry tone. I believe this shade is a great one for every skin tone. In fact, it has become my go-to color nowadays!

Paris Rendezvous:


This is a limited edition color and only comes with the 'Four Shade of Romance' collection. It's a plain coral pink. I find it quite flirty and suitable for everyday use from office to date 😛
Miami Fever:
Everyone knows about Miami Fever, isn't it? One of the most raved lip shade among all Ofra liquid lipsticks! I have to admit Miami Fever does worth the hype. The shade is quite unique, it look kinda terracotta but brighter than that has brownish tone but leans to orange. I love this shade, however, sometimes I feel Miami Fever makes my skin tone look dirty (I don't know how to explain that properly) or I should say, makes me look tired! But whatever it is, I love this shade.
Americano:
It's a pure brownish shade slightly leans to the red side. This shade completes my need whenever I feel for a dark lip. Although it is a deep shade but not a vampy dark shade, it's more of a wearable shade of deep brown.
[wp_ad_camp_3][/wp_ad_camp_3]
Lip swatches of Ofra Liquid Lipsticks: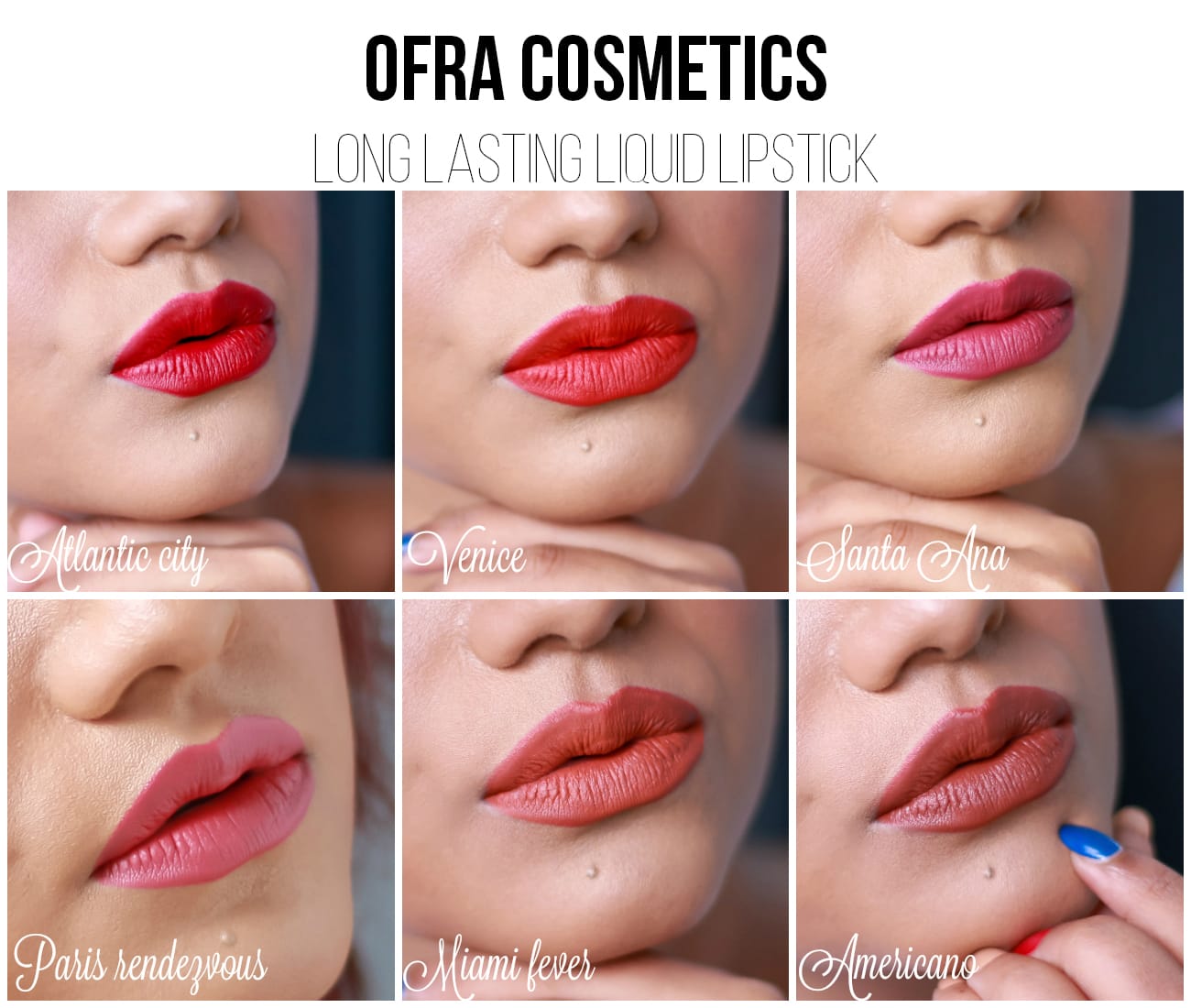 My thoughts on Ofra Liquid Lipsticks:
Ofra Liquid Lipstick tube comes with 8g of product (which is written only in their website), the packaging is also totally basic. My first one (Miami Fever) came with a poly-sticker written the shade name over it but nowadays they have slightly different packaging, the prints are now actually printed on the tube. Luckily the doe-foot applicator was good in quality from the beginning, it's sturdy and smooth enough to give a nice application. The lipstick has kind of a caramel-ish sent in it. If you're interested in their ingredient, that can be found in the paper box that the tube comes in. Otherwise, I couldn't find any mention of the ingredient even on their website. Ofra claims to have Vitamin E and antioxidant in their lipstick.
Let's talk about the lipstick. Ofra Liquid Lipsticks has a matte formula, they aren't shiny at all. Once applied they turns matte within a minute or so but they don't dry overly matte. The texture of the liquid is mousse-like, they all are highly pigmented, glides on easily, one swipe is enough for the fullest coverage, doesn't bleed, non-sticky and stays put throughout the day. As because they don't dry out completely, they do transfers on cups or glasses but they don't come off completely so that you'll have an empty inner lip rim after a couple of hours. Also, even if you eat oily food your lipstick will be there unlike the way other liquid lipsticks would perform. I find these lipsticks are very comfortable and easy to wear because they are incredibly lightweight and creamy. they don't settle between lip lines or flakes so I never needed to reapply whenever I wore them. They are easy to remove as well, you don't need to rub off your lips to the death but a normal lip makeup remover will do the job.
Overall, I love Ofra Liquid Lipstick and the shade range they offer. I'm surely getting a few more soon. However, I think Ofra Cosmetics should consider some elegant packaging for these lipsticks. I truly don't have any problem with current packaging as long as the product itself is A-class but who doesn't like to look at beautiful packaging?
By the way, Have you tried Ofra Long Lasting Liquid Lipsticks? Which one is your favorite shade?
[color-box]
Shopping Info:
Ofra Liquid Lipstick | $19.90
***Ofra Cosmetics offer international tracked shipping. Shipping to Malaysia cost me $13.95
[/color-box]
[signoff][/signoff]