I and Husband just came back from a short holiday and I feel I'm still living those moments. This time it was somewhat extra special not judging by the place or activities but by the moments we actually lived with each other. Remembering those amazing moments, I want to get a bit intimate and personal today for the sake of love and passion. After all, it's February, the month that has a dedicated day for love, The Valentines Day!
We all lovers around the world look for the best of the best Valentines Day Ideas to please, to surprise, to express our love to our partner, no?
What is the most common Valentines Day scenario you notice if I ask you?
Dinner? A staycation?
You'll see all us beauty bloggers/vloggers showing you some makeup tutorials emphasizing on pink/reds for your dinner date. Sometimes the makeup tutorial shown by us is even pulled off to that extent where your partner might get destructed rather feeling your love and passion towards him. Might sound harsh, might sound silly but it's the truth. Ask 10 guys (including your husband/partner) and calculate how many of them actually prefer a pretty face with a shit load of makeup or some nice and passionate time to celebrate valentines day.
I feel, sometimes we do forget the values of love, we do forget that a relationship demands some intimate time. A warm hug, kiss, sitting together somewhere alone, maybe only 30 minutes of talking/gazing at each other/remembering some sweet memories are more meaningful than going for a dressy dinner or buying a pricey gift.
Let's put our ordinary ideas aside, make this coming valentines day a really special and absolutely romantic one. How? Let me share my one personal idea and I bet you and your partner both will truly love it.
You've Aloe Vera gel at home, right? If you don't then get a jar of that (I'm using Jayeon 98% Aloe Vera Gel), it's not pricey at all and a super-multi purpose product to always have in your home. Learn some massage techniques such as Facial Massage or Hand Massage. Don't worry these techniques aren't any hard thing to learn.
Plan the day ahead so in the very moment it's only you guys and your feeling you're thinking about. It doesn't matter how the place is! Maybe it's in the park after you guys finished jogging, can be just after you guys are done working out and preparing to jump into the pool. Can be by the side of the beach, when your beach-play is done and your skin needs some soothing treatment. If you guys plan to stay at home then that is indeed a best and intimate place ever (wink)! A simple and comforting touch of your hand surely can pronounce the word how much love you hold for him. Do not stop there but ask him to give you a message as well. So you both can indulge in the feeling of love!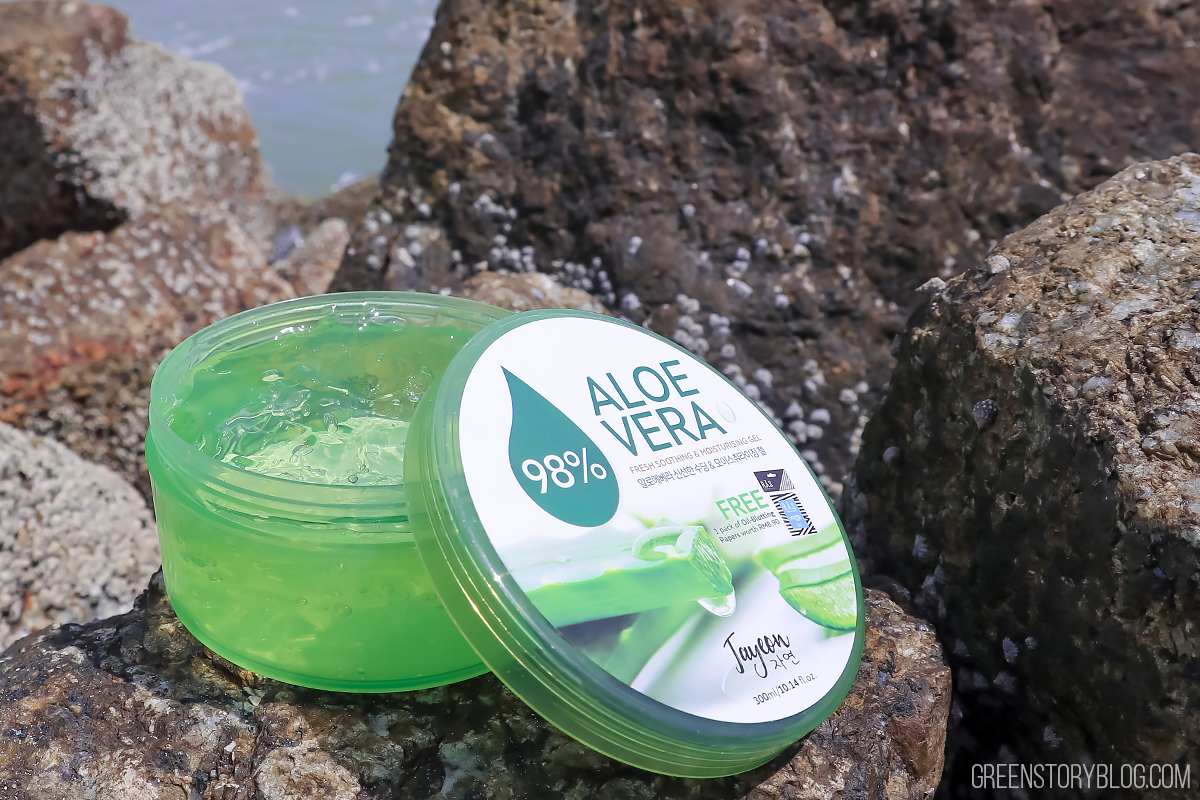 [color-box]
Jayeon Aloe Vera Fresh Soothing & Moisturising Gel | RM19.90
Jayeon means "nature" and "kind" in Korean. The jar contains 300ml of product and consists 98% of Aloe vera along with Rosemary, Green Tea, Mulberry etc rich ingredients. Contains no paraben, no alcohol, no mineral or animal oil. I love the fact that it is completely non-sticky. This Aloe Vera Gel is suitable for all skin type and can be used as a toner, moisturizer, to soothe sunburn or to nourish hair.

Available in Village Grocer, TF Value Mart, Family Store, C Mart, SunShine and Maslee Cash & Carry.
[/color-box]
*** Jayeon Aloe Vera gel was sent to me complimentary from Jayeon Cosmetics for review purpose. However, all thoughts and opinions are 100% my own based on my own experience.