Have you read my previous post on the launch of Veet Sensitive Touch here in Malaysia? If you haven't then you must have a look at that now or maybe after reading this one if you prefer.
I'm asking you to read that post because in that post I've already stated basics and what this new trimming device claims to do. In today's post, I'll give you a short overview of the device and tell you how was my experience with it.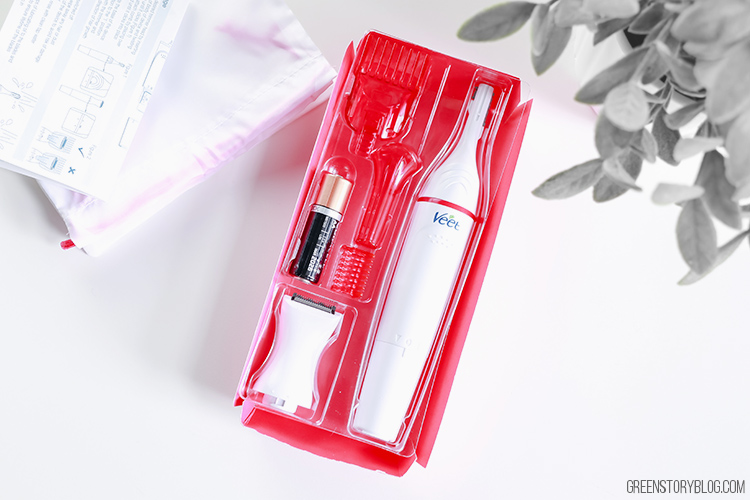 Veet Sensitive Touch Box Comes with 7 items:
Two-sided Trimming head fro brows – 16mm and 6mm
One-sided large Trimming Head (20mm)
2 comb attachment (2mm & 4mm) to uniform hair length
One cap for the short trimmer to protect the blade.
Cleaning brush – to clean the device and its blade.
A plain pouch to keep them all together.
1 x AA Battery to run the device.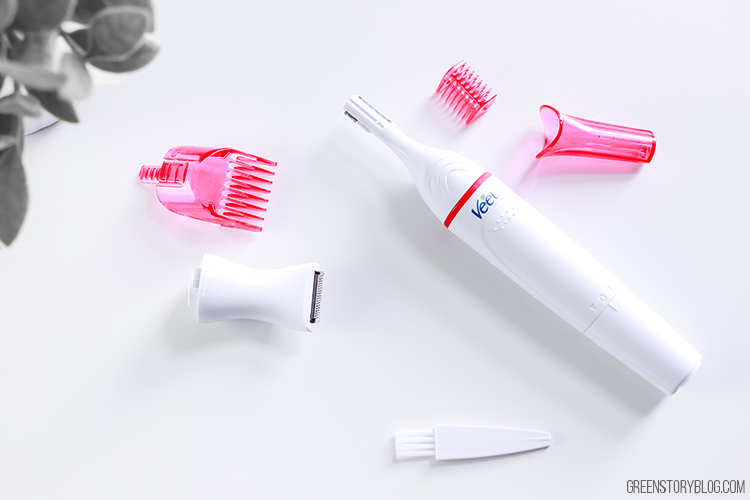 Veet Sensitive Touch is a well made, easy to operate, girly and compact device in short. I love the fact that it comes with a battery in the first hand. Thus unlike other devices, I didn't have to look for a battery to try it out. It has only one step power button at the power slider. If you rotate the bottom of the device to the 'I' pointer it will be powered up. 'O' pointer is off button and 'T' pointer is to remove the battery.
Except for the body of the device every other part are washable. So you can't actually take the device in the shower with you.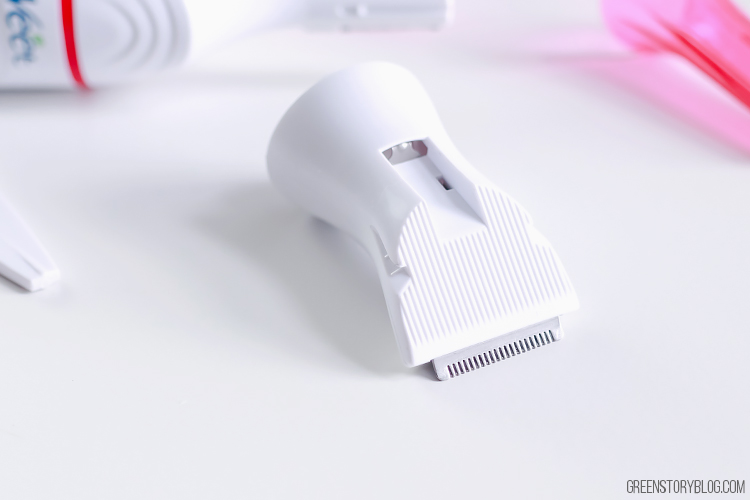 The picture above is the large attachment of the Veet Sensitive Touch trimmer. That has a fitted comb attachment as well. This large head is to groom the hair on the bikini line, and for the underarm as well. You can adjust how you want to keep the hair length. For a close trim, you can use it without the comb head.
The Veet Sensitive Touch Brow Trimmer: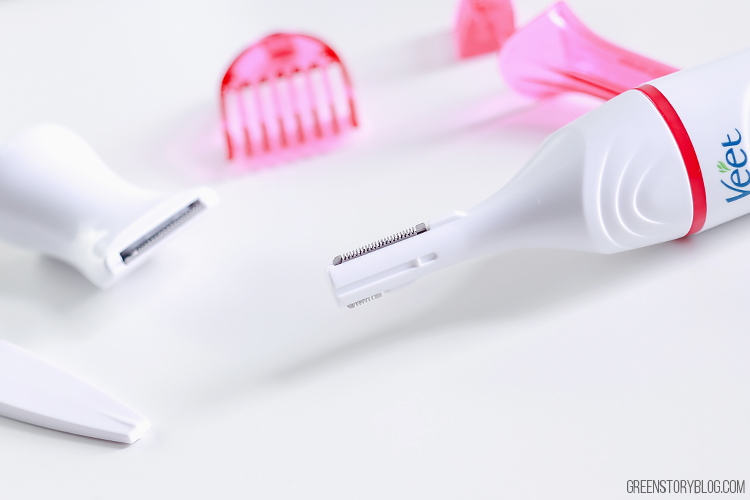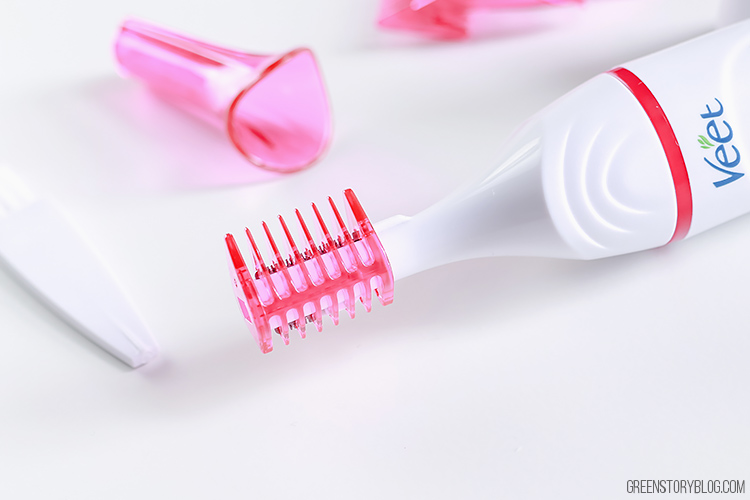 Now, this brow trimming head is the focus part of Veet Sensitive Touch. Which I, personally, was excited to try out. The long part of the blade is to trim the upper area of the brow. The short side of the trimming blade is to trim the inner part of the brow. The comb head it comes with is to trim the large hair of the brow to make them even.
My Experience with Veet Sensitive Touch Brow Trimmer:
As I said before, and in my previous article, I was very excited to try out the device on my own brows.
But let me tell you a bit about my brow preference before talking about the device. I'm very skeptical about my brows. It's been 4 years, I stopped going to a saloon to tend my brows because I never liked that. I did try threading and waxing both not only in one saloon but actually, I have experienced from few countries. When I opted for threading I use to get different in shape every time. And when I waxed them, no one has ever been able to make me happy because those baby hair or ingrown hair will always remain in the same place.
Then I started doing it myself using a tweezer and a shaver of course! Firstly, I like my brows and overall perimeter of it to be pristine clean. Secondly, the right shape is very important to me. Although the natural shape of my brows is quite arch but I like them to be in a slight straight form with a medium (nothing too thin or thick) width.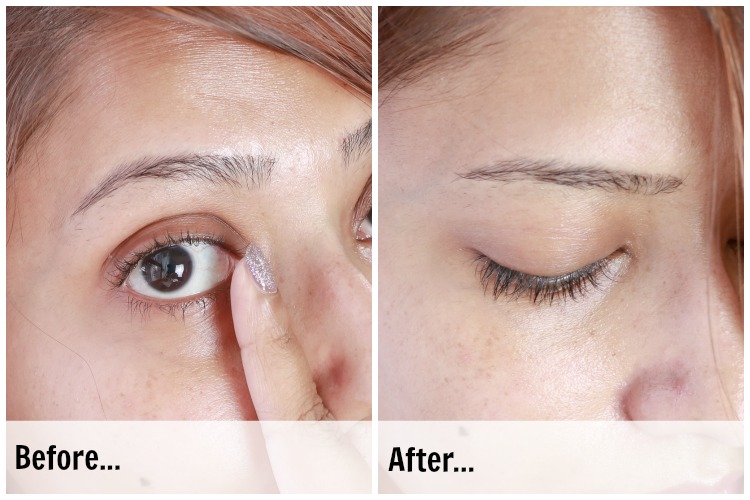 Are you thinking why I'm saying all this?
Because I wanted you to know how I'm going to judge this new Veet Sensitive Touch brow device.
The first thing I want you to remind that this device is not a shaver but a trimmer. I was able to shape my brow hair nicely, in my desired shape. Have a look at my Before and After picture above a bit carefully.
What you see?
The brow has been re-shaped nicely using the long and short trimming blade the way it was instructed. However, the device actually failed to make my skin clean. The blades were not able to catch my baby hairs and ingrown hairs. Honestly, I didn't like that at all.
But wait, let's face it… Veet Sensitive Touch is not a shaver so that it will give me a clean skin. To be honest, I realized this fact after using the device.
The device is named 'Sensitive Touch' and it claims not to touch or cut the skin in any way and give a gentle trimming only. In that perspective, I was obviously expecting way too much from it.
So for an overall verdict, I'll say, Veet Sensitive Touch is definitely come handy as an emergency tool / as an 'on-the-go' helper but this device doesn't replace my normal brow tools or ritual. As because it's a compact trimming device this will be my first preference for sure when I'm traveling.
By the way, have you tried it? If so what is your opinion about this? Let me know in the comment below.