If you're following GreenStory on FB & IG then you must have noticed that I've been using a few Neutrogena Deep Clean product for quite some times now. Today I'll be sharing about the one product I'm loving the most among all of them, the one I found really worth a shout out, Neutrogena DEEP CLEAN Blackhead Eliminating Daily Scrub.
I've been away from a physical facial scrub for a long time. In fact, the last facial scrub I tried I talked about it here in my Beauty Empties post. Although I was away from a physical facial scrub but I was never been away from exfoliating my skin in a daily basis. I opted for some different exfoliation method which I'll talk about in a different post soon if you want(let me know).
After such a long gap with a facial scrub, when I tried Neutrogena DEEP CLEAN Daily Scrub for the first time (end of March'17) I literally fell in love with a facial scrub once again. I kinda felt I was totally missing a daily scrub in my skincare routine. Needless to say, it's not about any facial scrub but particularly the Neutrogena DEEP CLEAN Blackhead Eliminating Daily Scrub that impressed me so much.
[wp_ad_camp_3][/wp_ad_camp_3]
Before talking about the product itself I want to give you a short brief on why you must use a facial scrub in your skincare routine.
Causes of Dull Skin and Why Exfoliation Is Mandatory:
Having dull skin is one of the most common skin issues we all face once in a while. Dull skin is a when our skin doesn't have that natural glow/radiance that it suppose to have.
There are a few common issues that cause dull skin. Such as dehydration, stress level, dirty environment, bad food habit, lack of nutrition and so on. There is also the normal cycle of skin regeneration. New skin cell grows underneath within 28-40 days depending on the age and hormone. Thus the dead skin piles up which makes our skin dull and lifeless.
How to get rid of dull skin?
We can easily take care of our food habit and all if we want, can't we? If you're lacking hydration you can amp up your water consumption and skin care routine or can follow some homemade hydrating masks to restore the hydration level.
Along with balancing food habit and all, the most effective step is exfoliate our skin and get rid of all those dry cells. There are a lot more ways to exfoliate skin but a daily facial scrub comes handy and cost effective, without any doubt!
Why Neutrogena DEEP CLEAN Daily Scrub?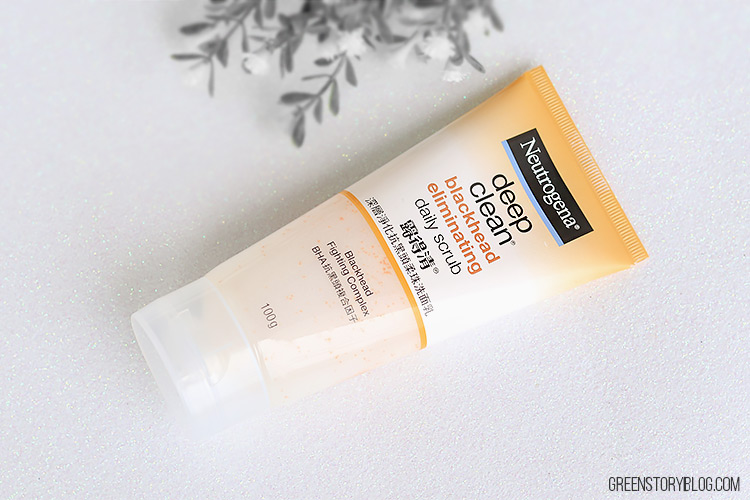 First of all, Neutrogena is the brand you can keep your trust on.
It's always…
Dermatologist Tested,

Hypoallergenic &

Non-Comedogenic. 
Secondly, you can easily find a Neutrogena product in your nearest drugstore and they are always pocket-friendly. Those are obviously the general reason but why I love this scrub is because of its unique formulation and how it works.
Ingredients:
Water, Sodium Methyl Cocoyl Taurate, Cocoamidopropyl Betaine, Polyethylene, Disodium Lauroamphodiacetate, Citric Acid, Lauryl Methyl Gluceth- 10 Hydroxypropyldimonium Chloride, Methyl Gluceth-20, Acrylates/Aminoacrylates/ C10-30 Alkyl PEG-20 Itaconate Copolymer, Acrylates Copolymer, PEG-3 Distearate, Glycol Stearate, Salicylic Acid 0.5%, Sodium Laureth Sulfate, Fragrance, Neopentyl Glycol Dicaprylate/ Dicaprate, Iron Oxide, Mica, CI 73360, titanium Dioxide, Agar, Propylene Glycol, Methylchloroisothiazolinone, Methylisothiazolinone, Cedrus Atlantica Bark Extract.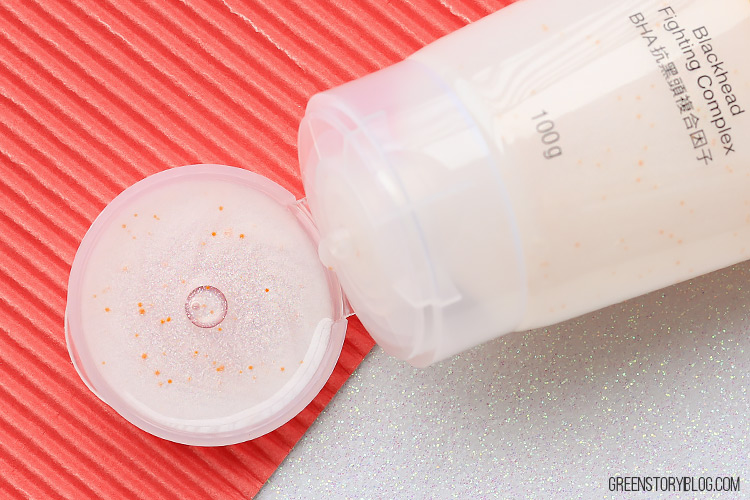 Neutrogena DEEP CLEAN Blackhead Eliminating Daily Scrub is a water based, oil and soap free scrub. It's a runny scrub, unlike usual scrub we see in the market which makes it easy to spread on the skin. Of course, it has micro-beads in it (picture above) as an exfoliating particle but they're very gentle on the skin (depending on application) yet effective to get rid of dull skin cells. Has a sweet and pleasing scent in it as well.
The fact that impressed me the most is the scrub contains BHA [beta hydroxy acid, as known as salicylic acid], an oil-soluble ingredient which is very much preferred for oily to combination skin. BHA exfoliant makes a huge difference in terms of acne-prone, clog-prone, bump-prone and skin with large pores. BHA goes inside the skin and fights against all those skin issues. Thus if you have blackheads or whiteheads you can leave it up to your BHA exfoliant.
How I'm Using Neutrogena Deep Clean Daily Scrub:
Since the first day, I'm using this scrub in my morning routine. To start the day without any dead skin leaving behind but with a fresh glowing skin. First I use a cleanser to clean my face and then use this Deep Clean Backhead Eliminating Scrub. Massage my face with the scrub for a minute focusing on my nose and chin and then rinse off. I can't deny how soft, smooth and somehow plumped my skin feels after every use. Afterward, I follow up with my other regular skincare item.
Additionally, I've been using it before applying my makeup (for a special event or such) to achieve a smooth face so my makeup goes on more effortlessly. Because, the simple science, our face/makeup looks more radiant when it's smooth enough to reflect light.
[wp_ad_camp_4][/wp_ad_camp_4]
To concluded the post, Neutrogena DEEP CLEAN Blackhead Eliminating Scrub has quickly taken place in my skincare routine as a favorite. Loving it to every bead.
Do I recommend it?
Oh, yes! If you need a skin friendly, all those heads, pores and dead cells problem-solver yet a pocket-friendly product then grab this Neutrogena DEEP CLEAN Scrub. Surely you won't regret.
[color-box]
Shopping Info:
Neutrogena DEEP CLEAN Blackhead Eliminating Daily Scrub | RM 23.70 for 100g
Available at most of the Pharmacies here in Malaysia like Guardian, Watsons etc.
[/color-box]
*** Neutrogena DEEP CLEAN Blackhead Eliminating Daily Scrub was sent to me complimentary for reviewing purpose by Neutrogena Malaysia. However, all thoughts are my own, based on my own experience.
[signoff][/signoff]