To keep up with life, its necessary you take your time off to relax your mind, reach close to your soul and feel what you expect from your life. Don't we all get tired, not physically but mentally, once in a while? A relaxing holiday is always a good option for timeout however that's not possible every once in a while. Our mind needs a regular treat to keep up the energy level.
Once a week maybe, for a couple of hours give yourself time to re-judge the ongoings, to find the peace in life. You can call the term stress management or meditation. Meditation, working out, practicing healthy lifestyle is definitely some tougher ways. But what I'm going to talk about is not that complicated but effortless to relax your mind!
What I do to relax mind and body, to destress while training my mind for the upcoming days:
The bath tub is my best friend. Every week a relaxing warm bath for as long as possible is something I never skip. For that time I concentrate my mind only on myself, relaxing but training my mind with positivity.
I call my bath time, Meditation. Why?
– I feel a warm and relaxing soak in the bath stops my constantly chattering brain and stills my mind just the way meditation would work. When my mind is calm and body is relaxed, my brain can focus on the priorities more effectively for sure. I believe it's always about if reached to the 'relax your mind' point where your energy and efficiency is boosted, not the ways and rules.
A full proof, relaxed bathing experience does need some preparation. Lush bubble bars are my favorite to foam up the tub and have some play time while the tub is getting filled by water.
Meanwhile, I also slather some oils in my body. Like the Claires RoseHip Oil (shown in the picture) is my recent favorite because of its amazing rosy fragrance. This one has fresh rose petals soaked in the oil as well). Rosehip oil has antioxidant, vitamin A and essential fatty acids in it which help to improve sun damage and skin texture. Another reason I use an oil before the bath is to nourish the skin enough for the salt scrub (that I do next) to work effectively. You can also use other oil, e.g. argan oil if you prefer.
Not to forget some lip balm, I would never want to dry out my lips while bathing. I'm solely loving the Claires Lip Balm at the moment. It's enriched with Rose Geranium, Vitamin E, Shea Butter and coconut oil.
I always soak some flower mixed sea-salt (Usually bought from a supermarket or organic shops) in my tub water so my skin can relax as much as possible. When my tub water is ready I put on some mask, preferably a sheet mask and get in the water. Keeping eyes closed for next 15-20 minutes I concentrate on enjoying the water and all the fresh organic fragrance around me.
This 15-20 minute is the most crucial part of my relax-session. This is the time when I try to read my own soul. Sometimes I don't hesitate to get silly imagining something as childish as fairytales.
By that 20 minutes, my mind gets almost fully recharged and my skin gets soften enough to get rid of dead cells. I love how rosy The Claire French Sea Salt Scrub smells. I'm wee-bit obsessed with rosy smell these days as you can tell! Also, the texture of this salt scrub is very fine so I find it gentle for the skin as well. I take a generous amount of time to rub off every bit of the dead cells from my body. Meanwhile, I do put on some hair mask. It's once a week so I can obviously take my time, right?
With scrubbing, I finish my bath time as well. Later I'll just get under the shower and rinse off everything. A cup of flower tea (hibiscus is my favorite tea flavor nowadays) is a must afterward.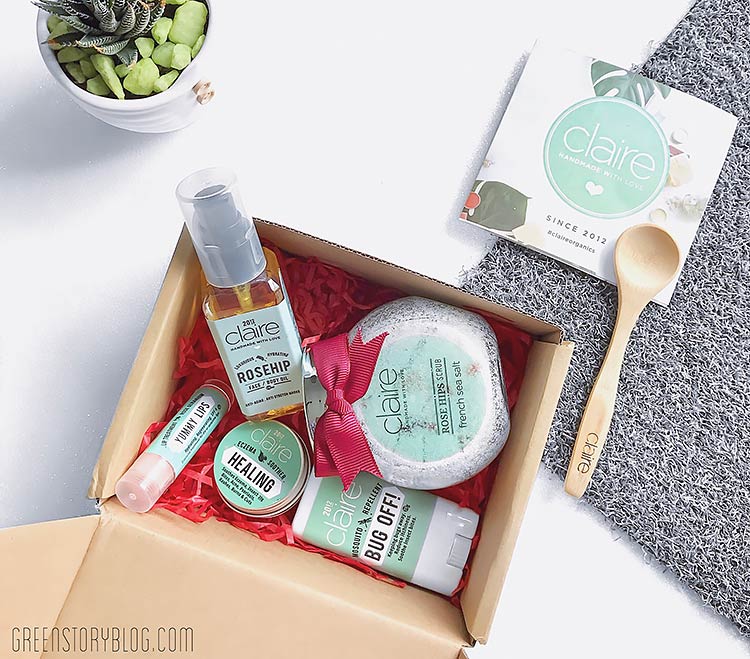 I like to bath at the day because I like daylight more and the wide city view I've in my bathroom. When I take the bath at night I never forget to light up some scented candle for some extra ambiance. Music I always love during the bath time. Don't forget to put your phone in the silent mode so there is no one to poke you.
[color-box]
Claire Organix running a lot of promotion at the moment featuring upcoming Mothers Day. As my reader, you can also avail a 15% off of your purchase for next two weeks (from the blog post publish date) using the code 'tamanna15'.
I'm sure you wouldn't want to miss all these promos. Get your shopping on, have some 'ME' time, relax your mind and boost up your work efficiency to the fullest!
[/color-box]
*** These bath and body products were sent to me by Claire Organics for reviewing purpose. However, all my opinions are my own based on my own experience.