Hello there beautiful,
Hope you all doing well. I'm wondering if you're following me on my social network? If yes then you already know I had a new hair makeover a few days ago 🙂
What do you do when you get bored of your hair? You style it, of course, maybe with a new hair cut or hair color. I already chopped my hair a few months before so couldn't do anything about that yet badly needed a change. I've been doing only base color for a long time now and remember doing two toned hair color almost five years back so thought this is the right time to do so.
When I fixed my mind to get a new hair color I started doing some research on the web, what color might suit my skin tone or what would be the right choice for a short length of hair. My husband, as always, and my friend did help me a lot on suggesting a perfect style 🙂
[wp_ad_camp_3][/wp_ad_camp_3]
Then I went to my nearby saloon, Hair Emporium, my husband is actually a regular customer of them so I do trust their service. I talked with the owner/stylist, Keith Lui, about what I want and also showed a couple of similar pictures that I collected earlier. I think showing few demo picture to the stylist is very important to give them a visual idea of your preference. Then we went through few color chart. Initially I asked my stylist to go for lavender ash as my base color but he said that will not go well with the highlight I want (a muted shade of blonde, almost 3 shade deeper than pure blonde), instead, he suggests me dark blond as a base color. I put my trust on him and agreed with the dark blonde as my base color.
And then the hair makeover process begins… the whole process took me around 3 hours.
The picture below was my past hair condition, badly washed out hair color and pretty dry hair texture, isn't it?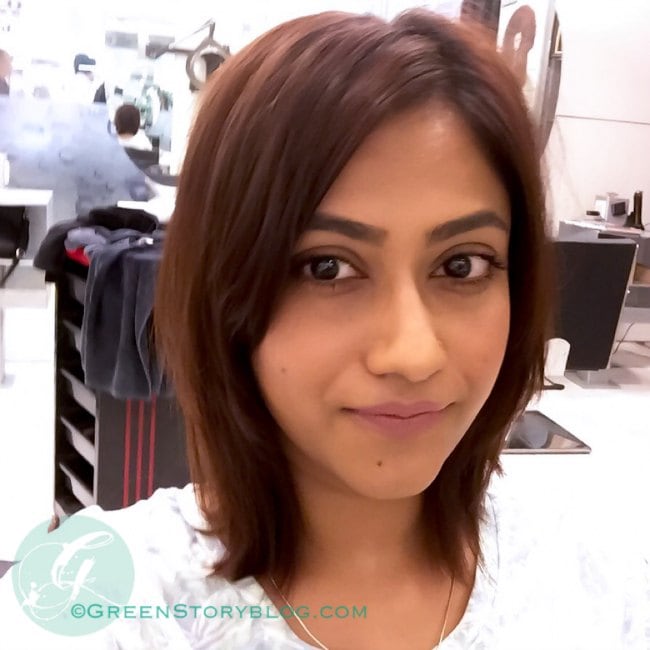 Here my highlighted part was done touching up and wrapped up with foil. I was surprised to see my stylist's effort on that, he parted every single hair that he could literally count my hair. I was sure by then I'm going to have a nicely distributed highlight.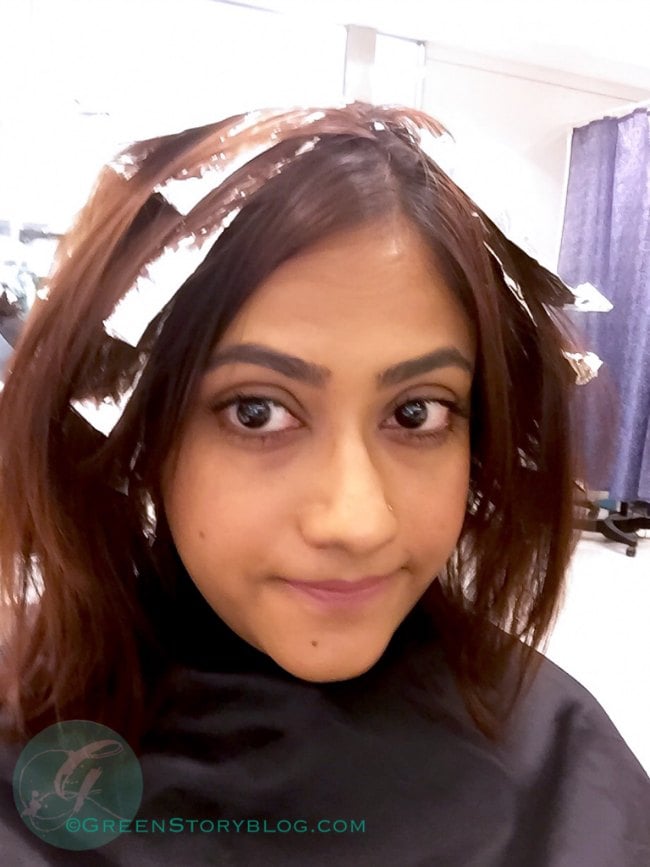 [wp_ad_camp_4][/wp_ad_camp_4]
And then the base color was applied and wrapped up with foils and plastic. I was asked to sit like this for 20minute! Waiting for 20 minutes doing nothing is kinda boring but then I got chance to check on Instagram… ha ha ha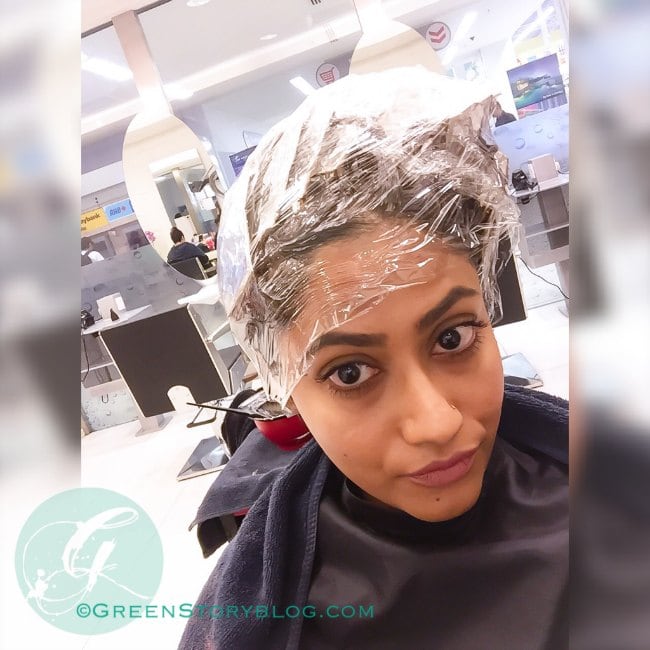 After that 20 minutes of waiting, he washed my hair and the color was done but I went for and additional service, Scalp Treatment. So another 15 minute there and then a little trim and blow dry.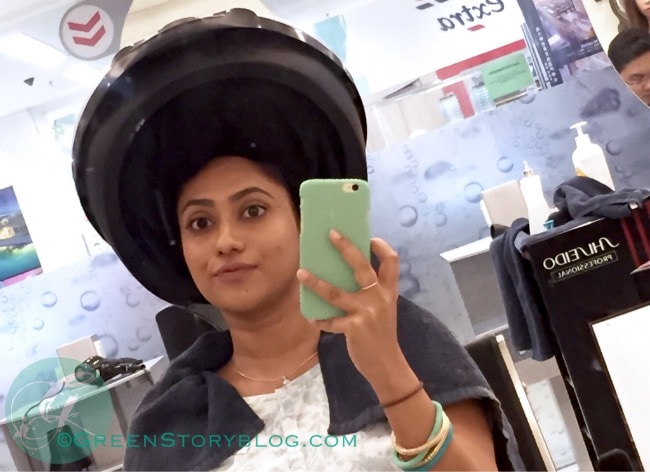 And Viola! ….My brand new colored and healthy hair 🙂 I was so happy seeing the outcome.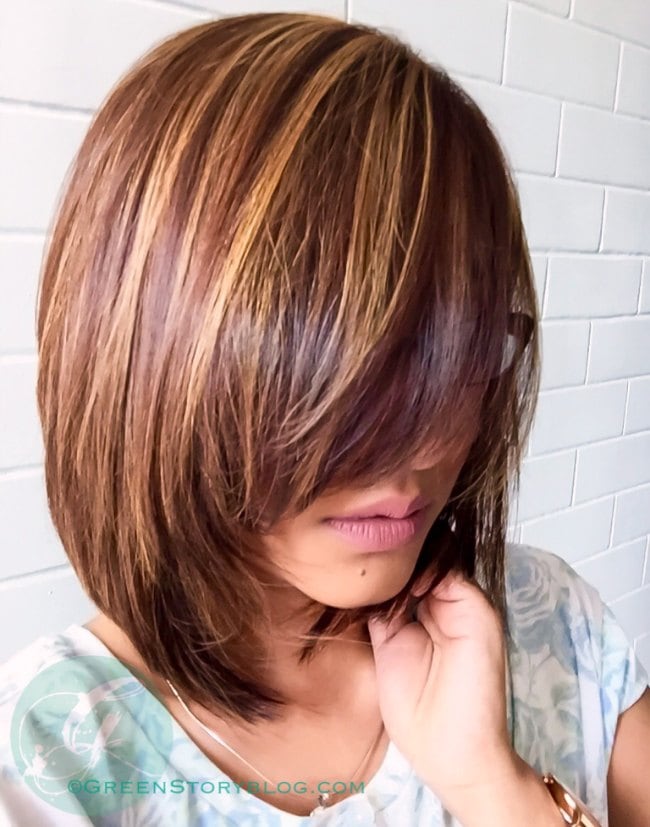 The picture below is my hair color in direct sunlight. I freaking love it!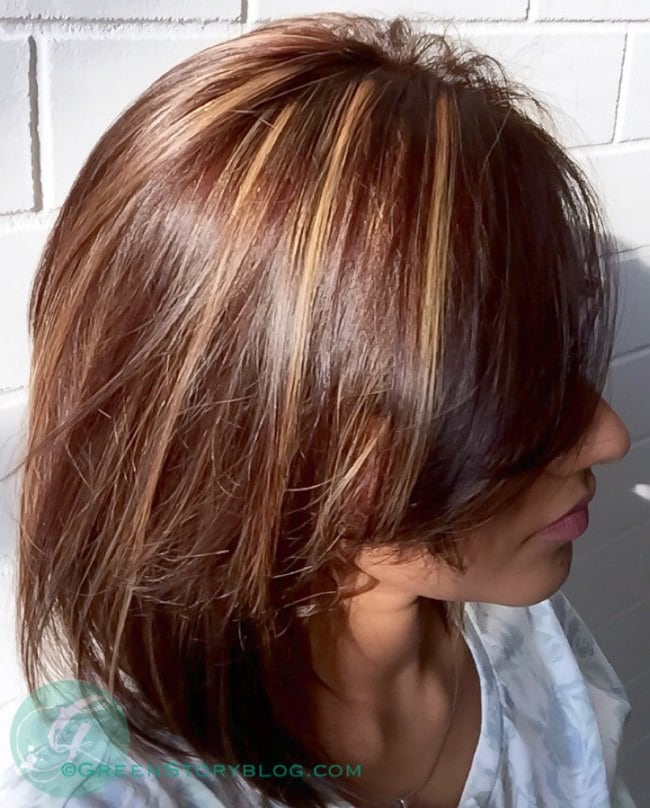 My husband's comment after seeing my new hair color, "Just the way I imagined it, you look perfect'. Well well, couldn't be happier with such compliment from husband, moreover, all my friends liked the outcome as well. Big thanks to Keith for such beautiful work.
What you guys think???
Post Color Care:
A new hair color can make you beautiful, but color does harm the health of the hair. If you don't take care of your colored hair properly then you might face heavy hair fall, breakage, split ends, frizz, dullness and so on. So it is must that you put extra effort on repairing your hair and also protect the fresh color of your hair.
[wp_ad_camp_5][/wp_ad_camp_5]
I'm pointing out below what I follow to repair my hair and protect my hair color:
A shampoo and conditioner that is specially made for color treated hair. I'm recently using Bath & Body Works Eucalyptus Spearmint shampoo & conditioner, which is volumizing and suitable for color treated hair.
Oil massage. To me, oil massage is must at least three times a week. I'm recently loving extra virgin coconut oil (I would use my homemade mix oil, recipe here, but all ingredients aren't available here in Malaysia). You can also use other oils like oil, almond oil, castor oil, anything you prefer.
Deep conditioning once a week to keep up the strength. I'm here talking about deep conditioning that you can do at home. Get some repairing mask of your preferences from the market use that alone once a week or you can mix that with egg or mayonnaise for more protein boost and use that before the shower.
Get a hair repairing treatment done once a month from your trusted salon. Now, this is the part where many of us (even I myself!) hesitate a lot. Hair repairing treatments aren't cheap and we all in some point think that my hair is doing great I don't need to go to the salon. Yet the crucial truth is what is your hair condition and what should be done with it to prevent further damage only a hair expert can say that. So, if it's possible to do give your colored hair a saloon treat every month, do it.
Don'ts:
Don't use henna or such thing on colored hair.
Avoid hot water shower as much as possible.
Avoid hot tools as much as possible.
Don't use acidic natural ingredients like sour curd, lemon, etc. Those fade the color faster than normal.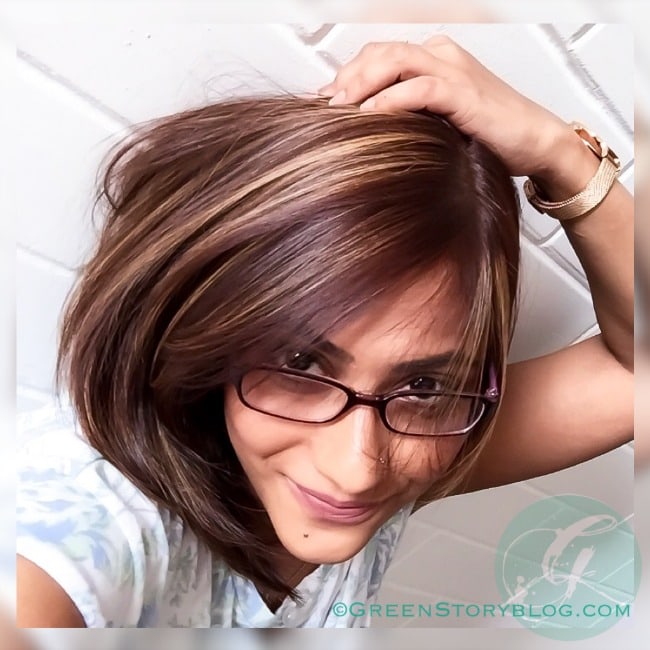 Are you thinking to get a hair makeover or recently done any? Do share with me, I would love to get some new inspiration.
[color-box]
Salon Info:
Hair Emporium
Mutiara Damansara, Selangor, Malaysia
*The service (Duotone color/base color and highlight) I took it cost me RM300(with promotion) in total including scalp treatment and hair trim.
[/color-box]
[signoff][/signoff]