If you're reading GreenStory regularly then you must have noticed that just a while ago I've reviewed one of the most popular product from Half Moon Eyes skincare, Pink Fruity Wash Off Mask. I've been trying another two Half Moon Eyes Skincare product, Milky Jelly Moisture Cream, and the Toning Essence. Pink Fruity Wash Off Mask happened to be one of my favorite wash off mask. I'll be sharing today how the Milky Jelly Toning Essence and Moisture Cream worked for my skin.
[wp_ad_camp_4][/wp_ad_camp_4]
Half Moon Eyes Milky Jelly Toning Essence: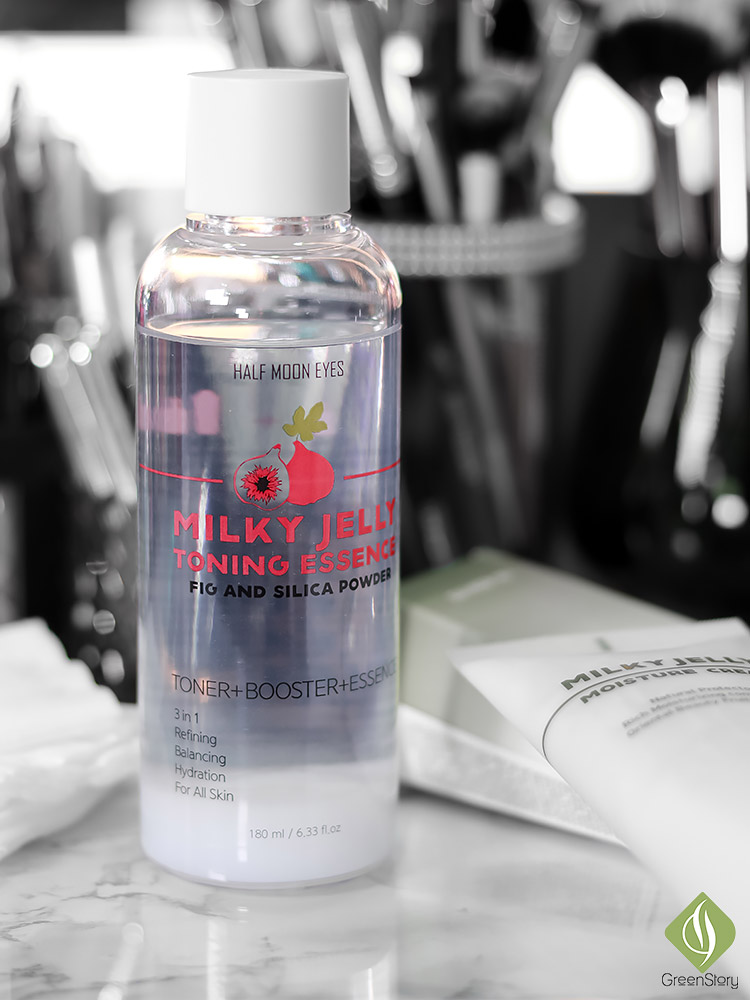 HME calls this product a 3-in-1 cosmetic diet. This works as a toner, booster, and essence at once that is suitable for all skin type. Milky Jelly essence comes with a small pack [10pc approx] of cotton pads as well. Perhaps to tell you that it works better if you use it with cotton pads.
Milky Jelly Toning Essence has Silica, Fig, Pomegranate, Tea Tree Leaf extract/Melaleuca Alternifolia Leaf Water/Allantoin as its major ingredient. All those fruit extracts especially Fig is full of natural mineral and vitamin C. Tea tree leaf extract is an amazing anti-inflammatory ingredient. Silica is pretty well used in the beauty world to control skins oil secretion.
Pretty much everything written on the packaging is Korean. Needless to say, I couldn't read but was curious to know about it a bit more. Google helped me to get the full ingredient list, below.
Ingredients:

Water, Melaleuca Alternifolia Leaf Water, Hyaluronic Acid, Ficus Carica Fruit Extract, Silica, Centella Asiatica Leaf Extract, Avena Sativa Kernel Extract, Allantoin, Macadamia Integrifolia Seed Oil, Aloe Barbadensis Leaf Water, Adansonia Digitata Fruit Extract, Ginkgo Biloba Nut Extract, Morus AlbaFruit Extract, Punica Granatum Fruit Extract, Illicium Verum Fruit Extract, PEG-7 Glyceryl Cocoate, PEG-60 Hydrogenated Castor Oil, Sorbitol, 1, 2-Hexanediol, Caprylyl Glycol, Butylene Glycol, Trideceth-10, Disodium EDTA, Phenoxyethanol, Fragrance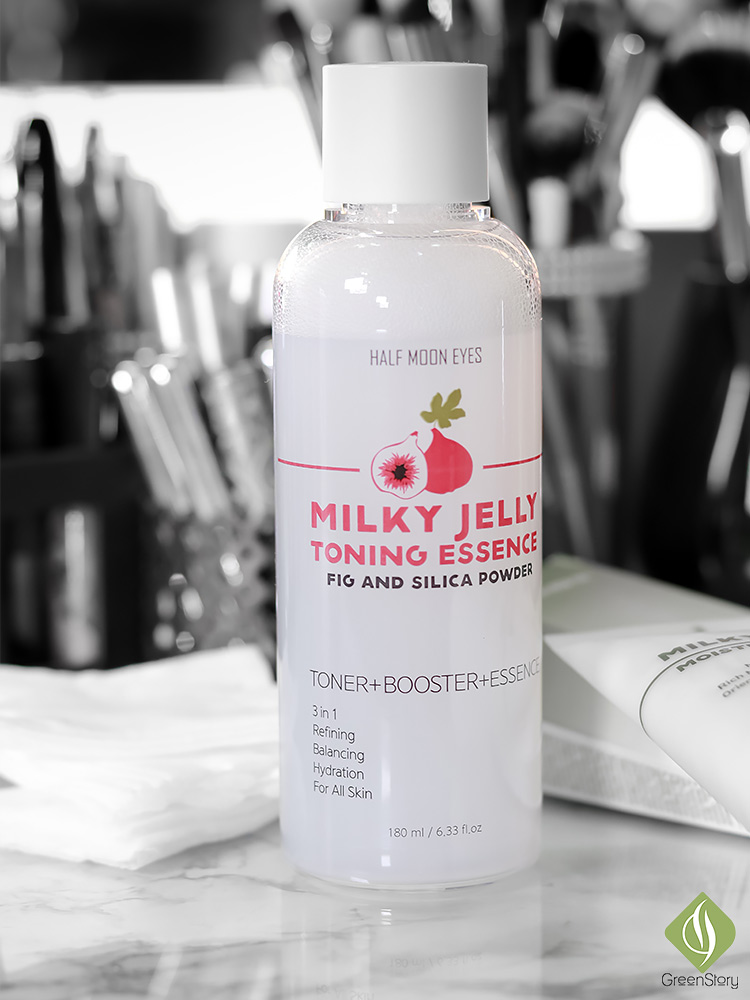 How to use:
This toner has a visible amount of silica powder in it. It is must, you shake the bottle well before every use. Once shaken you'll have a milky look/consistency of the water. Wet a cotton pad with the toner and swipe over your face, before moisturizer or anytime you want. You can also use it in your home-made type sheet masking ritual.
How I feel about Half Moon Eyes Toner:
Milky Jelly toner has a strong fruity scent in it. a point to note If you're not a fan of fragrance in skincare item. It feels nicely hydrating on the face. After a minute of application, it gives my skin a tightening feeling as well. That feeling goes away right after following up with other skincare product.
Just like you, I'm not a fan of oils on my skin. I don't like to control skin-oil but I try to maintain a balance. I feel controlling natural ratio of oil secretion actually triggers it to produce more. Hence using silica within skincare isn't really my favorite.
Upon application, the toner creates an invisible layer of silica. When I follow up with a serum next, the silica layer creates a visible mess. Because that silica powder was just sitting on the top. If I don't use a serum afterword but just opt for the HME moisture cream (thoughts on this below, keep reading😉) it works just ok. But again with my other gel creams, it creates some kind of milky lather when massaging.
To be straightforward, I don't like this in my skincare. I prefer a targeted serum and all other steps to take care of my 30+ skin and I'm happy to be old school. However, not everyone prefers things the same way. If you're a fan of sebum control and skip all other skincare steps, a targeted serum or such, you gonna love this as your toner.
[wp_ad_camp_3][/wp_ad_camp_3]
Half Moon Eyes Milky Jelly Moisture Cream: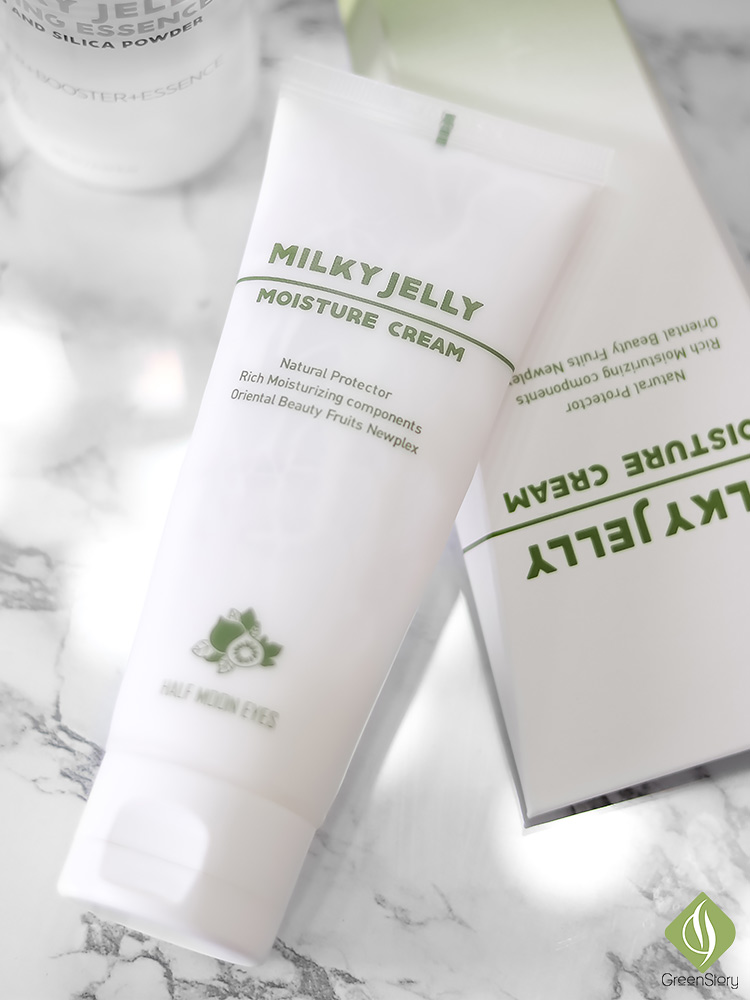 HME Milky Jelly Moisture Cream is your big tube(100g) of multi-tasking moisturizer that can meet your basic need. I've been using it throughout my 10days trip to Bangladesh last month. In fact, I took only this to fulfill my whole body moisture need. I was slightly hesitant at the beginning to rely on this moisturizer completely. Took the risk depending on how it felt during the prior use of a couple of days.
A big tube of moisturizer always makes me happy. I also appreciate that this one had the ingredient list written in English on the packaging.
Milky Jelly moisture cream contains a lot of botanical ingredients and claims to be effective on anti-aging. However, within my understanding, there are alcohol, mineral oil, and other ingredients as well that might be hazardous for an oily/acne-prone skin.
Ingredients:

Water, Mineral Oil, Cyclomethicone, Cetearyl Alcohol, Glycerin, Methyl Glucose, Sesquistearate, Ficus Carica (Fig) Fruit Extract, Sodium Hyaluronate, Ginkgo Biloba Leaf Extract, Morus Alba Fruit Extract, Punica Granatum Fruit Extract, Salix Alba (Willow) Bark Extract, Origanum Vulgare Leaf Extract, Chamaecyparis Obtusa Leaf Extract, Lactobacillus/Soybean Ferment Extract, Portulaca Oleracea Extract, Scutellaria Baicalensis Root Extract, Cinnamomum Cassia Bark Extract, Collagen Extract, Illicium Verum (Anise) Fruit Extract, Butylene Glycol, Caprylyl Glycol, Glyceryl Stearate SE, Polyacrylate-13, Dimethicone, Stearic Acid, Sorbitan Stearate, Polyisobutene, Hydroxyethylcellulose, Polysorbate 20, Chlorphenesin, 1,2-Hexanediol, Phenoxyethanol, Fragrance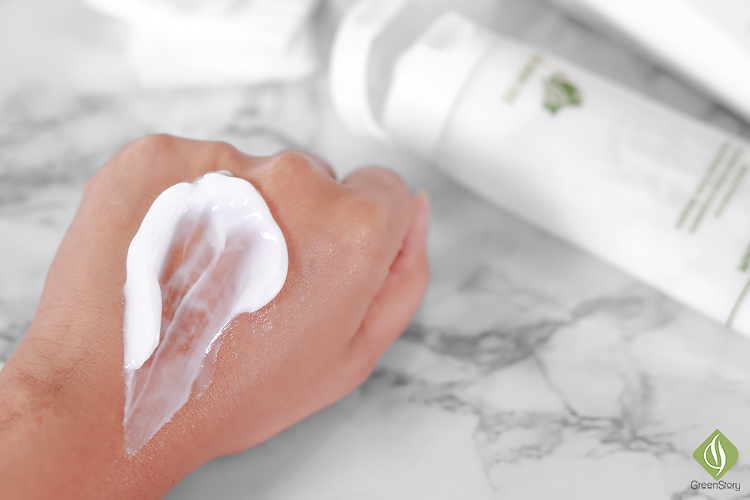 How I feel about Milky Jelly Moisture Cream:
It's a nice and soothing moisturizer. There are a lot of emulsifier in it so the texture is very silky and skin feels silky after the use. I love how it creates a moisture barrier. My makeup sets well over it. However, when it's a long day and I don't get a chance to re-clean my face often, after 4/5 hours my skin starts to feel heavy.
The good thing is the moisturizer didn't cause me any skin issue so far. I don't find it as an anti-aging cream but don't have any sort bad feeling about it either. I like it, LIKE it even more in my hands, to be honest. The amount of moisture this Milky Jelly cream can hold is just perfect for my dry hands.
Overall, for my face, in particular, I feel a need of anti-aging moisturizer that has some targeted action.On the other hand, It's my favorite as my hand cream now. I would recommend this one for those with younger (23/24 onward) skin who likes simplified skincare.
[color-box]
Shopping Info:
Half Moon Eyes Milky Jelly Toning Essence | RM65.00 / $16.00 for 180ml
Half Moon Eyes Milky Jelly Moisture Cream | RM67.00 / $14.90 for 100g
I got my supply from Althea, you can shop from there too. Althea has a set of Half Moon Eyes Skincare that includes 3 pods of my favorite Pink Fruity Mask (reviewed earlier). The set is a better value (RM118.00) of price than buying the product individually. Of course, only if you're interested in trying each one of these.
[/color-box]
[signoff][/signoff]