I assume my Title for this article says it all! This Mad Hippie Advanced Skincare – Vitamin C Serum with B Actives (Konjac Root, Ferulic & Hyaluronic Acid) turns out to be the best Vitamin C serum I've used so far considering how gently it works on the skin. The other serum I swore by is still holding my favorite position for its fast action but I would rather go with a gentle skincare tan something works fast and is hard to maintain.
Mad Hippie, popular earth-loving skincare brand mostly in the USA. The brand and its ethics are clearly pronounced from its choice of product ingredient to designing the outer packaging. The plant-based ingredients are selected from suppliers with top qualifications. Products are vegan and cruelty-free, GMO-free, fragrance-free, and non-irritant. The cute and unique packaging is printed using soy inks with 100% wind energy.
The brand has been there for a long time now as I've been reading about it on USA skincare blogs. However, I started giving this Vitamin C serum a try last year, in November when Worthee Cosmetics sent a sample product with the news that they are now an authorized retailer of Mad Hippie (along with Paulas Choice, I've talked before) here in Malaysia.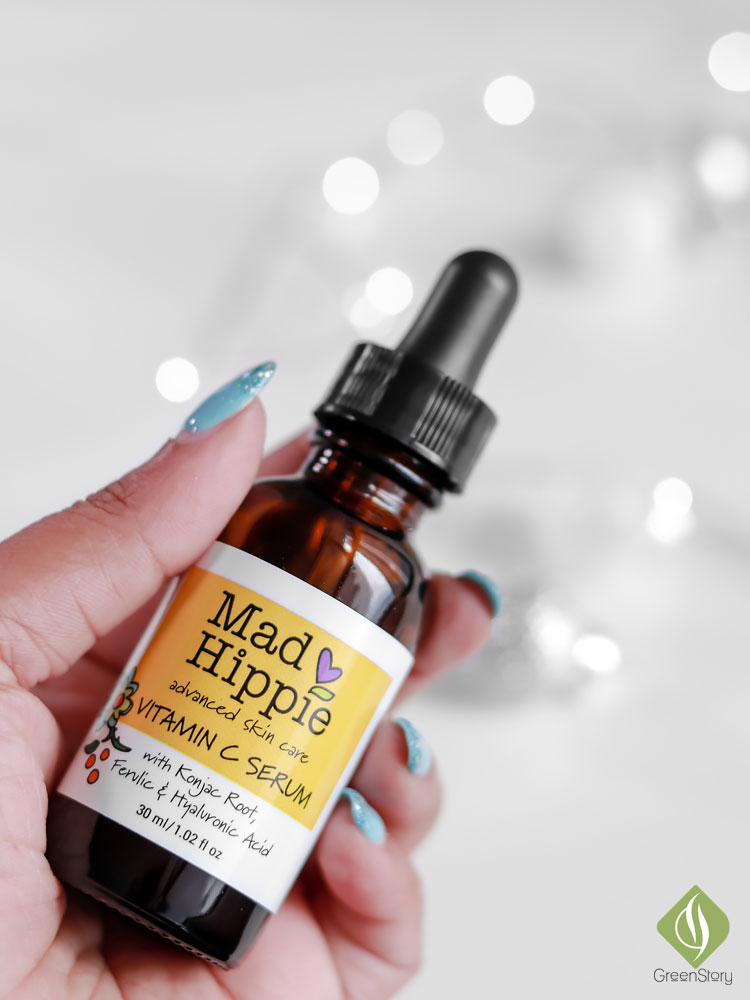 I've been taking a good amount of time to try out this Mad Hippie Vitamin C Serum. I was in a conflict if this serum is really that good as I was feeling or it was just a dilemma! It's been more than two months since I've been using this serum in my skincare routine. Sometimes I've been using it as the only serum in my skincare, sometimes in a rotation with others and sometimes with a gap of a couple of days.
Ingredients of Mad Hippie Vitamin C Serum:

Water Deionized, Vitamin C (Sodium Ascorbyl Phosphate), Alkyl Benzoate, Vegetable Glycerin, Water, Glycerin, Sodium Levulinate, Sodium Anisate, Clary Sage (Salvia Sclarea), Grapefruit (Citrus Grandis), Hyaluronic acid, Amorphophallus Konjac Root Powder, Aloe Barbadensis Leaf, Vitamin E (Tocotrienol), Ferulic acid, Chamomile Flower Extract (Recutita Matricaria), Sodium Phytate, Xanthum Gum, Hydroxyethylcellulose

Key Ingredients:

Vitamin C (Sodium Ascorbyl Phosphate 10%) – A vital element in the production of collagen, vitamin C can reduce the appearance of wrinkles & discoloration, while helping offer antioxidant protection from photoaging – a leading cause of skin aging. Sodium Ascorbyl Phosphate, a more stable and bioavailable form of Vitamin C than the commonly used L-Ascorbic Acid found in most skin care products. It has the same benefits, without the risk of oxidation and irritation that is often associated with L-Ascorbic Acid.

Vitamin E – Protective antioxidant that has been shown to reduce the appearance of wrinkles & discoloration.

Ferulic Acid – A natural antioxidant found in the cell walls of plants. When combined with vitamins C & E, Ferulic Acid has been shown to have a compounding antioxidant/UV protective effect.

Hyaluronic Acid – Works to plump up the skin and reduce the appearance of wrinkles. A naturally occurring substance in the body, hyaluronic acid begins to deplete as we age.

Konjac Root Powder – Exotic flower from Asia, helps to soften & smooth the skin while forming a thin protective barrier. Rich in nutrients such as copper, zinc, phosphorus, fatty acids, protein, carbohydrates, lipids, potassium, magnesium, iron, niacin, folic acid & vitamins A, E, C, D & B!

Grapefruit – Rich in antioxidants & citric acid, grapefruit helps to remove dead skin cells, acting as a natural exfoliant.

Chamomile Extract – Provides a thin protective shield, while naturally soothing and calming the skin.

Clary Sage – Helps eliminate overly-dry or overly-oily skin. Acts as natural toner & astringent.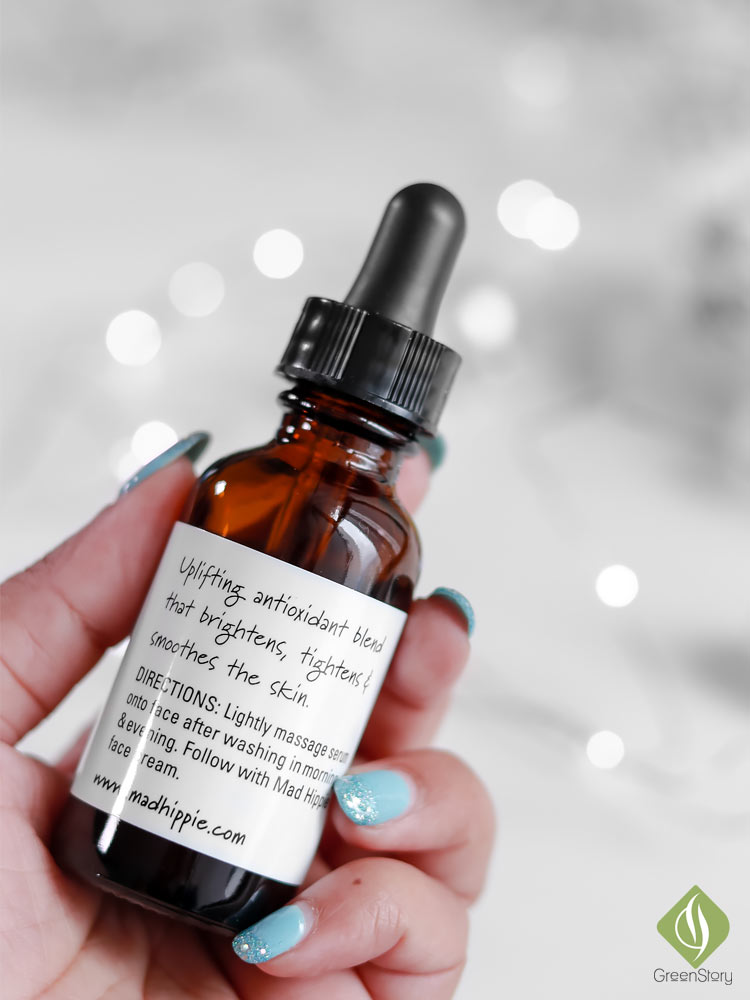 The Key Ingredients here in this Mad Hippie Vitamin C serum features all plant derivates and vegan anti-aging properties. Not only Vitamin C but I love that this serum is also enriched with other beneficial properties like hyaluronic acid, ferulic acid, and actives that work to rejuvenate skin.
Characteristic of Mad Hippie Vitamin C Serum:
There are a lot of mumbo-jumbos around the web about vitamin C serum focusing on how it gives you bright and spotless skin. Needless to mention those other vitamin C serums which might work according to the expectation but the price point can give you a punch in the eye.
Does a vitamin C serum really give you spotless and bright (or I should say 'white') skin?
– Yes, vitamin C does brighten skin in a combination of science-based ingredients/formula and if you can incorporate it into your skincare in a decent and necessary manner.
Some powerful vitamin C serum gives a visible brightness within a short time but later on, that brightness is just too hard to maintain. Sun and environment will give just the opposite effect of bright skin if the skincare ritual is not maintained properly.
To talk about vitamin C, we are always told that allow lights in and the product is spoiled. The vitamin C product itself needs extra care to prevent it from losing its characteristics. Kudos to the stabilized form (based on my little research) of vitamin C and E in Mad Hippie Vitamin C serum that offers the peace to use it without any extra hassle.
The serum does come with a colored bottle like all other Vitamin C serum does. The original color of this serum was slightly yellowish as the picture shown below. I was skeptical at the beginning but, fortunately, the texture, color, or the clarity of it didn't change a bit until now (3 months approx).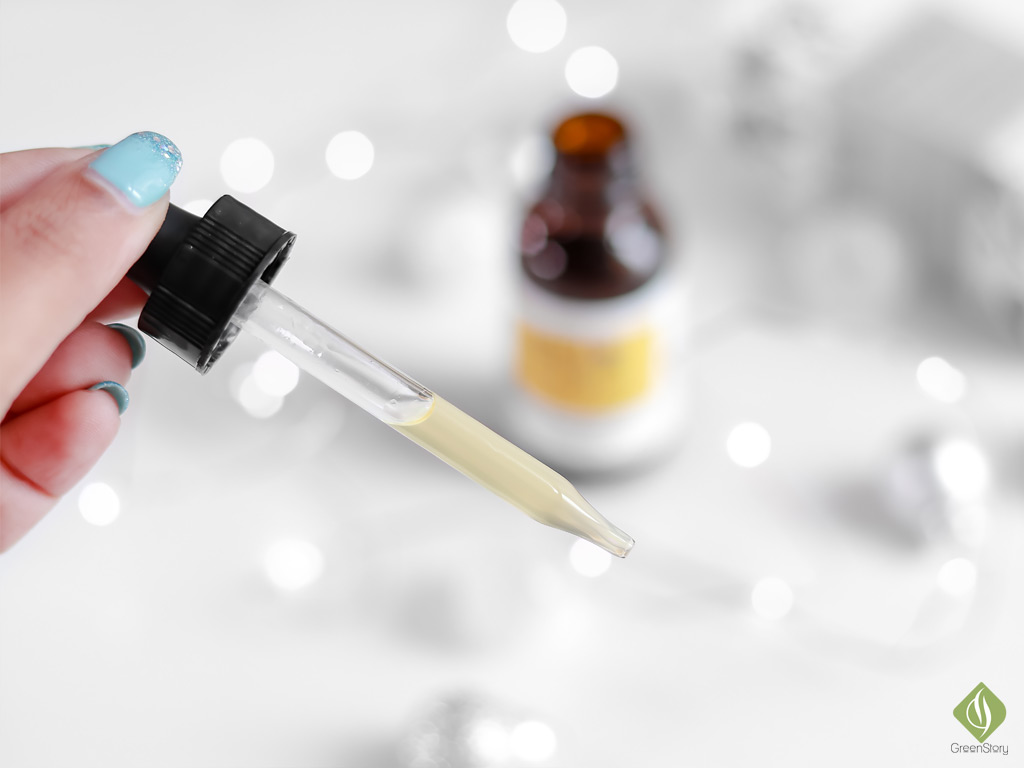 My experience with Mad Hippie Vitamin C Serum:
Initially, I love the natural, plant-based formula of Mad Hippie Vitamin C serum and its intensive purposes. The. I can use this serum anytime, am or pm, or just in the middle of the day. For being enriched with other skin rejuvenating properties the Mad Hippie Vitamin C Serum was just an excellent alternative to other serums that I would use at the same time.
This Vitamin C serum has a lightweight texture, gets absorbed by the skin within a minute. No stickiness and no greasiness at all. I found it very comfortable on my skin. Thus I started using it during the day under sunscreen or even under my makeup. While I was trying the serum alone I didn't use any other serum so I can examine the benefits properly. The serum itself is enough to maintain the moisture balance of the skin throughout the day.
For the night I preferred using a heavy moisturizer like Kiehls Multi-Corrective Cream to ensure the maximum skincare benefits I was expecting. And sometimes I did add some other targeted serum before or after (as required) Mad Hippie Vitamin C serum. When using it at night my skin just felt extra better and plumped up every morning.
I didn't notice any visible effect within a couple of weeks or so. But yes, the serum does effectively helps to even out skin tone. I was able to notice the improvement in my skin after 6/7 weeks of use. And in fact, the healthy glow was beautiful even when I was having a hectic life due to traveling here and there. Added antioxidants, hydrants, and other actives were surely balancing my skin from growing further age-sign.
You may wonder,
Does Mad Hippie Vitamin C serum help to fade spots?
– My answer will be yes. However, it's complicated in a sense as well.
The sunspots and blemishes I have had for a long time never seemed to fade a bit with this serum. To be honest, those spots eventually never faded with anything so far. There were a couple of spots that I created myself poking some tiny bumps. The serum worked on those spots. My skin went spot-free within a week. Normally, it would take me a couple of weeks to get rid of those spots with my regular skincare.
To conclude this gentle vitamin C serum review,
Mad Hippie Advanced Skin Care Vitamin C serum is a targeted Vitamin C serum that contains 10% Sodium Ascorbyl Phosphate. It is also enriched with antioxidants and other skin beneficial active ingredients to revitalize skin. The serum has a lightweight texture that sinks into the skin fast without leaving any sticky residue. My skin feels moisturized, balanced, and even-toned with regular use. If used twice a day the effect is more visible. It effectively helps to fade minor spots and prevent fine lines to grow further. It is a gentle Vitamin C serum that works with time but it does work.
Considering how gentle this vitamin serum is on the skin and it's not heavy or drying, I believe this serum is suitable for all skin types.
Where To Shop & Price?

– Mad Hippie Vitamin C Serum | RM 125.00 (sale price right now) for 30ml / $33.99
– Available to shop at iherb website [10% Off First Purchase. Use code 19NEW. Expires Thursday, January 31st at 10AM.]and Worthee Cosmetics.