Have you tried a powder face wash before? I haven't until I tried this Wishrend Green Tea and Enzyme Powder Wash. Only something similar I can recall is Lush Angels On Bare Skin but that was almost a dough like a cleanser. This Green Tea Powder Wash is a barely new product by Wishtrend, launched in November'17 as far as I can remember. I was sent the product for the testing purpose. I was literally dying to try it out but due to the holidays and all, I had to put it aside. And of course, I didn't want to experience this unique powder wash in a rush.
Since the middle of January'18, I have included the By Wishrend Green Tea and Enzyme Powder Wash in my skincare routine. This is simply a daily cleanser that also gently exfoliate skin without irritating skin. Let me tell you how was the journey so far…
Ingredients of Wishtrend Green Tea Powder Wash:

Sodium Bicarbonate, Sodium Lauroyl Glutamate, Sodium Cocoyl Isethionate, Zea Mays (Corn) Starch, Camellia Sinensis Leaf Powder(2%), Lysine HCL, Proline, Sodium Ascorbyl Phosphate, Acetyl Methionine, Theanine, Carica Papaya (Papaya) Fruit Extract, Sorbitol, Papain, Betaine, Cellulose Gum, Citric Acid, Sodium Hyaluronate.
Raw Ingredients:

There are four kew ingredient in this powder wash as followed –

1. Green tea powder: A powerful antioxidant rich in vitamins such as vitamin A, C, and E. Green tea cleansing is one of the Asian skin care tips for calming and improving skin tone. It gives a relaxing and comforting effect on the skin with the fragrance of green tea.

 2. Papain: Eliminates proteolytic enzymes, old keratin, and skin wastes to improve the skin texture.

 3. Sodium bicarbonate (baking soda): Works as a soft and gentle scrub agent, excellent for blackhead and skin care.

 4. Amino acid surfactants (Sodium Lauroyl Glutamate, Sodium Cocoyl Isethionate): A weakly acidic surfactant derived from coconut. Great skin-affinity and excellent moisture retention.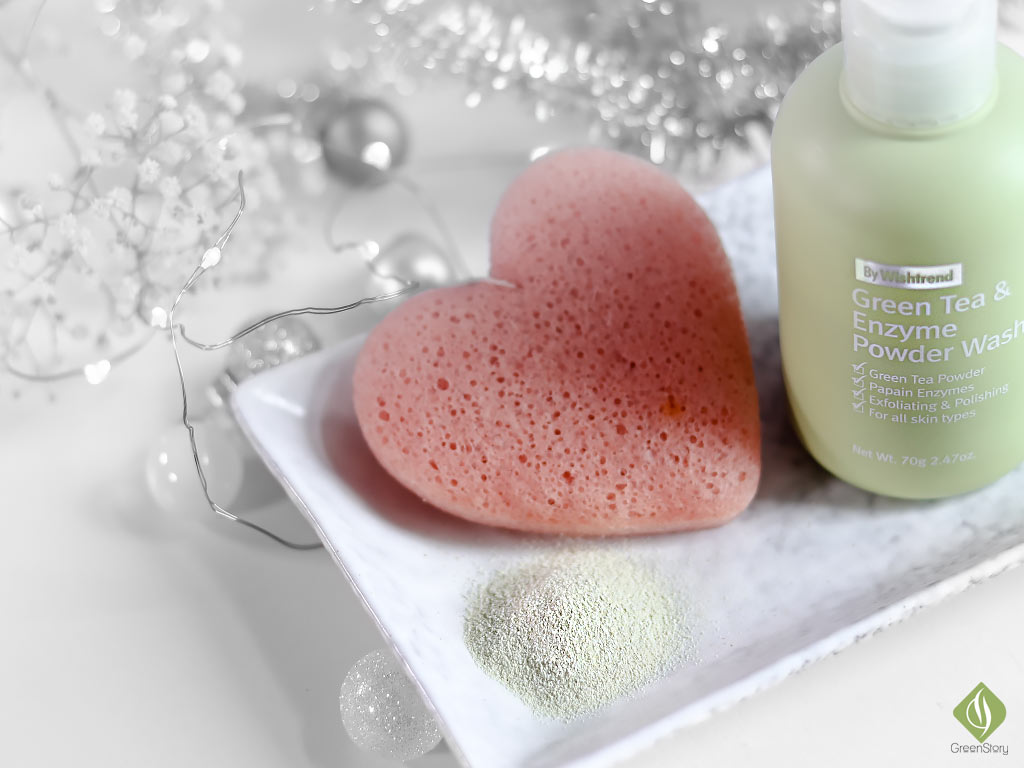 Packaging and Texture:
I simply love the clean packaging of this Green Tea Powder Wash. The bottle is pale green, plastic made, sturdy and lightweight and dispense the powder with and ease. The texture of the powder is not fine but smoothly coarse. Once added to water you'll get a smooth paste.
I find the bottle very much travel-friendly. For each use, two to three pinch of powder is enough. Accordingly, one bottle of this powder seemed to last for a really long time.
How to use Wishtrend Green Tea Powder Wash:
Take an adequate amount into your hand and use a small amount of water to work up a lather. What I do is wet my face first then pat a generous amount of the Green Tea Powder Wash on my face directly. Then wet my hand again and with the water on my hand gently I rub the powder on my face. Because it's not necessary to add much water and also you don't want a runny paste. The powder melts away within a second and lathers up. I do this to avoid the mess of lathering up the product first on my hand.
I've a warm water facility on my basin so I usually use lukewarm water whenever I wash my face. This powder wash is recommended to mix with warm water to activate the enzyme properties in it. However, I guess it's ok to use normal water as well.
I've been using this Wishrend Green Tea and Enzyme Powder Wash once a day (morning mostly) when my skin acts normal. For those days when my skin felt a bit sensitive, I skipped using it to avoid further inflammation os such can cause by baking soda in it (I have got a weird feeling about baking soda).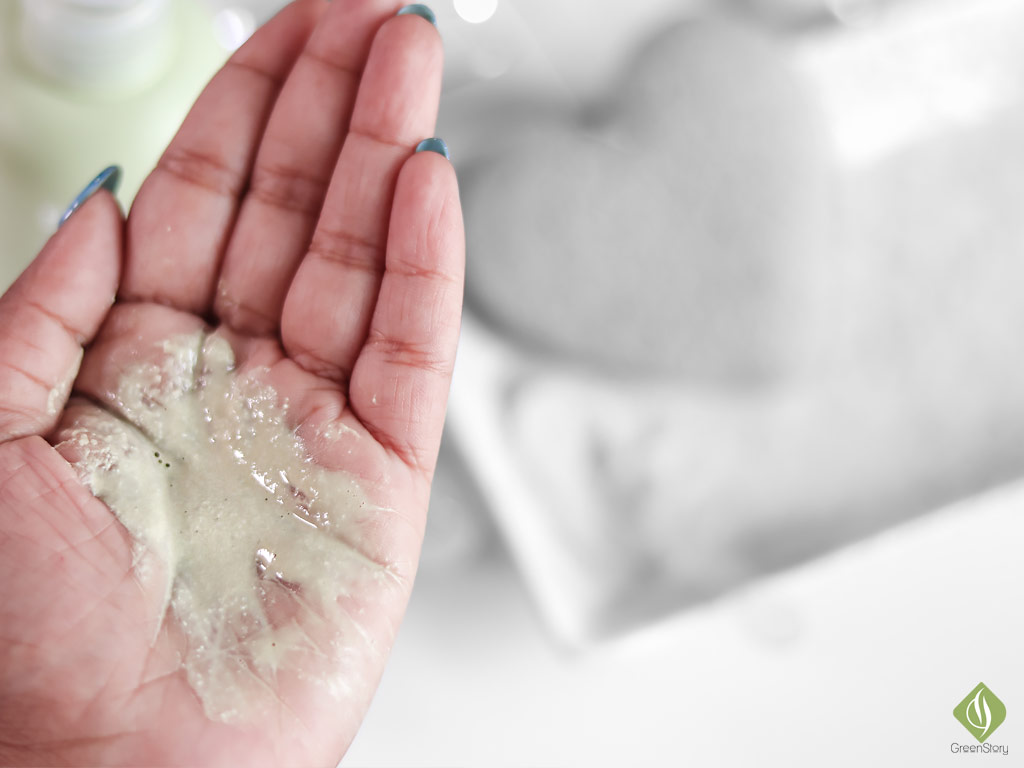 My Experience with Wishtrend Green Tea and Enzyme Powder Wash:
First of all, I absolutely love the 'matcha latte' smell of this facial cleanser. As I mentioned before, I've been using Green Tea and Enzyme Powder Wash by Wishtrend in my morning skincare routine. When massaging my face with this powder wash, it gives a very gentle exfoliation. My skin feels clean, awake but not dried out afterward.
Baking Soda itself is very popular as a skin exfoliator among skincare junkies although I've never tried that method on my skin. Thus I can't tell how baking soda really feels on the skin. However, I liked the feeling of Wishtrend Green Tea Powder Wash. The acidic exfoliation it gives, you can feel on the skin. I can also feel how gentle the exfoliation is. This even feels milder than a regular facial scrub (e.g. Neutrogena Daily Facial Scrub).
It is suggested to avoid skin care products that have exfoliating effects (retinol, high concentration vitamin C, AHA/BHA, etc.) while using the Wishtrend Green Tea and Enzyme Powder Wash. Don't take this as my suggestion at all, just to be honest, I've to mention that all this time I've been using other exfoliating products but in my pm skincare routine. I love an exfoliating toner for my night time skin care. For the toner, I've been using Pixi Glow Tonic and The Ordinary Glycolic Acid Toning Solution in a rotation. I was also maintaining a cycle of using Mad Hippie Vitamin C Serum and Murad Advanced Active Radiance Serum. Fortunately, I haven't faced any issue so far. Maybe because I was using them at night and not just right after the powder wash.
Because it is an exfoliating cleanser, it does help to maintain a bright and even skin tone. Accordingly helps to improve skin texture. I find this cleanser really helps to keep whiteheads and blackheads on the bay if used regularly. The cleanser gives a proper clean face but you don't expect it to clean a full-on makeup face.
To conclude,
I simply love this powder face wash if you ask me only about powder face wash types [yes, this is the only powder wash I've used so far]. I couldn't find a single bad side of it. In fact, think this face wash can be the best option for youngsters who are busy in daily life and don't want to bother with an extra step of exfoliation, be careful not to use it more than once a day.
Nonetheless, If you want me to pick between a regular face wash and a powder wash then I'll definitely stick to a gel type facial cleanser. By Wishtrend Green Tea and Enzyme Powder Wash is indeed a good cleanser but activating the powder just feels slightly extra work to me. Forget my personal psychology and do give it a try if you haven't tried it yet.
[color-box]
Shopping Info:
BY WISHTREND Green Tea and Enzyme Powder Wash [70g/2.47oz] | $22.00
Available to shop at Wishtrend website.
[/color-box]