Natural product and specially their fragrance never fails to blow me away! Mentholatum Botanics, a nature inspired series of facial wash and facial masks were launched here in Malaysia a few weeks before. Best part they are pocket friendly drugstore product and this is no new brand but a new series, Botanics, which is completely inspired by the goodness of nature, developed by the well known company Mentholatum (Rohto Pharmaceutical). All the product within the series Botanics uses the finest ingredient with the highest quality natural herbal essence from flowers and herbs to give its user the best experience of skincare in an affordable price.
About The Company, Mentholatum:
[color-box]
The Mentholatum Company, Inc. Founded in 1889 is a manufacturer and marketer of non-prescription drugs and heathcare products. Headquarters are in Orchard Park, New York, U.S.A with operations in Australia, South Africa, Canada, Scothland, Taiwan, Thailand, Malaysia, Hong Kong, Mexico, South Korea, P.R China, India and Japan.
Manufacturing is carried out in 26 locations around the globe and marketing / distribution in over 150 countries. The company, privately held for 99 years, was acquired by Rohto Pharmaceutical Company Ltd. of Osaka, Japan in 1988. Rohto is a major player in the Japanese pharmaceutical market with top selling products in the eye care, topical and stomach relief categories.
Since 1889, The Mentholatum Company has grown and prospered from a small purveyor of soaps and toiletries into an international company, marketing quality proprietary medicines around the world. In the United States, and in many countries around the world, the Mentholatum family of products has earned a reputation for quality and value. Every Mentholatum brand is sold with an unconditional guarantee of satisfaction.
Brands under Mentholatum: Lipice, Oxy, Hada Labo, Selsun, Sunplay, Rohto C Cube, Deep Heating Rub and Botanics.
[/color-box]
[wp_ad_camp_3][/wp_ad_camp_3]
Mentholatum Botanics currently offers four range of product. They are, tube face wash, foamng face wash, pump face wash and sheet mask. Each of these range includes various types and varity of flavour to go with every type of skin. They are also addressed to various skin care benefits.
I have been trying out four of Mentholatum Botanics product, Pomegranate Sheet Mask, Tea Tree Deep Cleansing Facial Wash, Rosehip Oil Moisturizing Face Wash and Tea Tree Foaming Face wash. Let me tell you how was my experience with them.
Mentholatum Botanics Pomegranate Sheet Mask | RM6.90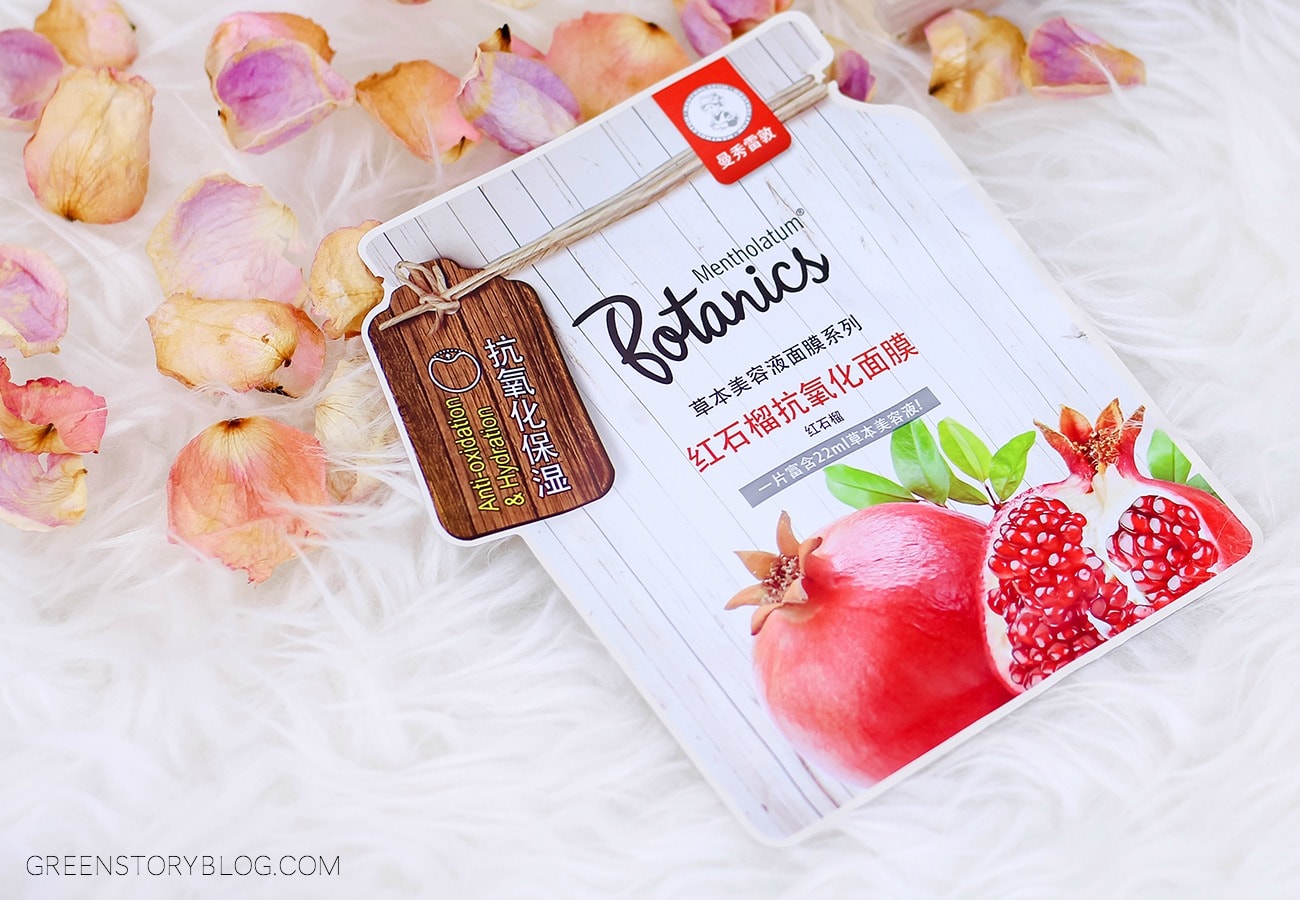 This pomegranate sheet mask is enriched with antioxidant, has 22ml of essence inside the pack. It claims to protect the skin from free radical damage and aging. Also claims to awaken and moisturize the skin with its hyaluronic acid and naturally rich herbal extract. The sheet is made of Lyocell fiber derived naturally from trees so the mask is breathable and comfortable on the skin.
I love how the sheet fits my face and there is enough amount of liquid to plump up the skin perfectly. After trying this one now I very much keen to try the other sheet mask by Mentholatum Botanics.
Mentholatum Botanics Tea Tree Deep Cleansing Face Wash | RM14.90 for 100g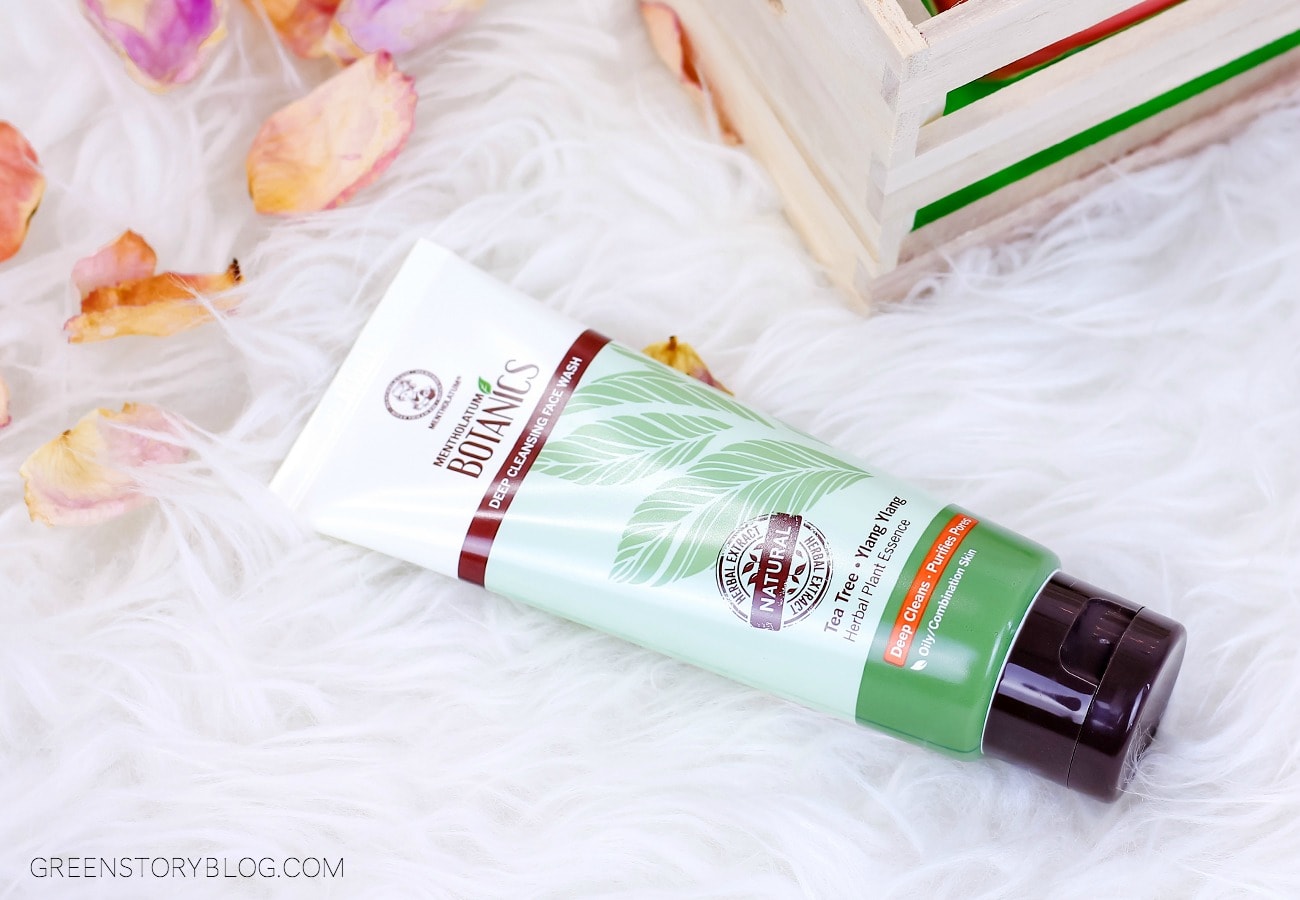 This is a paste type of face wash, the paste has very soft geen-ish color. It has refreshing scent of lemongrass that is surely calming. Main ingredients are Ylang Ylang (a tropical Malaysian/Indonesian tree. Essential oil of Ylang Ylang known for its antidepresent, antiseptic and many other benefits), Tea Tree, White Tea and Olive Tea that helps to blance oil, deep cleanse and purifies pores. Also claims to prevent blemishes and blackheads.
I love how it cleasne, literally leaves my skin squiky clean, removes all the traces of makeup also controls oil for a cirtain period like 4/5 hours. It doesn't feel drying in my combination skin afterward but I feel it won't be suitable for dry to normal skin. Yes obviously, this facewash is addressed for oily to combination skin.
Mentholatum Botanics Rosehp Oil Moisturizing Face Wash | RM21.90 for 150g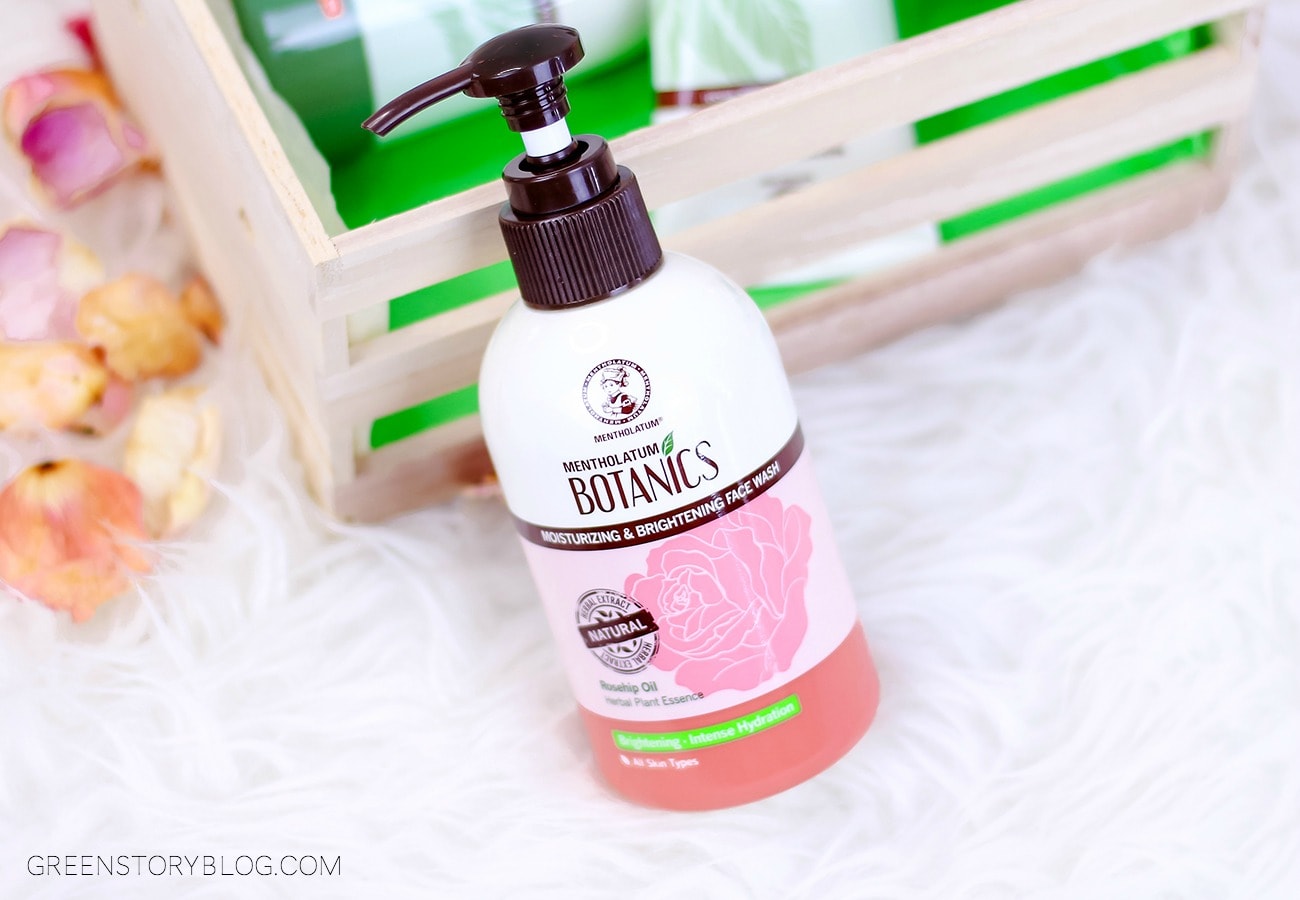 This is a creamy type face wash, has almost runny consistency but not runny like water. To be more precise, the texture feels milky upon application, has a sweet floral scent in it. Texture-wise this one is my favorite of all. This one lathers up once applied and mixed with water. I use Clarisonic Mia 2 (read more here) in my beauty regime so I find this face wash perfect to work with. Main ingredients of this face wash are Rosehip Oil(Rosa Canina, a wild rose species found in Europe and western Asia), Vitamin C and pearl extract which helps to brighten, tone and improve skin's luminosity. This one also claims to be enriched with collagen that helps to boost skin's moisture retention ability.
I can't deny, this facewash does feel moisturizing, that doesn't mean it makes skin oily but removes oil and dirt to every bit.
[wp_ad_camp_4][/wp_ad_camp_4]
Mentholatum Botanics Tea Tree Foaming Face Wash | RM25.90 for 160g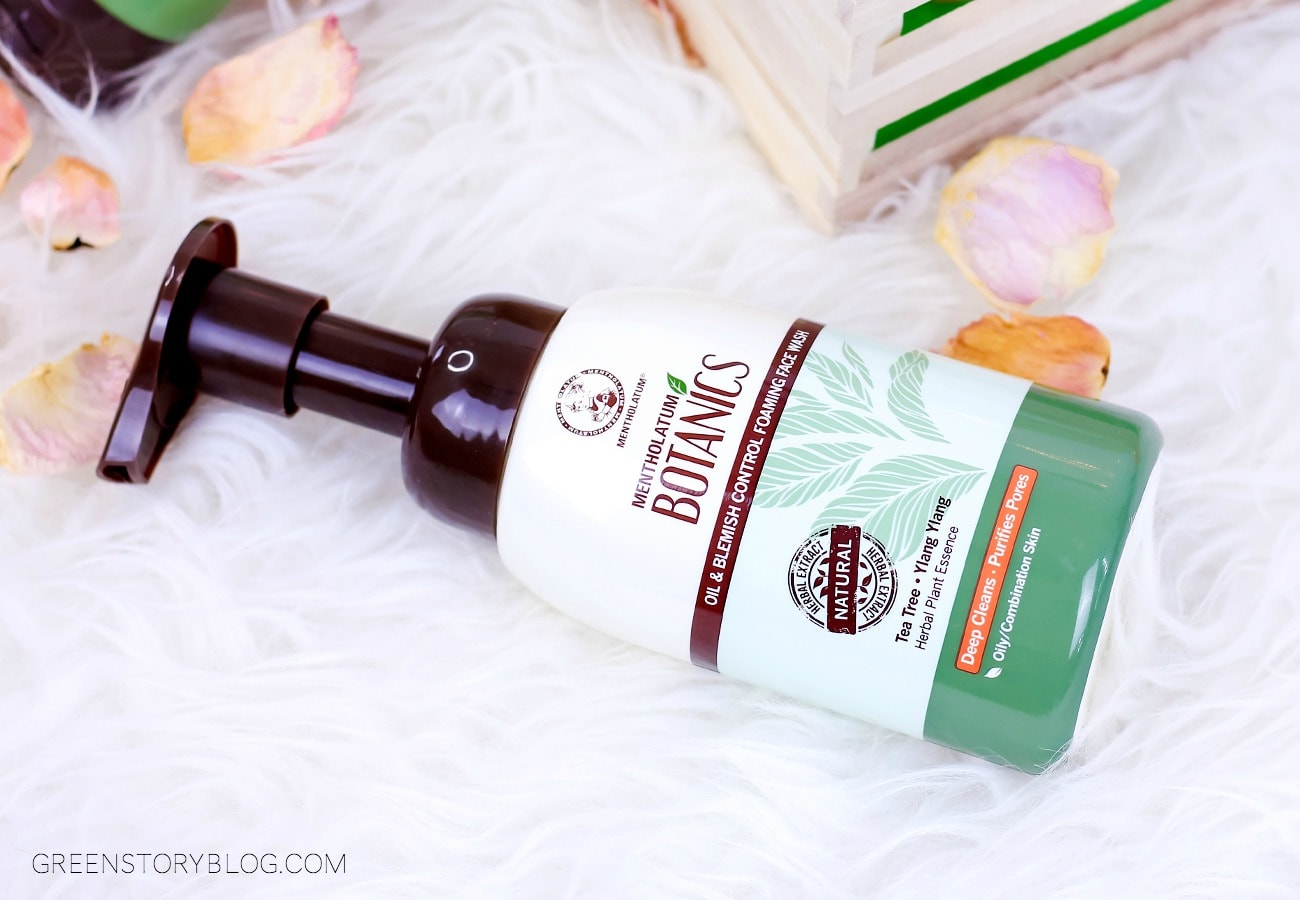 I strongly feel foam cleanser comes handy when you are lazy to apply and rub the product with water to lather it up. The foam we want to dissolve the dirt is already there with a push of pump. Sounds fantastic, isn't it?. I have used other foam cleanser (read here) earlier and those felt quite mild when it comes to cleaning makeup but this one has a bit more cleansing power. Controls oil for around 3/4 hours, it also feels gentle on skin.
This Tea Tree Foam face wash has the similar scent and ingredients like the tube one except there is some additional ingredients such as Wild Pansy extract which is effective in curbing blemishes. It is mentioned for oily to combination skin but from my experience I feel normal and sensitive skin people can also use that.
[color-box]
Shopping Info:
Mentholatum Botanics products are available in Guardian Store, nationwide.
[/color-box]

Lastly, Have a look at the picture below… I had to share a glimpse of fresh and raw herb galore I experienced in the launch event of Mentholatum Botanics! Secretly, I wanted to bring some home ha ha !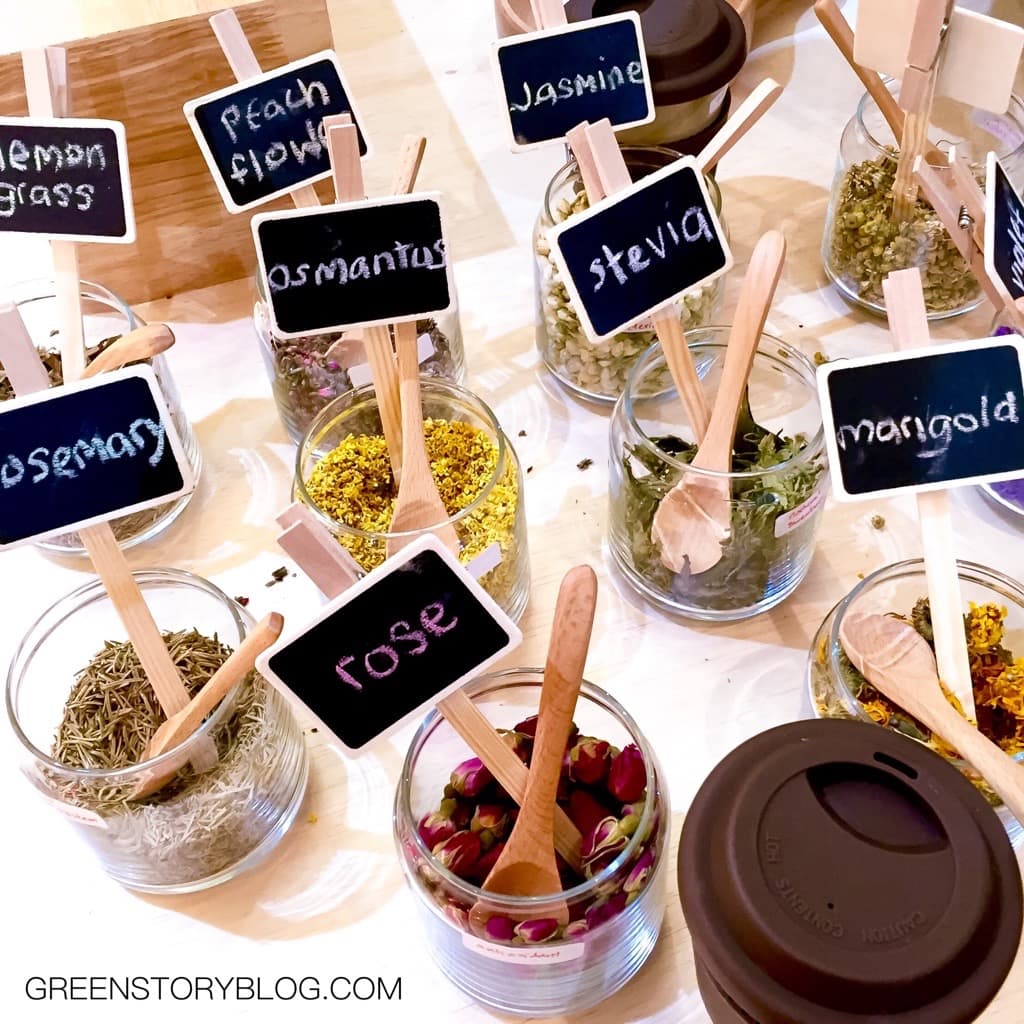 ***PR Samples
[signoff][/signoff]