Wat is new in the market? Let me introduce you to the new Shizens VISAGE collection that launched early April. If you don't know about this amazing Malaysian brand yet then have a look at my previous post where I talked about Shizens and its product a bit. The VISAGE collection is focused on bringing out our natural beauty without doing too much and the there is a two part in this collection; Skincare & Makeup. Today I'll share my experience with the Shizens VISAGE makeup collection and show you how I got my fresh makeup using products from this new collection.
So, there are 6 makeup items in this collection, including their shade variety. I've got 4 product to play with.
Shizens Natural Pore Nutrient Foundation PRO | RM242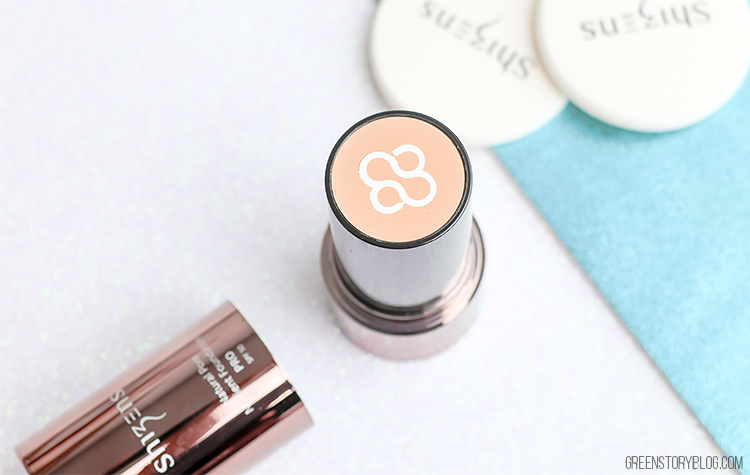 This is a jumbo sized foundation stick which is lightweight, sheer and talc free. Claims to be infused with vitamin E and work the best against fine lines and pore imperfection. Additionally, its comes with 2 blending sponge.
How cute is that top imprint?
The foundation stick has only one shade. I was told the color is adjustable to skin tone. But unfortunately, this didn't go with my deep tan skin. I guess this Shizens foundation are made for Asian skin range only and definitely my south-Asian skin is way deeper and warm than that. So you can tell, I was not really able to use the foundation. For the base makeup, I've used my Laneige Pore control BB cushion in the shade 35 instead.
Shizens Hue-Duo Eyeshadow Palette – Sepia pink | RM136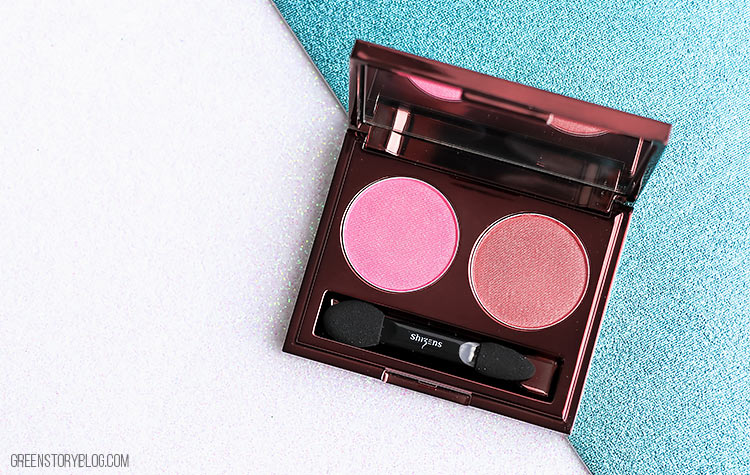 Absolutely love this palette. This has a bright but sheer pink and rosy copper (kinda dusty) shade in it. Both shades are satin in finish, feels buttery upon application, gives no fallout and pigmentation is very satisfactory. It also comes with a sponge tip applicator which I never use but good to keep for an emergency makeup situation.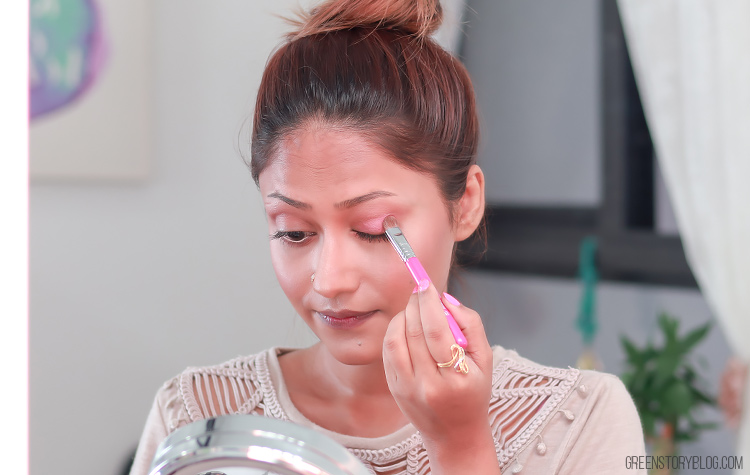 To create today's eye look I've used the rose copper shade all over my eyelid then popped a bit of the pink shade just in the center. I've intensified the rose-coppe in the outer corner of my eyes but kept it blended in my crease. I've also applied the rose-copper shade on my lower lash line to create a rosy hue there.
I also use the pink shadow very lightly as my blush later on.
Shizens Aqua Liner – Brown | RM95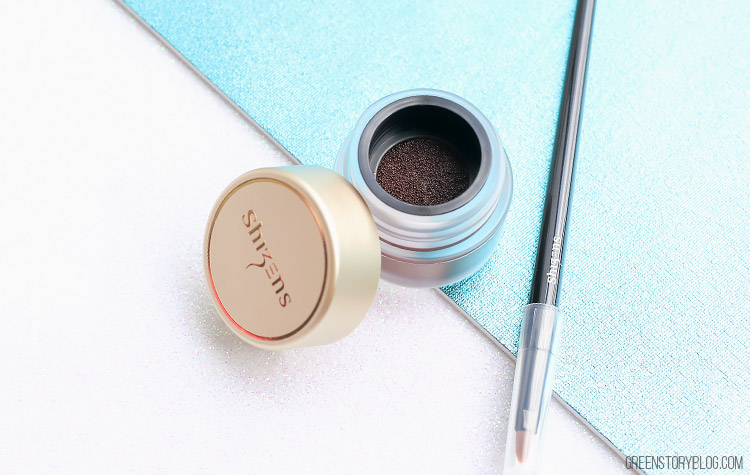 I was so excited seeing this cushion eyeliner pot. I never experienced a cushion liner before. The pot comes with 4g of product and a brush. I don't prefer this kinda flat brush for my liner but I use them to apply my lipstick.
Inside the cushion, it is a liquid liner but the consistency of it is amazing. The color payoff is even and glides on the skin very smoothly just like a gel liner. It is lightweight, smudge proof and long wearing but dries fast. I love how easy it was to use because of the cushion format. I was able to pick just the right amount of product, unlike a gel liner pot.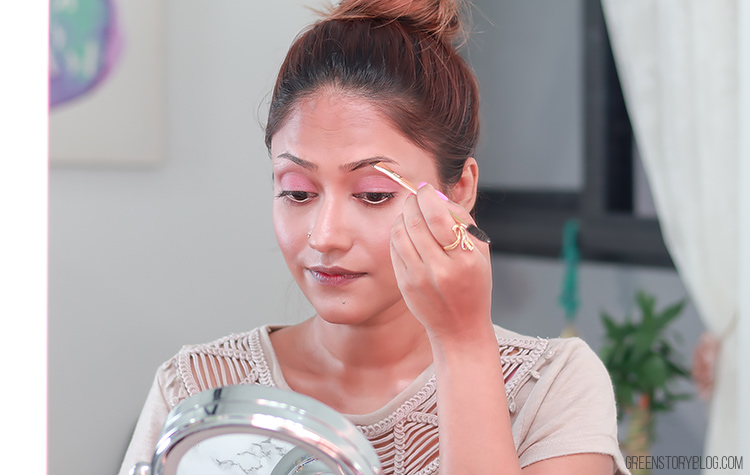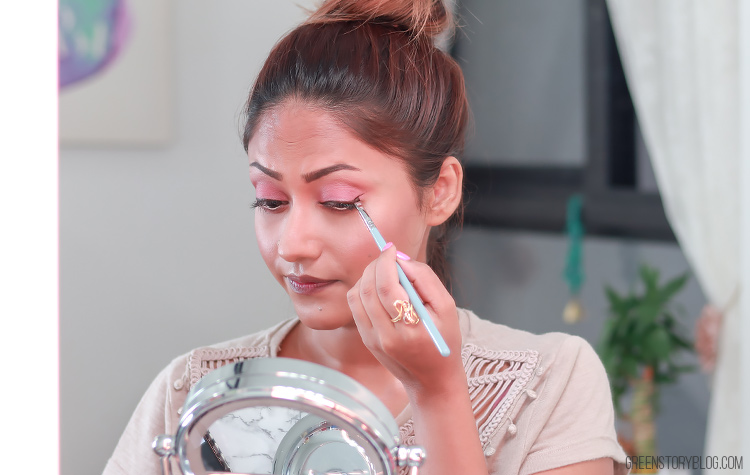 The brown shade is a multitasker always. I've used the liner to fill up the gaps on my brow and used it as a liner, of course.
For my brows, I used my good old fav Tarte brow brush, had to work really fast, the short stroke of brows was drying quickly. For the liner used my Sigma E65 Small Angle Brush. Shizens Aqua Liner worked really good with both of the brush without creating any clump or mess.
The Aqua liner became my favorite product of Shizens VISAGE collection. Highly recommend it 🙂
Shizens Smack Lip | RM89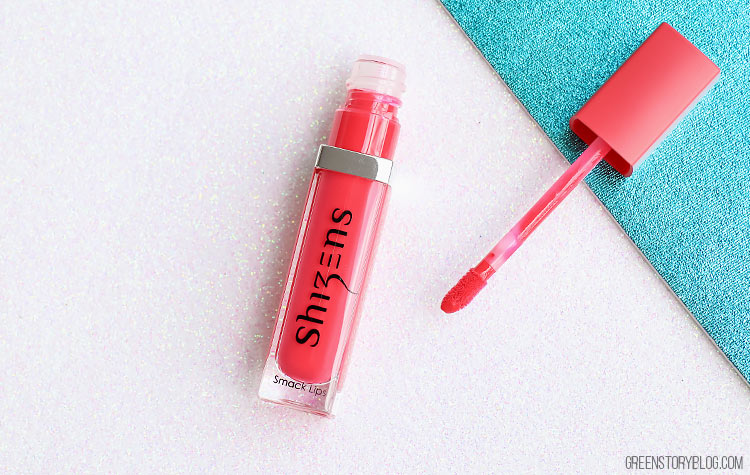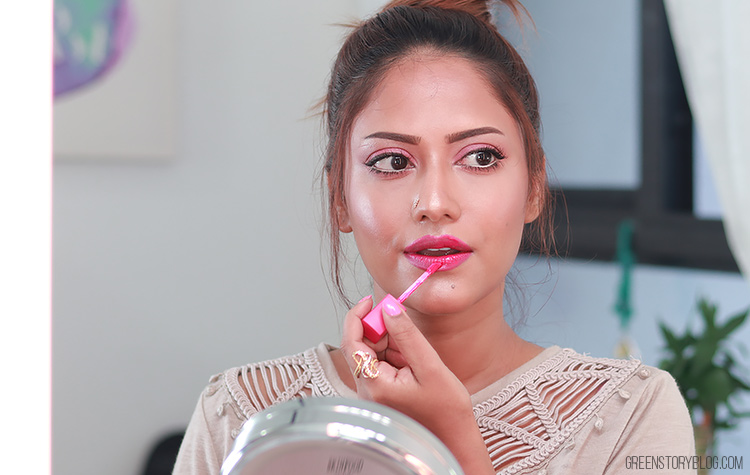 We all live for matte liquid lipstick, no? Say hello to Shizens version of liquid lipstick, called Smack Lip.
The shade I have is Cherry Blossom, is a bright pink and the lipstick smells something fruity. I appreciate the well-made packaging it as well when the square tube might look similar to a drugstore lipstick packaging but when you hold it, you'll feel the quality.
This lipstick claims to be moisturizing but I feel it's a bit drying on my lips. Also, gives me an empty inner rim (comes off from the center of the lip) and dry flakes very easily which I'm not really happy about!
So this is my final look (picture below) using all Shizens VISAGE makeup collection. I applied some mascara and bronzer as well to have a neat look.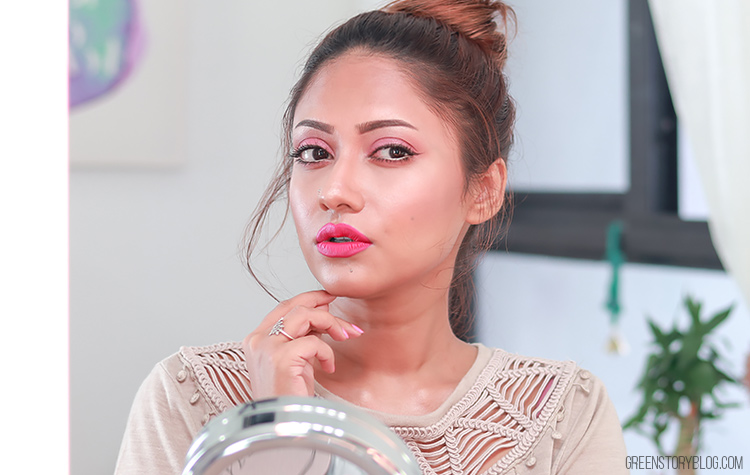 My final verdict for this makeup collection is, it's a hit and miss-equally. The shadow and the liner are definitely a hit, had to skip the foundation for the shade and the lipstick is a miss because it flakes.
[wp_ad_camp_3][/wp_ad_camp_3]
Current Promotion on Shizens VISAGE Collection:
I have a free opportunity for you if you want to try all these products for FREE.
Show the code 'VISAGE01' to Shizens beauty advisor at the store and you can enjoy a FREE MAKEOVER SESSION.
After taking the Free Makeup using the VISAGE collection you can send a picture of your makeover to Shizens Facebook (contest info in on their FB) to participate in their ongoing contest (valid till 15 may). The prize is very exciting, Grand prize is RM2000 cash + Shizens product gift worth up to RM 6K.
Shizens VISAGE essential set that includes 6 product – 2 smack lip, 2 Aqua liners, 1 duo eyeshadow palette and Pro brush set (6pc) is selling at a promotional price of RM199 only[regular price RM1503], until 31st May'17.
*** These Products were sent to me by Shizens Malaysia for reviewing purpose. However, all my opinions are mine based on my own experience. 
[signoff][/signoff]