Hello, December! Hard to believe we are already in the last month of the year. Don't you think the year just flew by? I'm here today with my November beauty empties. As always I have hair, skin and makeup product that I've used up in the past months. Some of the product here I really love that they are surely a repurchase in future and some of them I'm not keen to at all.
Hope my experience will help you to determine a product for yourself but not to forget, every product acts differently on different skin/hair.
Let's begin…
Hair & Body: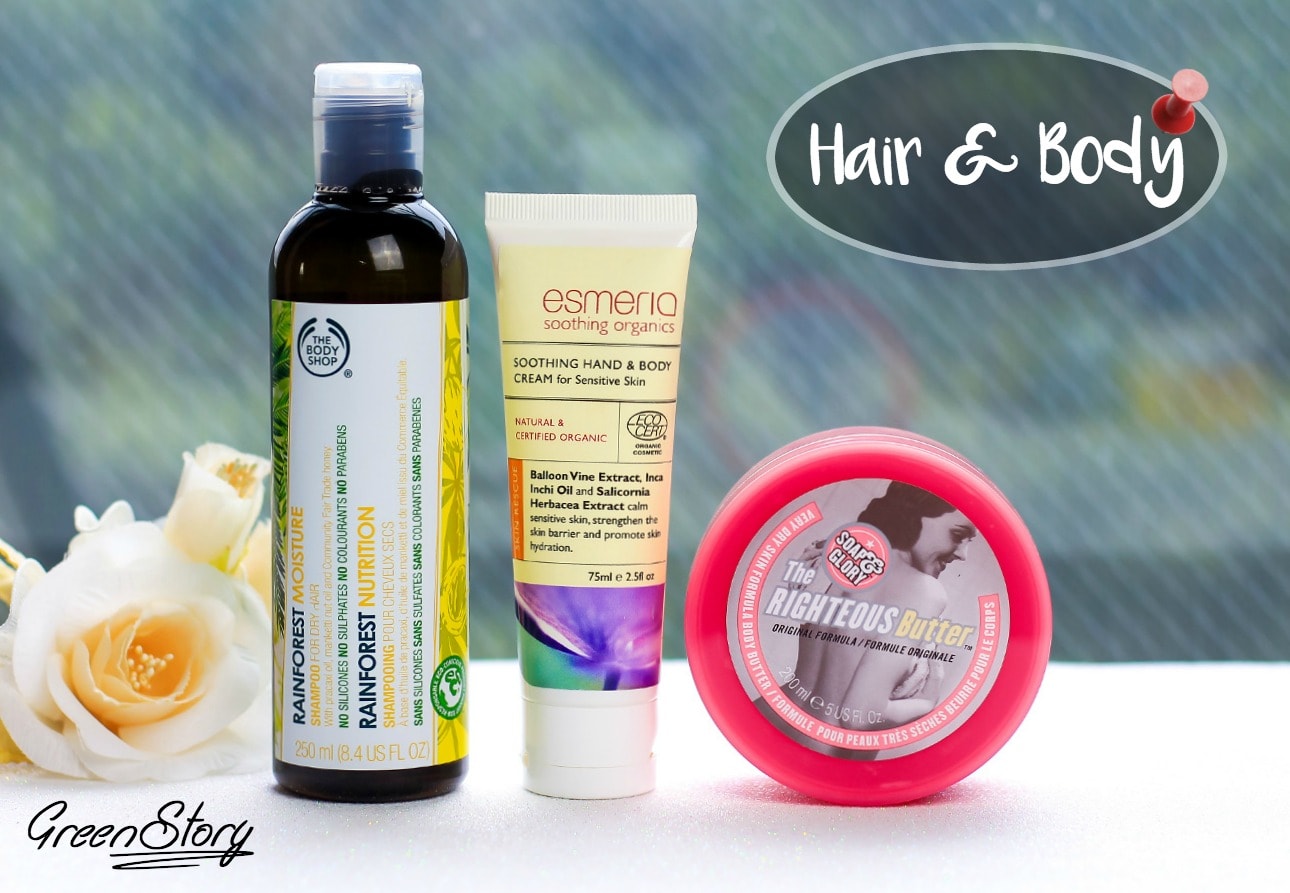 The Body Shop Rainforest Moisture Shampoo | RM52 for 250ml
This is a shampoo for dry hair. I have been doing a lot to my hair lately thus been suffering from dry and damaged hair. The BodyShop's Rainforest shampoo has quite a good reputation for its mild but effective characteristic. The shampoo is enriched with various oil and honey. It is organic and free of all those bad stuff for hair like sulfates, silicons etc.
My hair is dry, but my scalp is oily, the shampoo worked nicely on keeping my hair nourished, didn't cause hair fall either. It doesn't lather up like a normal shampoo would give a clean scalp after wash but on the second day, my scalp was oily again.
Mostly I shampoo every day so second-day oily scalp didn't bother me much, however, I think there are many better options in the market if I look at the price, the amount of product I get and overall performance. For example, Organix shampoo that I talked about in my previous post, I even mentioned Organix Shampoo in one of my favorite posts.
Esmeria Soothing Organics Hand & Body Cream* | RM79 for 75ml
Esmeria is a Malaysian home brand, all their products are natural and certified organic.
This cream is specially made for sensitive skin, claims to have various organic oils, shea butter, aloe extract, olive leaf extract vitamin e and many more natural ingredients. I used it mainly in my hands, loved how it keeps my hand hydrated and moisturized. As because it contains many types of oil so the cream does gives slight oily/greasy feeling and I couldn't be a fan of the herby smell it has. Leaving aside the herby fragrance and oiliness, I won't deny this cream is indeed a great one to revive dry skin.
Soap & Glory The Righteous Butter | $15
A thick and intense body butter with a sweet smell and girly pink tub packaging! I don't hate this product, in fact, I like it but I don't love it that much that I can't live without. Honestly, I can't tell more than a line about this body butter, it's nothing special than other normal body butter.
Skin Care: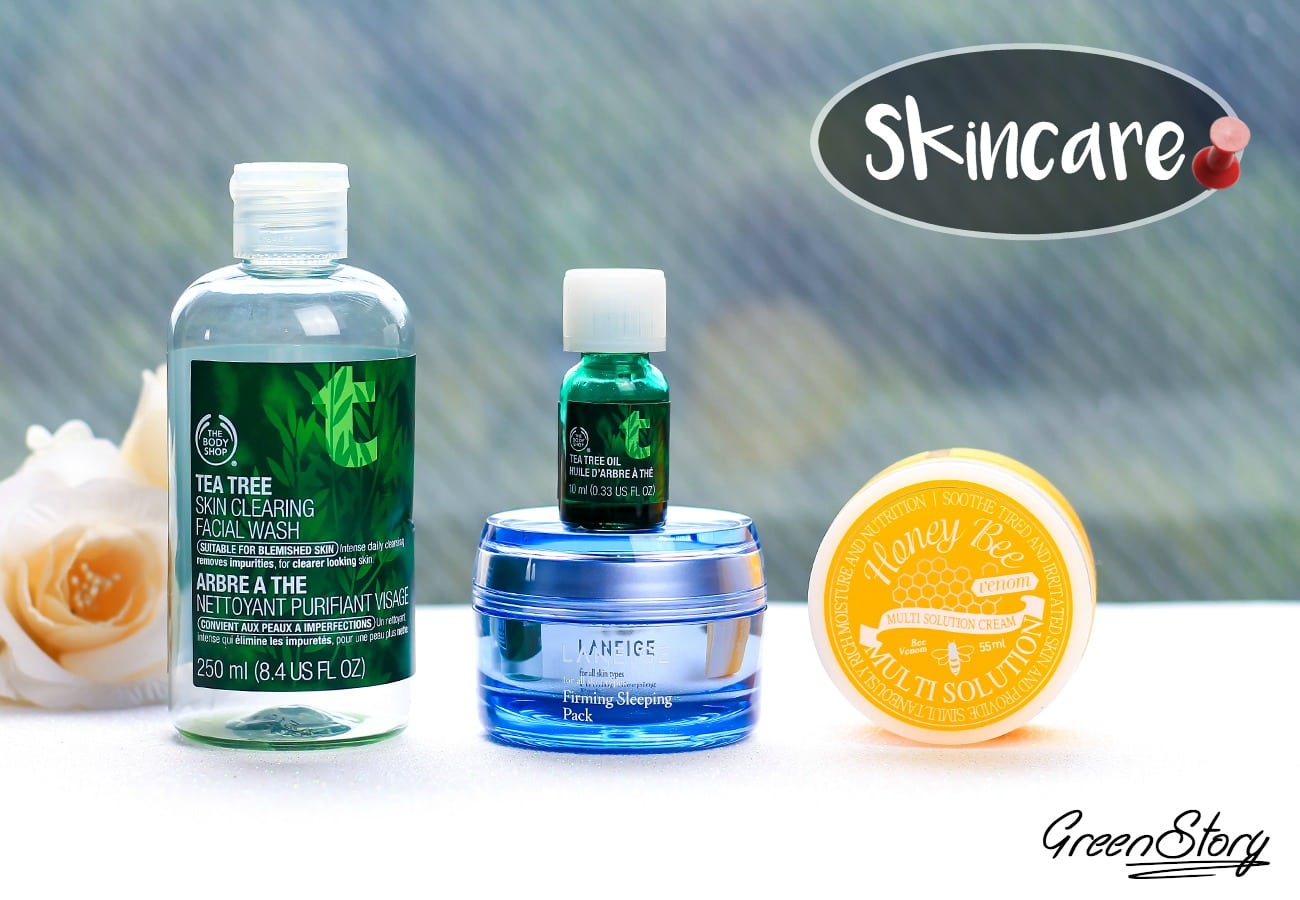 The BodyShop Tea Tree Facial Wash | RM49 for 250ml
I read some reviews that say's 'this facial wash is magical and vanished my acne overnight'… I mean seriously??? I don't get it how can people exaggerate things to that level! haha… Anyways, I swear I love Body Shop's Tea Tree facial wash (but I don't know the art of exaggerating word) and I'll tell you the truth why I love it?
First, I love the smell of tea tree product, it just wakes me up instantly (everyone might not like the smell, my husband hates it). It has a thick (not runny) gel-like consistency that makes it easy to spread on the skin and you need a little amount to cover the face. It doesn't lather up, feels mild on the skin but gives a deep clean, even every pore feels refreshed afterward. I found it very good for fighting bacteria and germs, hence you get less skin issue while using it.
Somehow the face was also controlled excess oil production. I'm completely addicted to the cooling sensation it gives, can't start my morning without this. I highly recommend The BodyShop Tea tree facial wash if you have sensitive skin, problem skin or oily to combination skin.
The BodyShop Tea Tree Oil | RM39
I remember I talked about Body Shop's Tea Tree Oil a while back. It's no magical product, but I always do rely on this when I'm having skin problems. I believe tea tree oil works great as an antibacterial agent and helps to fight acne/rashes/pimple.
Laneige Firming Sleeping Mask | RM95
This is my 2nd jar of Laneige Firming Sleeping Mask. I love this product, it's probably the best sleeping mask I have used so far. It has gel consistency but feels watery upon application. Unlike other sleeping masks I've used so far, it's lightweight and son-sticky, absorbs into skin fast and the mild fragrance calms your mind! In the next morning a plumped and perfectly hydrated skin is a must.
Laneige has also a normal sleeping mask, but I prefer the firming mask for myself considering my age. Not sure though, if it really works on firming skin.
Hope Girl Honey Bee Venom Multisolution Cream | RM 74
This cream is a gem, but the bad part is it's not widely available. Only a few pharmacies here in Malaysia keep this and it goes out of stock very often. Honey Bee Venom, this is the ingredient that holds my temptation. I find the cream extremely moisturizing and does help to improve skin texture. A few months ago I've been suffering from terrible sensitive skin then this cream was the savior.
It has a lightweight gel-like consistency that is easy to apply and absorbs into skin fast. It doesn't feel oily, but it's not anything matte either. Quite a different one compared to any other moisturizer I've used so far, it gives the feeling of slathering gluey goodness into the skin. I just opened my 3rd pot, do give it a try if you haven't tried it yet.
Makeup: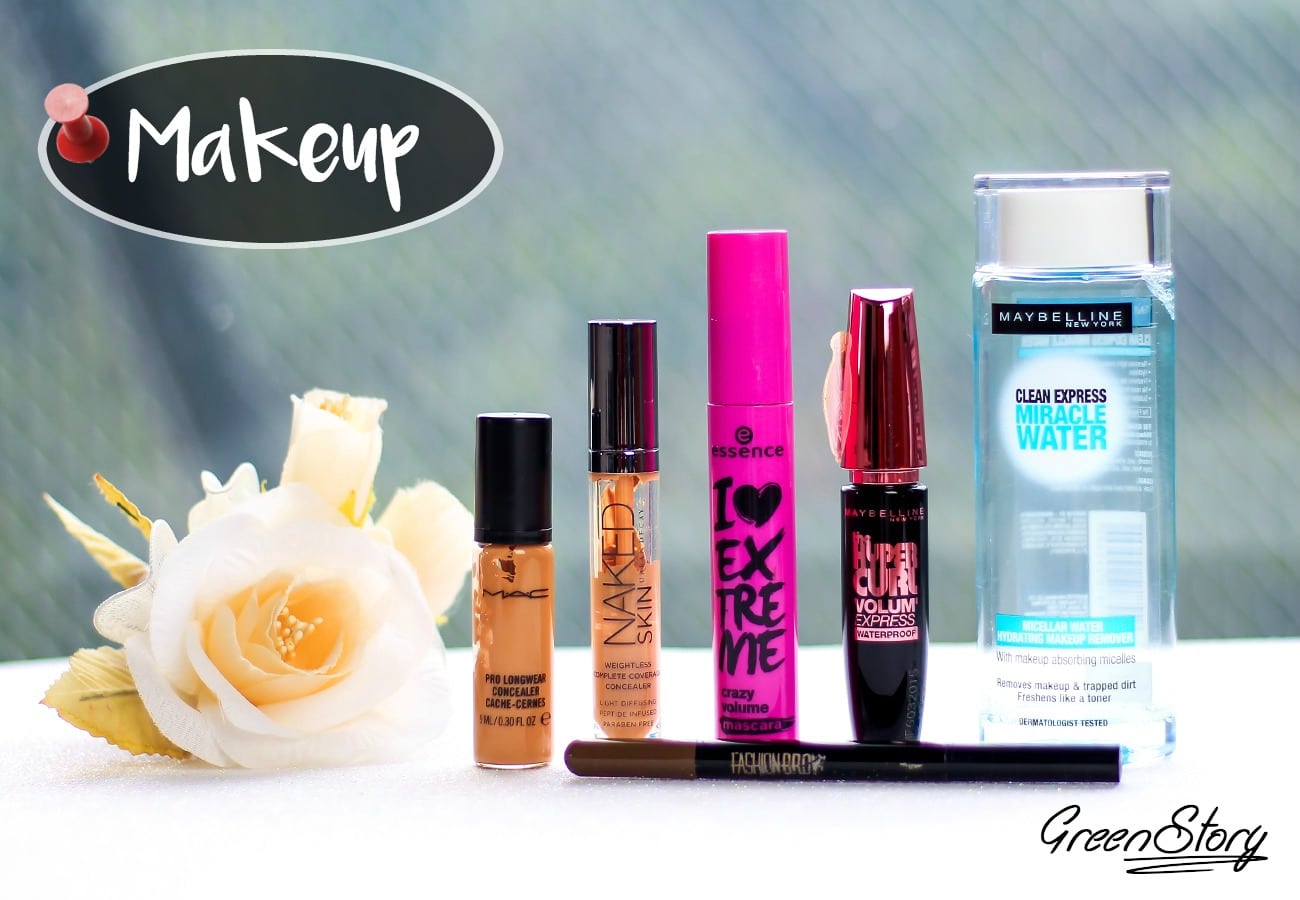 MAC Pro Longwear Concealer – NC35 | RM84
An old favorite, a thick liquid concealer that gives the maximum coverage (will not hide tattoos though, I meant maximum for normal use). It is creamy enough and blends flawlessly but feels slightly heavy on the skin if you want to wear it every day.
Urban Decay Naked Skin Concealer | RM100
MAC Pro Longwear used to be my ultimate favorite, ever since I started Urban Decay naked skin concealer it totally replaced my affection for MAC. Naked Skin concealer is more creamy and super easy to blend, doesn't crease, extremely lightweight and has almost the same coverage (maybe just a bit less) like mac, stays put for long. This has been my go-to for an everyday look tonight out or for any special occasion. Girl, you must give this concealer a try if you haven't yet.
A waterproof mascara that comes with a curvy wand. I love most of the Maybelline mascara, but somehow this one failed me. Everything is okay with it, but it clumps up my lashes which I didn't like at all.
Essence I Love Extreme Mascara | RM17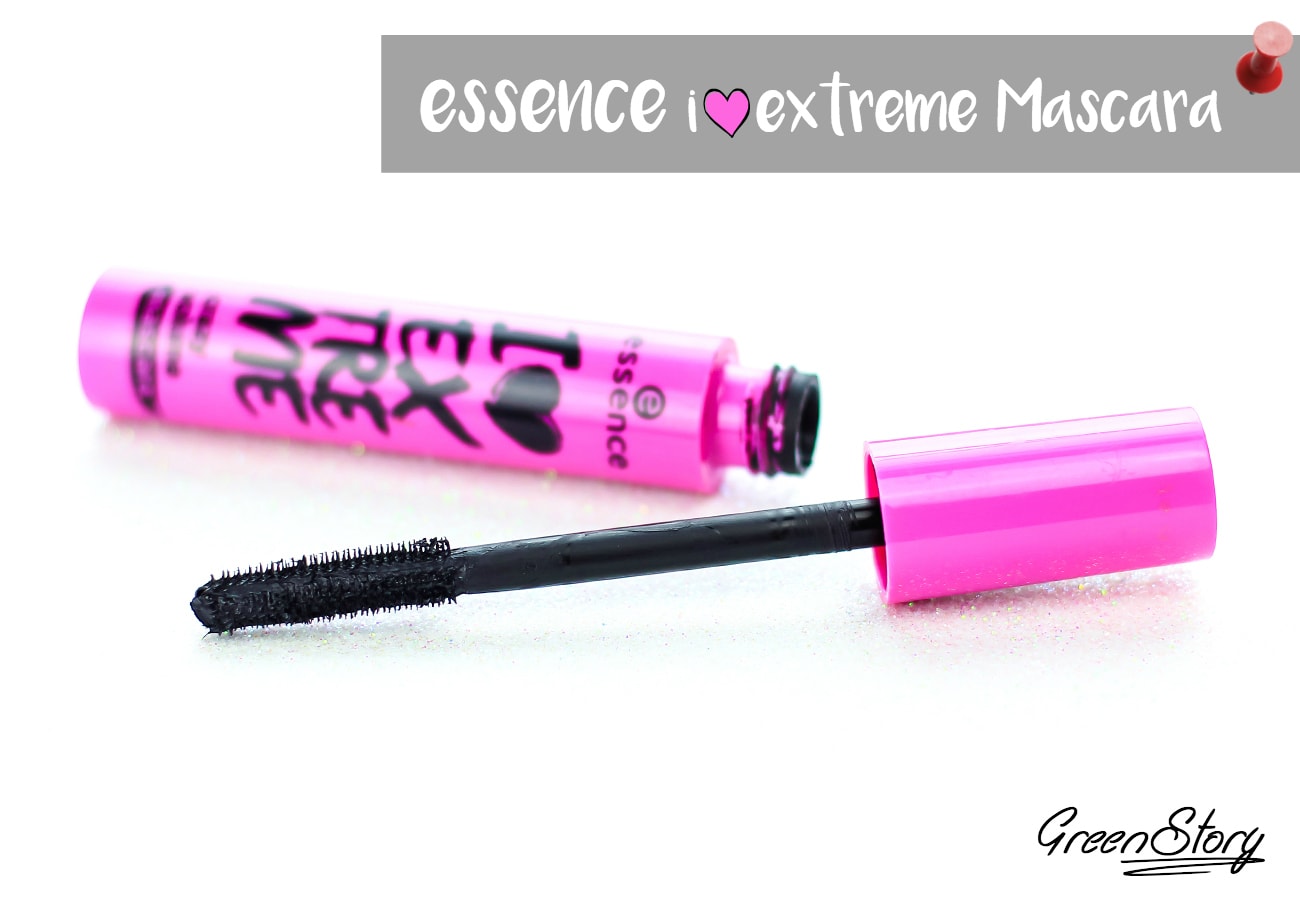 Essence Go Wild Lashes mascara used to be one of my favorite drugstore mascara. But I don't see that one anymore in my local store so I bought this one to try and the stiff fat wand of it disappointed me so badly. The wand doesn't really grip the lashes so whenever I tried to use this it goes all over my eyes.
Maybelline Fashion Brow Pencil | RM31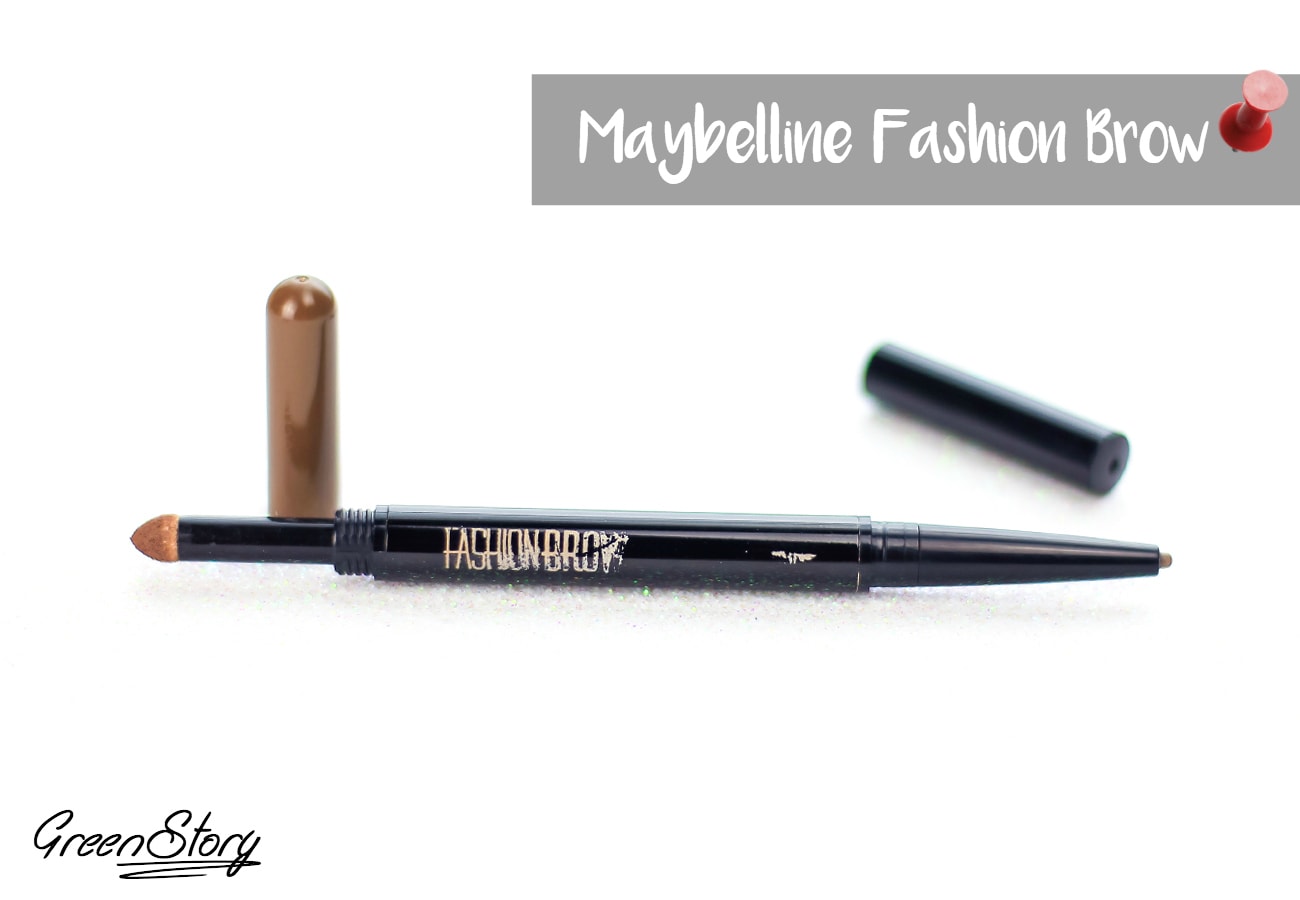 This brow pencil comes with two ends, one has a puffy end that has powder inside, another has a thin stick of the brown color (I picked the brown shade for me). It's pigmented and easy to use brow product, perfect for that time when you are in a rush but if you fancy a well shaped neat brow then this product isn't helpful. The color stick is flimsy so it breaks easily thus the product doesn't give you a full use. I have used up two of this and I think I'll stop here and will look for a better option.
Maybelline Micellar Water | RM20
I (freaking!!!) love this cleansing water. When I bought it for the first time I haven't had much expectation but fell in love from the first use. I like it mainly to remove my eye makeup. It cleanses so well without making my eyes red, you won't need much effort to remove waterproof mascara with it. Good on removing face makeup as well. I really wish Maybelline will come up with a bigger bottle of this 🙂
So those were all in my beauty empties stash in the month of November. Have you used any of them? Any favorite or regret you see in this list? Do share your experience with us in the comment section below 🙂