Las month I've been trying out two Murad Skincare products together, & City SkinAge Defense SPF 50 PA ++++ and Murad Rapid Dark Spot Correcting Serum. They claims to be the power duo for a spotless skin even without visiting a dermatologist.
Now every skin faces the ultimate skin problem, Dark spots. Mostly it's the part of the natural aging process or perhaps the UV damage or possible the hormones, the pregnancy(melasma/cholasma), the acnes and many more. Over all we all get dark spots and we all try to get rid of them.
Don't we?
Ive sunspots. I love to sit on the open sunlight swell for my coffee in the morning or in the afternoon. Thus uneven skin tones are always in a rotation on my skin. Its not that I don't care!
I do care.
Thats why I like to take precaution alongside treating my skincare issue.
I mean to say, The SPF and a dark spot serum is always a vital part of my skincare routine.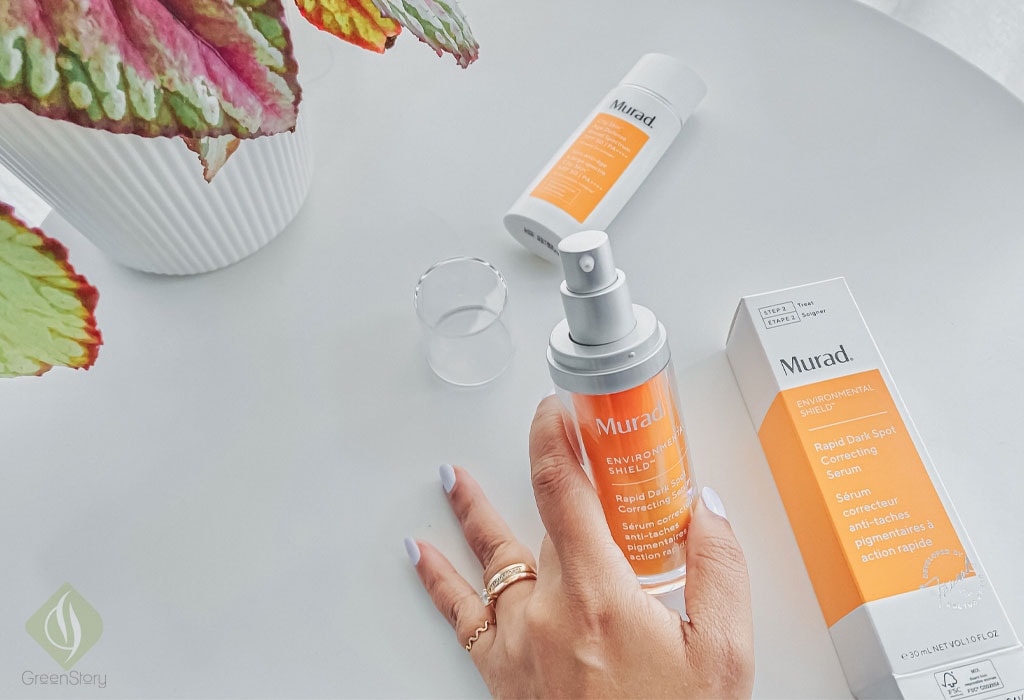 What is Murad Rapid Dark Spot Correcting Serum?
When I was contacted by Murad about this Rapid Dark Spot Serum I thought this is the Rapid Age Spot Correcting Serum (from the same Murad Environmental Shield Skincare Range) that i've used and loved earlier when I was pregnant. Turns out it's not.
The Rapid Age Spot Serum is a Vitamin C Serum by Murad and This, Murad Dark Spot Serum is a Glycolic Acid based Serum to reduce the appearance of dark spots and hyperpigmentation.
According to Murad, this Rapid Dark Spot Serum is hydroquinone-free intensive serum that promotes surface cell turnover for more even, brighter skin. Dr. Murad's next generation of powerhouse brightening ingredients and formulation take on the most stubborn dark spots while treating your skin with the same care that a dermatologist would.
This serum has a patented resorcinol technology In which tranexamic acid acts to minimize the look of hyperpigmentation and uneven skin tone. Glycolic acid removes dulling surface cells for enhanced radiance from within.
Effective on all skin types and tones.
Ingredients of Murad Rapid Dark Spot Correcting Serum: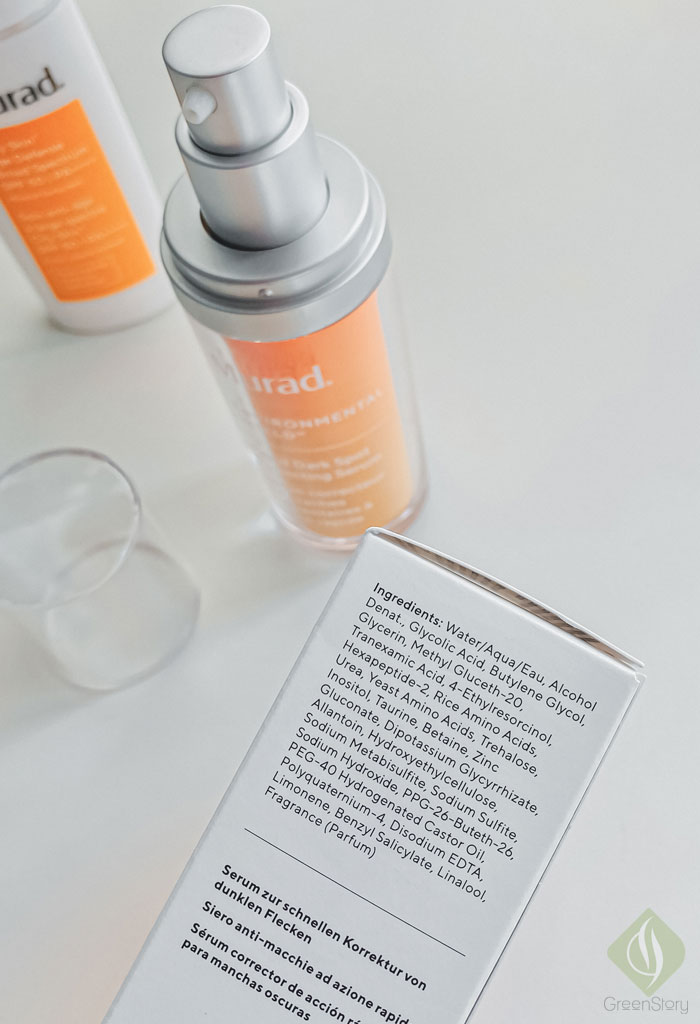 Water/Aqua/Eau, Alcohol Denat., Glycolic Acid, Butylene Glycol, Glycerin, Methyl Gluceth-20, Tranexamic Acid, 4-Ethylresorcinol, Hexapeptide-2, Rice Amino Acids, Urea, Yeast Amino Acids, Trehalose, Inositol, Taurine, Betaine, Zinc Gluconate, Dipotassium Glycyrrhizate, Allantoin, Hydroxyethylcellulose, Sodium Metabisulfite, Sodium Sulfite, Sodium Hydroxide, PPG-26-Buteth-26, PEG-40 Hydrogenated Castor Oil, Polyquaternium-4, Disodium EDTA, Limonene, Benzyl Salicylate, Linalool, Fragrance (Parfum)

*** Formulated without: Parabens, Sulfates, Phthalates, Gluten, Animal-derived ingredients, Mineral oil, Formaldehyde, Oxybenzone, Petrolatum
Three Ingredients are the Spotlight of Murad Rapid Dark Spot Serum:
Patented resorcinol technology: Exclusive to Murad, reduces the intensity of the look of dark spots & uneven tone.
Tranexamic acid: Helps soothe, brighten, revive dull skin & even tone.
Glycolic acid: One of the first and most sought-after exfoliants in Dr. Murad's dermatology practice. Exfoliates to help remove dullness, improve skin's texture & clear away dull skin cells for better penetration.
My Experience with Murad Rapid Dark Spot Correcting Serum & City SkinAge Defense SPF 50 PA ++++
This serum is transparent yet slightly orangish in color. Has a smile feelings to it. Takes a minute to completely absorb into the skin.
For your reference, I've a combination skin type.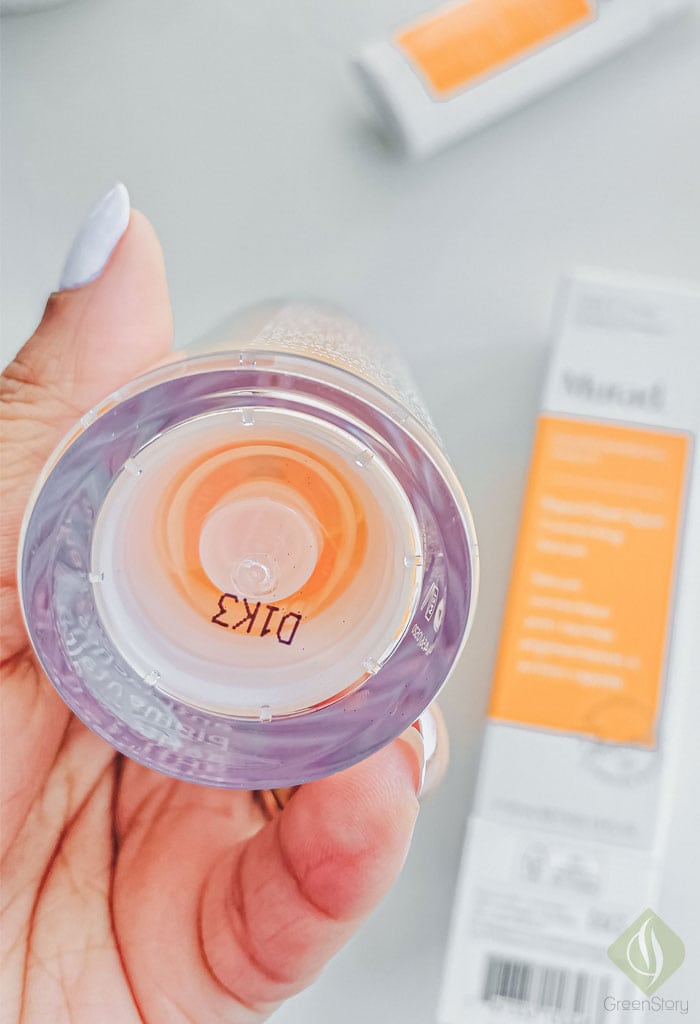 How exactly I use this Rapid Dark Spot Serum By Murad?
Been using this serum mostly in my data time skincare routine. As the alternative nights I don't use a retinol product.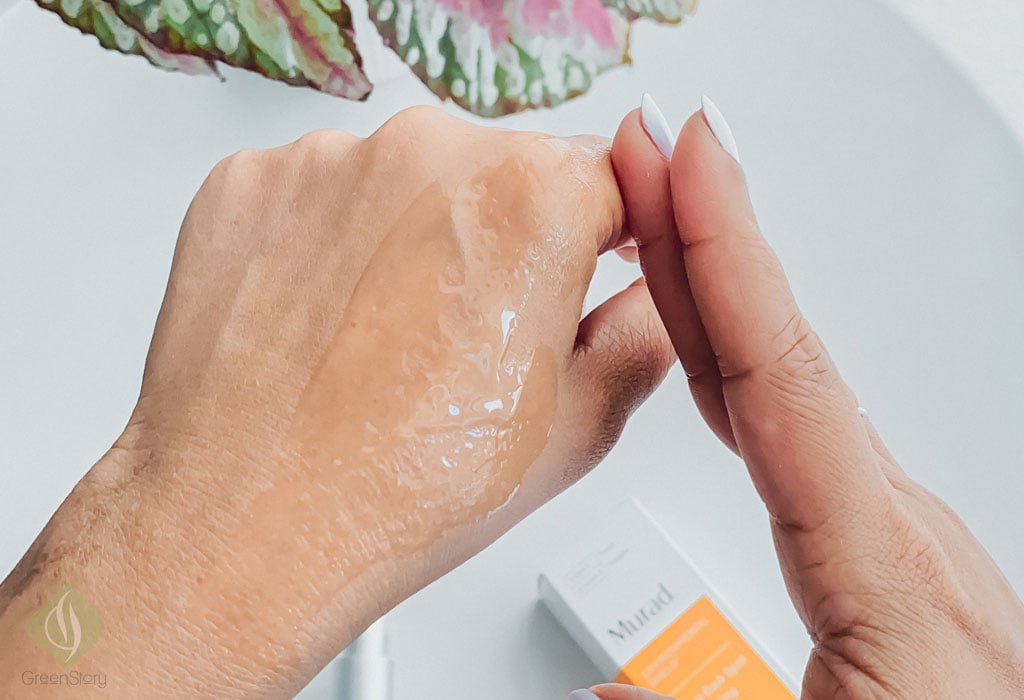 After cleansing I use a toner or essence on my face first then one pump on each side of my face I would apply this serum. Then another pump for my neck and chest area. After a minute when the serum is fully absorbed I follow up with moisturizer. Specifically for the day time skincare routine I finish my skincare steps with the sunprotection, Murad City Skin Age Defence Broad spectrum SPF 50 PA++++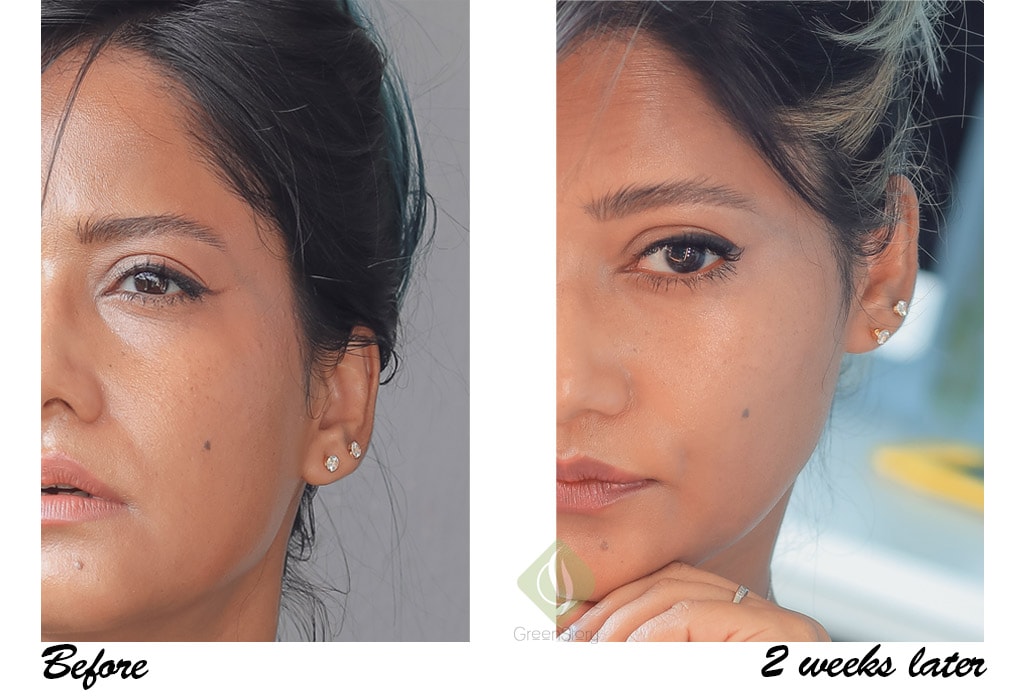 If you take a look at the comparison picture above, to begin with I had a slight uneven skin tone at the side of my face. And in the after picture (exactly 2 weeks of use both of the Dark Spot Serum and City Skin Sunscreen) my skin is pretty much evened out.
For the clarification both picture I've taken with the sunscreen on.
The bits of sunspots and freckles I've can't tell if they faded out a bit or not but I like how my skin tone is more even now.
So yes, this urad Dark Spot Serum surely works with a visible effect. In fact I didn't initially expected too see much this fast considering my previous experience with Murad Skincare. They usually works fantastic with a slow and steady manner.
I'm pleased that this serum did meet its claims and of course looking forward to see more improvement as I continue using it.
Murad City Skin SPF 50 PA++++ Sunscreen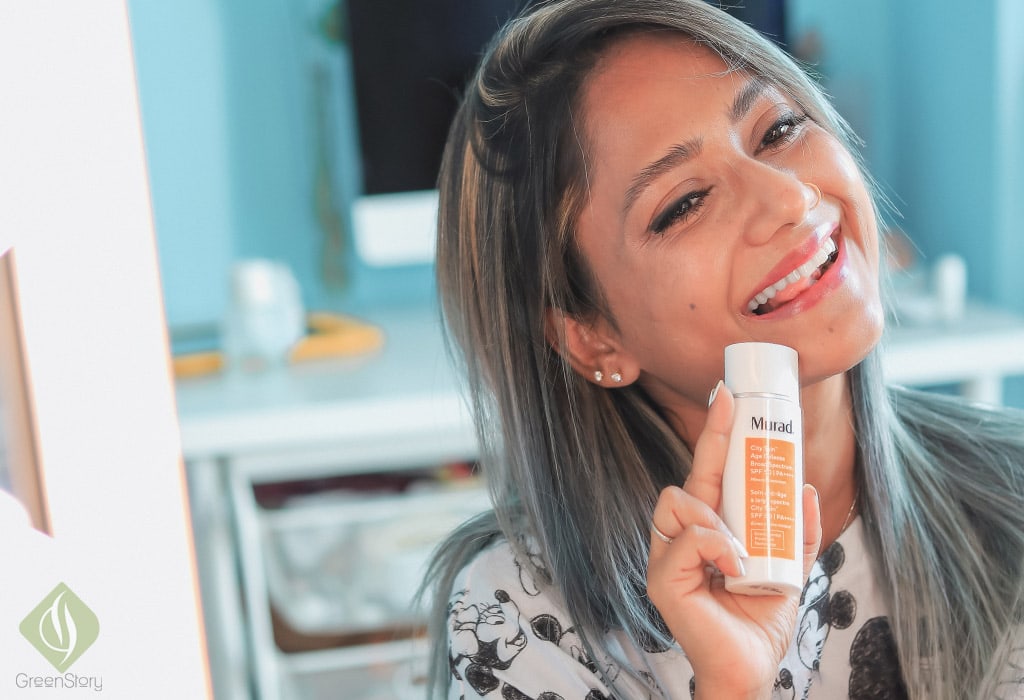 This City Skin Sunscreen by Murad is a 100% mineral AKA physical sunscreen with a slightly tinted formula that mimics a brighter looking skin.
Murad City Skin SPF 50 PA++++ shields the skin against multiple types of light damage whether indoor blue light from screens or outdoor UVA and UVB. I've tried a few bottle of it in the past and loved it. I like the tinted formula of this sunscreen as it gives a radiant and kinda pearlized finish to the skin.
I've posted a detail review on this sunscreen, give a read here to know more in details, texture and etc.
Have you tried any of these Murad products? Share your experience with me in the comments below.
*** Products were gratis from Murad Malaysia. However, I've shared what I experienced as I experienced them.