Hello there beautiful's,
Hope you all doing well. I have already individually reviewed few of Wet n Wild MegaLast Lipcolors I got. Today though to bring them all in one post. Hoping this post will help you to match and compare colors easily.
[wp_ad_camp_3][/wp_ad_camp_3]
Wet n Wild has vast range of color selection in their MegaLast Lipcolor range. I have six of them. They are (left to right)…
1. Dollhouse Pink
2. Pinkerbell
3. Cherry Picking
4. Sugar plum Fairy
5. Purty Persimmon
6. 24 Carrot Gold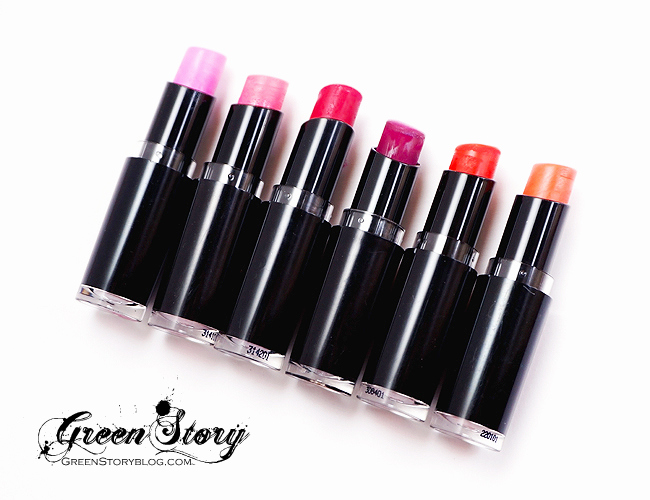 Wet n Wild MegaLast Lipcolor's Packaging is just basic and simple yet lid is somewhat not that user friendly. It is quite impossible to close the lid without poking the lipstick itself.  The lipsticks smells almost nothing.
Texture of these lipstick are semi-matte, non-drying. Color pay off is outstanding. Darker shades leaves strong stain in lips. These lipstick transfers quite easily, they last around 4/5 hours on lip if you don't eat or else.
Wet n Wild MegaLast Lipcolor's are already very popular for its price and quality however after using them for long I have slight different opinion for them now. I won't say they are bad in anyway but it feels quite heavy on lips unlike other lipstick I've used which I'm not liking anymore. Probably, its just my conscious, you might not feel the same!
[wp_ad_camp_4][/wp_ad_camp_4]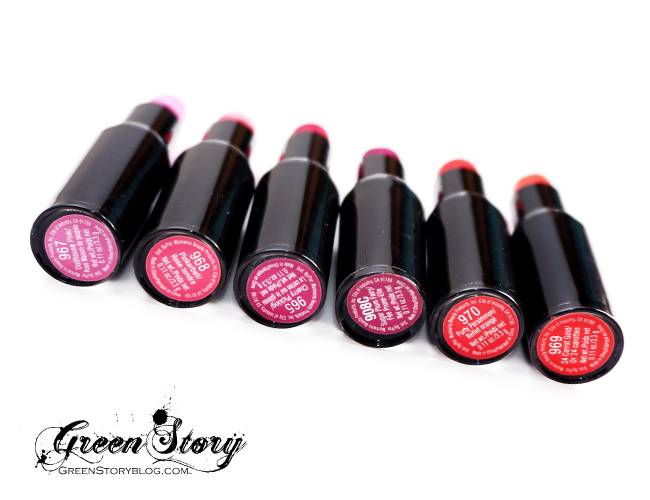 Swatches on hand: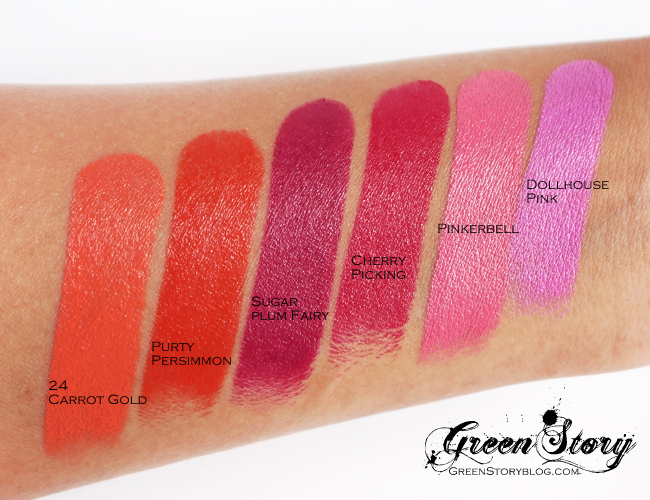 [wp_ad_camp_3][/wp_ad_camp_3]

24 Carrot Gold:
The shade is quite similar with the color of carrot but with a bit pastel touch in it. Its an orange but there is some coral tone. This shade might not be suitable for everyone yet whoever loves orange shade I'm sure they can pull it off.
Purty Persimmon:
Purty Persimmon is also mentioned in the label as Reflect Orange. In my eyes its a bright orange toned red. Yes its not any orange, its a Red color but with warm orange tone in it. Color might vary in lip tone. I guess, anyone having fair complexion will find Purty Persimmon more vibrant and orangish!
Check my detailed review here…
[wp_ad_camp_4][/wp_ad_camp_4]
Sugar Plum Fairy:
This color is some kind of dark coll toned plumy or berry fuchsia though varies on light effect. Has strong blue undertone in it. People says it right, this shade is a perfect dupe of the famous MAC Rebel.
Check my detailed review here…
Cherry Picking:
This shade is quite a perfect cherry red but with a very strong pink undertone which makes it somehow deep fuchsia specially with white indoor ligh you will see nothing but a deep fuchsia color. However, in day light its a cherry/cool pink toned red.
Check my detailed review here…
Pinkerbell:
Pinkerbell or Tendre Rose(as mentioned in the packaging) is slightly coral toned pink. The color tone is soft but quite loud, bright and pastel, way more vibrant when you put it on lip.
Check my detailed review here…
Dollhouse Pink:
Doll house Pink is  mentioned in the label as a rosy purple. In my eyes its slightly blue toned baby pink, an opaque dolly pink or somewhat lilac-pink. Color is way more bright when applied on lip. Pastel in texture.
Check my detailed review here…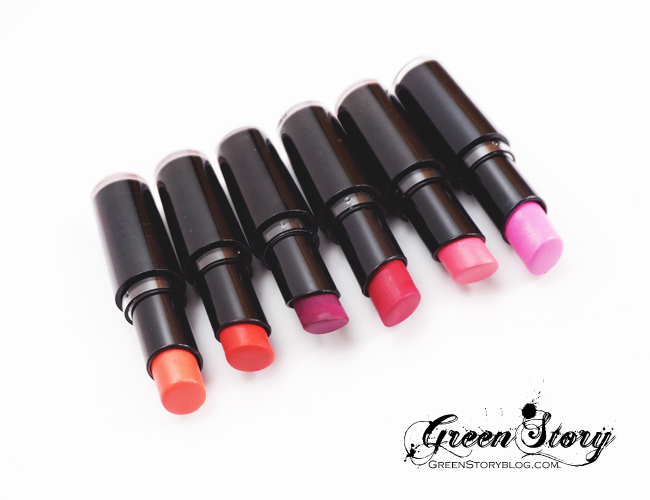 [wp_ad_camp_2][/wp_ad_camp_2][signoff][/signoff]